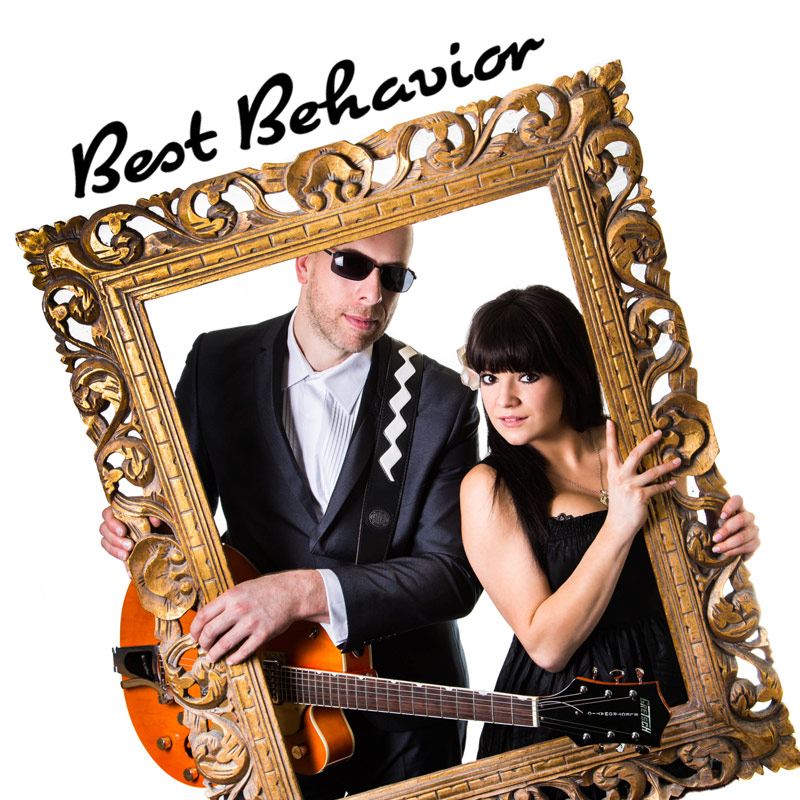 Best Behavior
Best Behaviour are a high-tech fast-paced and experienced covers duo based in the South East of England and available Worldwide! The Duo was formed by professional guitarist and vocalist 'Adam Knight' and first class vocalist 'Hayley Ellis'.
Best Behavior cover a wide range of music from the 50s, 60s, 70s, 80s, 90s, 2000's, 2010s to date; Pop, Soul, Motown, Reggae, Rock & Roll, Relaxing Lounge to Dancing Party Hits.
The combination of these two great vocalists with the addition of Adam's guitar skills and first class backing make for a powerful professional sound. Best Behavior can be fully self-contained, with up to a 2K PA and light show.
SET LIST
500 miles Proclamers
A Little Respect Erasure
ABBA MEDLEY Abba
Achey Breaky Heart Billy Ray Cyrus
Aidaida George Strait
All About That Bass Meghan Trainor
All Of Me John Legend
All Of The Day, All Of The Night The Kinks
All You Need Is Love The Beatles
Always Something There To Remind Me Sandie Shaw
Amarillo Tony Christie
Amazed Lonestar
American Pie Don Maclaine
Anyone Who Had A Heart Cilla Black
Apache The Shadows
As Long As I Got You Lily Allen
Baby I Love You The Ronettes
Bachelor Boy Cliff Richard
Band Of Gold Freda Payne
Be My Baby The Ronettes
Beatles Medley The Beatles
Blanket On The Ground Billie Joe Spears
Blue Moon Of Kentucky Patsy Cline
Blue Suede Shoes Elvis Presley
BLUES BROTHERS MEDLEY Blues Brothers
Boat That I Row Lulu
Bobby's Girl Marcie Blane
Boom Bang-a-Bang Lulu
Breakfast At Tiffany's Deep Blue Something
Breaking Up Is Hard To Do Neil Sedaka
Brown Eyed Girl Van Morrison
Build Me Up Buttercup The Foundations
Bye Bye Love The Everly Brothers
California Dreaming The Mamas & The Papas
Callin Baton Rouge Garth Brooks
Can't Buy Me Love The Beatles
Careless Whisper George Michael
Cathys Clown Everly Brothers
Chasing Cars Snow Patrol
Closest Thing To Crazy Katie Melua
Coat Of Many Colours Shania Twain
Come Dancing The Kinks
Come On Eileen Michael English
Cotton Eyed Joe Lee Mathews
Coward Of The Country Kenny Rogers
Crazy Patsy Cline
Crazy Little Thing Called Love Queen
Crystal Chandeliers Charlie Pride
Cupid Amy Winehouse
Da Doo Ron Ron The Crystals
Dance The Night Away The Mavricks
Dance With My Father Celine Dion
Dancing In The Street Martha & The Vanderelles
Dancing Queen Abba
Dancing Shoes Cliff Richard
Daniel Elton John
Daydream Believer The Monkees
Dedicated Follower Of Fashion The Kinks
Do Wah Diddy Manfred Mann
Do You Love Me The Blues Brothers
Do You Love Me The Tremeloes
Do You Wanna Dance Cliff Richard
Don't Go Breaking My Heart Elton John & Kiki Dee
Don't Marry Her Have Me Beautiful South
Don't Get Me Wrong The Pretenders
Downtown Pertula Clark
ELVIS MEDLEY Elvis Presley
Everybodys Changing Lily Allen
Everything I Own Boy George
Fairy Tale Of New York The Pogues
Fairytale Of New York The Pogues
FBI The Shadows
Fields Of Gold Eva Cassidy
Flip Flop Fly Blues Brothers
Fly Me To The Moon Frank Sinatra / Doris Day
Forever Country Mixed
Forget You Glee/Cee Lo Green
From Me To You The Beatles
Gimmie Gimmie Gimmie Abba
Girl Crush Little Big Town
Glad All Over The Dave Clark Five
Go Your Own Way Glee
Going Loco Four Tops
Happy Pharrell Williams
Happy Birthday N/A
Have A Nice Day The Stereophonics
Have Yourself A Merry Little Christmas Ella Fitzgerald
Heatwave Martha & The Vanderelles
Heaven Is A Place On Earth Belinda Carlisle
Here You Come Again Dolly Parton
Hero Enrique Iglesisus
Hey Jude The Beatles
Hi Ho Silver Lining Jeff Beck
Higher And Higher Jackie Wilson
Hillbilly Girl Lisa Mchugh
Hillbilly Rock, Hill Billy Roll The Woolpackers
Hippy Hippy Shake The Swinging Blue Jeans
Honey Honey Abba
How Long The Eagles
How Sweet It Is (To Be Loved By You) Marvin Gaye
SET LIST CONT...
Human The Killers
I Can See Clearly Now Jimmy Cliff/Johnny Nash
I close my eyes & Count to ten Dusty Springfield
I Feel Good James Brown
I Got You Babe UB40
I Like It Gerry & The Pacemakers
I Only Wanna Be With You Dusty Springfield
I saw her standing there The Beatles
I Shot The Sheriff Bob Marley
I Wanna Dance With Somebody Whitney Houston
I'll Stand By You Chrissy Hyde
I'm Into Something Good Hermans Hermits
I'm Like A Bird Furtado, Nelly
I'm Still Standing Elton John
If I said You Had A Beautiful Body Bellamy Brothers
I'm A Believer Neil Diamond
I'm A Believer The Monkees
I'm Into Something Good Hermans Hermits
In The Summertime The Kinks
Islands In The Stream Dolly Parton
It Takes Two Marvin Gaye & Kim Western
Itchyoo Park The Small Faces
JACKSON 5 MEDLEY The Jackson 5
Jailhouse Rock Elvis Presley
Jingle Bell Rock Brenda Lee
Jolene Dolly Parton
Jumping Jack Flash The Rolling Stones
Just One Look The Hollies
Karma Chameleon Culture Club
Kingston town UB40
Kiss Me Sixpence None The Richer
Knowing Me Knowing You Abba
La Bamba Richie Valens
LATINO MEDLEY Ricky Martin
Lazy Sunday The Small Faces
LDN Lily Allen
Let It Snow Dean Martin
Let Me Entertain You Robbie Williams
Let Me Go Gary Barlow
Let Your Love Flow Bellamy Brothers
Let's Twist Again Chubby Checker
Lips Are Movin' Meghan Trainor
Little Lies Fleetwood Mac
Long Live Love Sandie Shaw
Love Lifts Us Up Where We Belong Joe Cocker & Jennifer Warnes
Love My Life Robbie Williams
Mama Said The Shirelles
Mamma Mia Abba
Man I Feel Like A woman Shania Twain
Manic Monday The Bangles
Margaritaville Jimmy Buffett
Maria Blondie
Mean Taylor Swift
Merry Christmas Everybody Slade
Merry Christmas Everyone Shakin' Stevens
Mistletoe & Wine Cliff Richard
Monkey man Amy Winehouse
Mony Mony Tommy James & The Shondelles
Moon River Andy Williams
Moonlight Shadow Mike Oldfield
MOTOWN MEDLEY De Toppers
Move It The Shadows
Mr Brightside The Killers
Mrs Robinson Simon & Garfunkel
Mustang Sally The Commitments
My Girl The Temptations
My Guy Mary Wells
Nine to Five ( 9-5) Dolly Parton
Not Fair Lily Allen
Not Unusual Tom Jones
Ob-la-di, Ob-La-Da The Beatles
Oh Boy! Buddy Holly
Oh! What a night Franki Valli & The Four Seasons
One Fine Day The Carpenters
One Love Bob Marley
Only A Winter's Tale David Essex
Only You Kyle Minogue
Out Of Reach Gabrielle
Paper Roses Marie Osmond
Peaceful Easy Feeling The Eagles
Penny Lane The Beatles
Perfect Fairground Attraction
Perhaps, Perhaps, Perhaps The Pussycat Dolls
Piece Of My Heart Dusty Springfield
Please Mr Postman The Marvellettes
Pretty Woman Roy Orbison
Price Tag Jessie J
Promise Me Beverly Cravern
Proud Marry Credence Clear Water Revival
Puppet On A String Sandie Shaw
Que Sera Sera Doris Day
Rainy Days & Mondays The Carpenters
Red Red Wine Bob Marley
Rehab Amy Winehouse
Rescue Me Fontella Bass
Respect Aretha Franklin
Rhinestone Cowboy Glen Cambell
Rhythm Of The Night DeBarge
Rhythm Of The Night Moulin Rouge
Ring Of Fire Johnny Cash
SET LIST CONT...
Rockin' All Over The World Status Quo
Rockin' Years Dolly Parton & George Jones
Rocking Around The Christmas Tree Brenda Lee
Rose Garden Lyn Anderson
Rude MAGIC!
Runaround Sue Dion
O.S Abba
Sailor Petula Clark
Satisfaction The Rolling Stones
Save The Best Till Last Vanessa Williams
Sea Cruise Cliff Richard
SEARCHERS MEDLEY The Searchers
Sex On Fire Kings Of Leon
Shake Your Tail Feather The Blues Brothers
Shake, Rattle And Roll Bill Haley And The Comets
She Loves You The Beatles
She Moves In Her Own Way The Kooks
Shout Lulu
Signed Sealed & Delivered Stevie Wonder
Simply The Best Tina Turner
Smile Lily Allen
Soak Up The Sun Cheryl Crow
Something Stupid Nicole Kidman & Robbie Williams
Somewhere Only We Know Lily Allen
Son-Of-A Preacher Man Dusty Springfield
Stop In The Name Of Love The Supremes
Stupid Cupid Connie Francis
Substitute The Who
Summer Breeze Seals & Croft
Summer Holiday Cliff Richard
Summer Of '69 Brian Adams
Sweet Caroline Neil Diamond
Take Good Care Of My Baby Bobby Vee
Take It Easy Travis Tritt
Teenager In Love Marty Wild
Tennessee Waltz Anne Murray
Thank you For The Music Abba
That Don't Impress Me Much Shania Twain
That's The Way I Like It KC & The Sunshine Band
The Boat That I Row Lulu
The Gambler Kenny Rogers
The Kids Are Alright The Kinks
The Lazy Song Brono Mars
The Loco-Motion Little Eva
The Rose Bette Midler
The Searchers Medley The Searchers
The Shoop Shoop Song Betty Everett
The Tide Is High Blondie
The Wonder Of You Elvis
The Young Ones Cliff Richard
Then He Kissed Me The Crystals
THINK Aretha Franklin
Thinking Out Loud Ed Sheeran
This Is The Life Amy Mcdonald
Three Little Birds Bob Marley
Top Of The World The Carpenters
Torn Natalie Imbrulia
TROPICAL MEDLEY Mixed
Turn Back Time Cher
Twenty Two (22) Lily Allen
Twistin The Night Away Sam Cooke
Under The Moon Of Love Showaddywaddy
Up On The Roof The Drifters
Up Town Funk Bruno Mars
Up Where We Belong Joe Cocker & Jennifer Warnes
Valerie Zootons
Valerie Amy Winehouse
Wake Me Up Avicii
Wake Me Up Before You Go Go George Michael
Walk In The Room The Searchers
Walk Of Life Dire Straits
Walk On By Dionne Warwick
Walking Back To Happiness Helen Shapiro
Waterloo Sunset The Kinks
We Are Family Sister Sledge
We've Got Tonight Lulu & Ronan
What Can I Do The Corrs
What I've Got In Mind Billie Joe Spears
When You Say Nothing At All Ronan Keating
When You Walk In The Room The Searchers
When You're Gone Bryan Adams & Mel C
White Christmas Taylor Swift
Who'd Have Known Lily Allen
Why Do Fools Fall In Love Frankie Lymon & the Teenagers
Wild World Maxi Priest
Will You Love Me Tomorrow? Shirelles
Wind Beneath My Wings Bette Midler
Winter Wonderland Bing Crosby
Wonderful Land The Shadows
Wonderful Tonight Eric Clapton
Wonderful World Sam Cooke
Yes I Will The Hollies
You Can't Hurry Love The Supremes
You Don't Have To Say You Love Me Dusty Springfield
You Know I'm No Good Amy Winehouse
You Really Got Me The Kinks
Young Hearts Run Free Candi Station
You're My World Cilla Black
You're Still The One Shania Twain