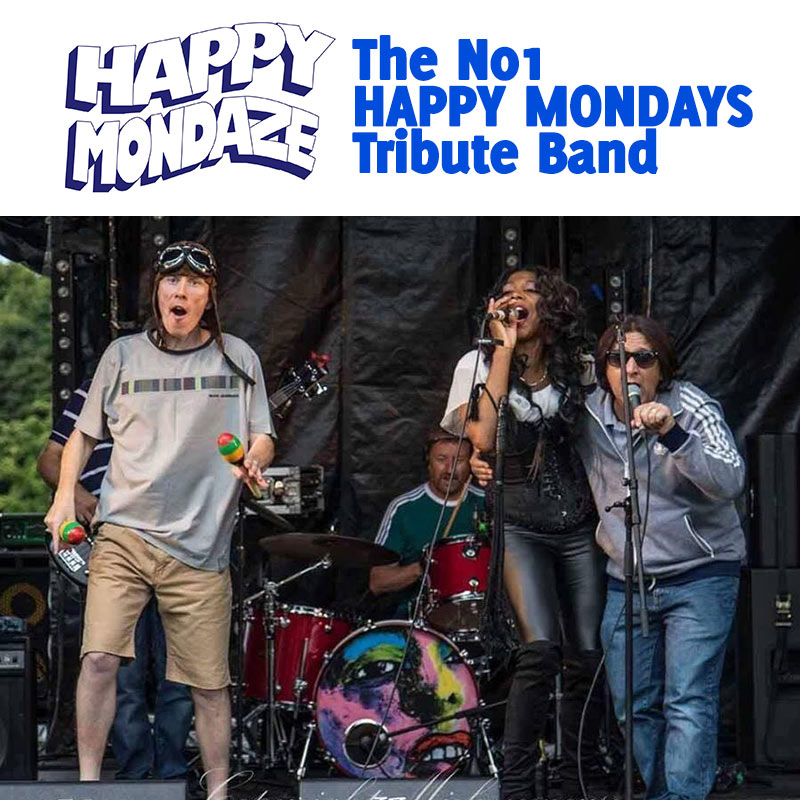 Happy Mondaze
The world's only Happy Mondays tribute band, a band destined to recapture the party vibrancy of the early nineties. Within days of filming a quick video of Kinky Afro in a cold Stockport rehearsal studio (once inhabited by the Mondays themselves) they were already touted by Monday's sticksman Gaz Whelan as "Better than the real thing" (Twitter).
A small handful of months and some great shows later Happy Mondaze has turned from a bunch of strangers with a common love and respect of the Happy Mondays, into a band of friends who're on a right BUZZ!
Whilst re-capturing, re-appreciating and re-living the spirit of the Happy Mondays at their finest hour, Happy Mondaze Happy Mondays Tribute band re-tell the story and some would say in a more polished and groovy setting.
This Happy Mondays tribute band is available to book throughout The Midlands and beyond.
"Really excellent band, great show. This is as near to the 'real deal' as it gets. Wonderful!" - Former Happy Mondays Manager Phil Saxe. "So Good - My Head is Wrecked" - Bez (Happy Mondays)
The groove, the dirt, the sex, the danger and the nostalgia of one of England's most pivotal bands, reimagined for the very first time Reliving the heady Madchester vibes of the infamous Hacienda, Happy Mondaze bring you the cult classics and best-selling hits of Manchester's number one baggy band Happy Mondays.
From the dirt of Squirrel and G Man, the attitude of Bummed, slick grooves of Pills n Thrills and the hedonism of Yes Please. The world's only tribute to the ground-breaking sounds of the Mondays brings to you an authenticity like no other tribute band.
Billed as 'spooky' by Bez, the Mondaze deliver a 90 minute show that revives and recreates the punk-fuelled energy of the late 80s and early 90s rave scene.