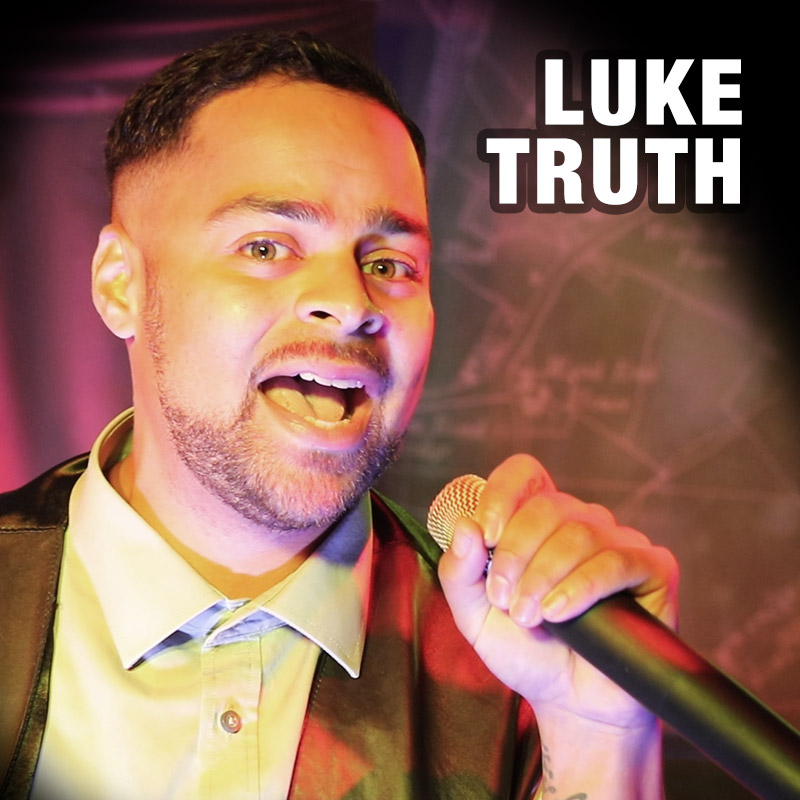 Luke Truth
Luke Truth's breath-taking vocals and spot on song choice are sure to fill the night with fun, excitement and smiles all round.
With a wealth of experience and dedication to his music career, Luke Truth stands out as a high quality vocal artist in the West Midlands.
Writing and recording from his teens, Luke Truth has been consistently performing across the UK for over ten years.
A true professional, Luke Truth arrives looking the part, dressed to impress and put on a show that is unforgettable.
With a passion for music like no other Luke Truth takes inspiration from some of the greats including Stevie Wonder, Marvin Gaye, Maxwell, Lauryn Hill and Bob Marley. As an experienced music producer (achieving a BTEC National Diploma in music production) Luke oozes versatility, putting his own spin on any song that comes his way.
Beginning the evening with an array of soothing, soulful sounds Luke Truth eases his audience in, delivering vocals that are sure to leave the audience wanting more. After a short interlude, Luke Truth livens the atmosphere up a gear with some high tempo tunes to get everyone up on their feet. With a selection of up beat tracks including songs from artists such as Sister Sledge, Jamiroquai, Luther Vandross and Craig David, Luke Truth has the crowd dancing in no time.
SET LIST
Superstition - Stevie Wonder
I wish - Stevie Wonder
For once in my life - Stevie Wonder
Sir Duke - Stevie Wonder
Higher Ground - Stevie Wonder
Living for the city - Stevie Wonder
My Cherie Amour - Stevie Wonder
Master Blaster - Stevie Wonder
I just called to say I love you - Stevie Wonder
As - Stevie Wonder
Kingston Town - UB40
Can't help falling in love - UB40
One in ten - UB40
Photograph - Ed Sheeran
How Would you Feel - Ed Sheehan
Thinking out loud - Ed Sheeran
You Got it Bad - Usher
Nice and Slow - Usher
Make me Wanna - Usher
Pop your collar - Usher
Is this Love - Bob Marley
Waiting in Vain - Bob Marley
Three Little Birds - Bob Marley
Jammin - Bob Marley
Get up, stand up - Bob Marley
Satisfy my soul - Bob Marley
Never Too much - Luther Vandross
Always and Forever - Luther Vandross
Love won't let me wait - Luther Vandross
Give me the Reason - Luther Vandross
Blossom Fell - Nat King Cole
L-o-v-e - Nat King Cole
Unforgettable - Nat King Cole
SET LIST
I can see clearly now - Jimmy Cliff
Make it through the night - John Holt
She's Royal - Tarrus Riley
A message to you Rudy - The Specials
All night long - Lionel Richie
Upside down - The Supremes
You can't hurry love - The Supremes
You to me are everything - The Real Thing
Groove line - Heatwave
Change is Gonna come - Sam Cooke
Hound Dog - Elvis
Fill me in - Craig David
Seven days - Craig David
Uptown Funk - Bruno Mars
Marry you - Bruno Mars
Valerie - Amy Winehouse
Just Friends - Amy Winehouse
Dock of the bay - Otis Redding
My Girl - Otis Reading
What's going on - Marvin Gaye
Fast Love - George Michael
Wonderful World - Louis Armstrong
Don't Know Why - Norah Jones
Thinking of you - Sister Sledge
Cosmic Girl - Jamiroquai
Ain't no Stopping us now - Mcfadden and Whitehead
Rock with You - Michael Jackson
Rewind -Artful Dodger
Woman Trouble - Artful Dodger
Wonderwall - Oasis
SET LIST
Angels - Robbie Williams
The Man Who Can't be Moved - The Script
You Give Me Something - James Morrison
Girlfriend - Nysync
Seniorita - Justin Timberlake
Diary - Alicia Keys
You gotta be - Desree
Dreams - Gabrielle
Stop me - Mark Ronson
Like a Star - Corrine Bailey Rae
Happy - Pharrell Williams
Ordinary people - John Legend
No letting Go - Wayne Wonder
You know what's up - Donnell Jones
Wifey - Next
This is how we do it - Montell Jordan
Promises - Calvin Harris and Sam Smith
One Kiss - Calvin Harris and Dua lipa
Dancing in the moon light - Toploader
Yellow - Coldplay
Starlight - The Supermen Lovers
Don't Call Me Baby - Madison Avenue
True - Spandau Ballet
I can make you feel good - Shalamar
I got you - James Brown
Ain't nobody - Chaka Khan
Disco inferno - The Trammps
Heaven must be missing an angel - Taveres
Celebration - Kool and the Gang
Dancing in the street - Martha and the Vandellas