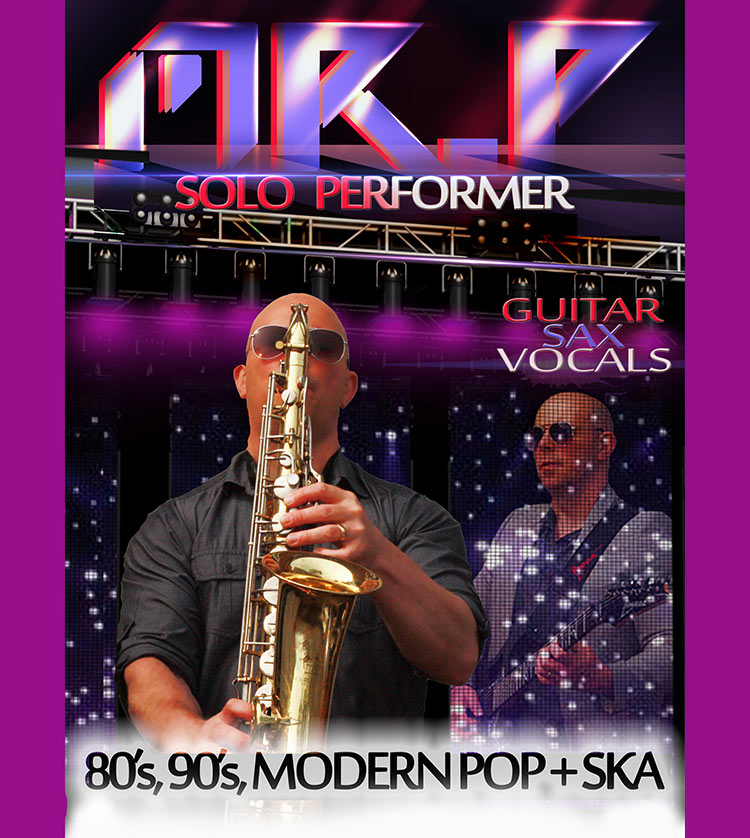 Mr. P - solo vocalist / guitar / sax
Mr. P is an experienced singer/guitarist/saxophonist based in the West Midlands and available as a solo or duo (Mr President).
As a trained musician at degree level, he will certainly WOW you with his musical talents and satisfy all with such a diverse repertoire stretching from the 80s up until present. Genres include Rock, Pop, New Romantic and Ska. Mr. P can also perform an acoustic set on request.
SET LIST
54-46 Was My Number - Toots And The Maytals
A Little Respect - Erasure
Baggy Trousers - Madness
Black Or White - Michael Jackson
Blurred Lines - Robin Thicke
Boom Shake The Room - Jazzy Jeff
Born To Be Wild - Steppenwolf
Boys Of Summer - Don Henley
Centrefold - J Giles
Club Tropicana - Wham
Come On Eileen - Dexys Midnight Runners
Cosmic Girl - Jamiroquai
Don't - Ed Sheeran
Embarrassment - Madness
English Man In New York - Sting
Every Little Thing She Does Is Magic - Sting
Footloose - Kenny Logins
Geno - Dexes Midnight Runners
Gimme All Your Lovin' - Zz -Top
Ghost Town - The Specials
Gold - Spandau Ballet
Groove Is In The Heart - Deee-Lite
Happy - Pharrell Williams
I Feel For You - Chaka Khan
I Just Can't Get Enough - Depeche Mode
I'm Your Man - Wham
It Must Be Love - Madness
I Won't Let The Sun Go Down - Nick Kershaw
Ice Ice Baby - Vanilla Ice
Israelites - Desmond Decker
Locked Out Of Heaven - Bruno Mars
Long Shot Kick The Bucket - The Pioneers
Kiss - Prince
Labour Of Love - Hue & Cry
Let's Dance - David Bowie
Lip Up Fatty - Bad Manners
Living It Up - Level 42
Living On The Ceiling - Blancmange
Master Blaster - Stevie Wonder
Down Under -Men At Work
Message To Rudy - The Specials
Mirror In The Bathroom - The Specials
Monkey House - Animal Magnet
Monkey Man - Amy Winehouse
New Sensation - Inxs
Night Boat To Cairo - Madness
No Diggity - Black Street
Notorious - Duran Duran
Push It - Salt And Pepper
Poison Arrow - Abc
Rappers Delight - Sugarhill Gang
Raspberry Beret - Prince
Rebel Yell - Billy Idol
Rio - Duran Duran
Relax - Frankie Goes To Hollywood
Rude - Magic
Running In The Family - Level 42
Sex On Fire - Kings Of Lion
Sing - Ed Sheeran
Shut Up And Dance - Walk The Moon
Special Brew - Bad Manners
Tainted Love - Soft Cell
Take On Me - A-Ha
The Heat Is On - Glen Fry
The Prince - Madness
This Is How We Do It - Montell Jordan
Together In Electric Dreams - Human League
Town Called Malice - The Jam
True - Spandau Ballet
Uptown Funk - Bruno Mars
We Close Our Eyes - Go West
White Lines - Grandmaster Flash
Wishing Well - Terence Trent D'arby
You Can Call Me Al - Paul Simon
You're The Voice - John Farnham