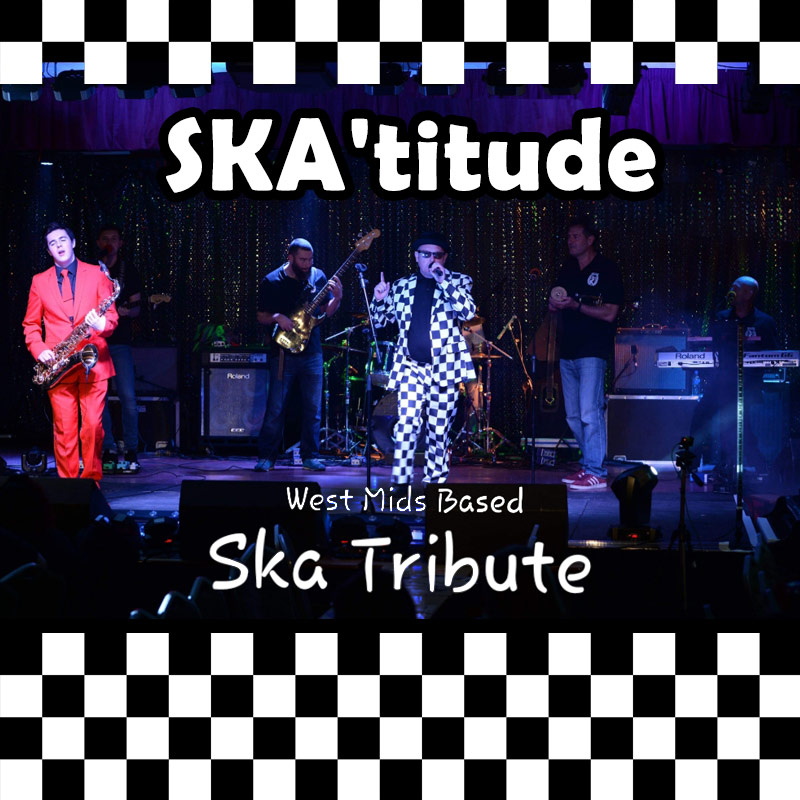 SKA'titude - Ska tribute
Hailing from various parts of the Black Country and the West Midlands, SKA'titude are one of the best Ska Tributes the Midlands has to offer.
Marc, Rich, Simon, Josh, Danny, Kieran and Ade have built a good reputation performing in social clubs, pubs, at private parties, wedding venues and holiday camps across the UK and abroad since 2011; with repeat bookings wherever they perform.
Between the band they bring 2 music degrees, an honors degree, a masters degree, a lorry driver and a prosthetic leg! Showcasing their talents with songs from artists including: Selector, Bad Manners, Madness, Toots and the Maytals, The Jam, The Specials plus many more.
With their full 2 hour Ska tribute and reggae classics, SKA'titude never fail to provide an energetically brilliant nights entertainment; keeping their audiences skanking all night long.
SKA'titude perform with a full lighting rig, high-quality PA system and a sound engineer to make your event flow like clockwork.
2 x 45 min sets or full 90 min depending on venue requirements.
These guys REALLY know how to work a crowd! Fantastic musicality and stage presence coupled with amazing energy and enthusiasm! Matt P.
Absolutely fantastic band. My wife booked them for my 50th. They made the night, feedback we have had has been brilliant ! Do not hesitate in booking these, you will not be disappointed ! Dave L.
What a band! They played the Unicorn Inn Scooter Bash last night and all I can say is wow! Even their soundcheck sounded awesome! Everyone was up on their feet dancing to a fantastic show. Well done guys! Andy M.
SET LIST
Inner London Violence
The Prince
Message To Rudy
Only Fools And Horses
Ne-Ne Na-Na Na-Na Nu-Nu
Special Brew
Rat Race
Ranking Full Stop
Gangsters
Sally Brown
It Must Be Love
You're Wondering Now
Welcome to the Monkey House
Ghost Town
Too Much Pressure
Nite Klub
Embarrassment
Too Much Too Young
Night Boat To Cairo
Lip Up Fatty
Baggy Trousers
One Step Beyond
Monkey Man
Echo 4-2
Wooly Bully
That's Entertainment
Town Called Malice
54-46 Was my number
The liquidators
Skinhead Moonstomp
Broken Stones