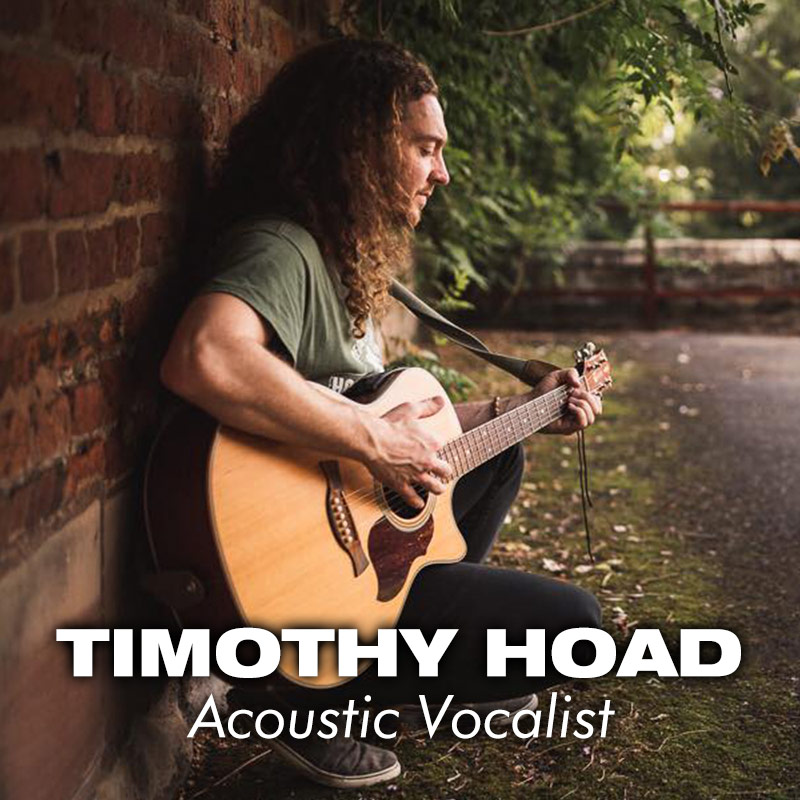 Timothy Hoad - Acoustic vocalist
Timothy Hoad is a professional acoustic vocalist based in the heart of the Staffordshire Moorlands. He performs a diverse range of songs from across all eras and genres in either a melodic ambient style suitable for a sunny beer garden, or an upbeat sing-along perfect for a Friday night dependant upon client request. With live looping, drum machine and instant harmonies, there's something for everyone.
Timothy likes to diversify some popular songs to make his own, and when not on the road he's also a singer for Alton Towers hotels. He uses live-looping techniques and added percussion to enhance his performance, endeavouring to make a truly unique and memorable experience for his audience.
Timothy Hoad first picked up the guitar and started singing at the age of 14, and now in his 30s has a wealth of experience and material under his belt, having played in the streets, pubs, bars, restaurants, theatres, weddings, festivals, hotels and holiday parks all over the country.
SET LIST
Castle on the Hill - Ed Sheeran
Shotgun - George Ezra
Fly Me to the Moon - Frank Sinatra
Oops! I Did Again - Britney Spears
Use Somebody - Kings of Leon
Africa - Toto
Only You - The Flying Pickets/Yazoo
Old Town Road - Lil Nas X
Only the Good Die Young - Billy Joel
Octopuses Garden - The Beatles
Good Riddance (Time of Your Life) - Green Day
Wonderwall - Oasis
SET LIST
Word Up! - Kameo
Breakfast at Tiffany's - Deep Blue Something
Brown Eyed Girl - Van Morrison
Hey Ya - Outkast
Shape of You - Ed Sheeran
Pompeii - Bastille
Summer Holiday - Cliff Richard
Sorry - Justin Bieber
Everywhere - Fleetwood Mac
Shut up and Dance - Walk the Moon
Time after time - Cyndi Lauder
Make You Feel My Love - Adele