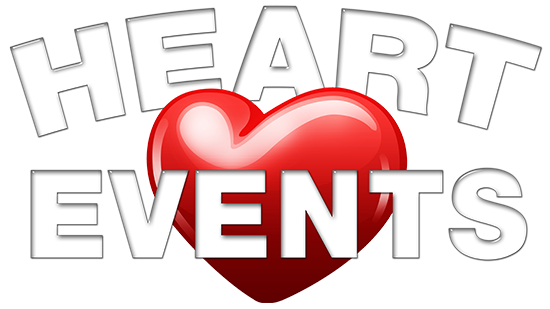 LIVE MUSICAL ENTERTAINMENT FOR ANY OCCASION
Tribute Artiste Booking Agency
Tribute Bands Solo Tributes Vocalists Party Bands Duos Wedding Bands Theme Shows DJs
Heart Events is a highly-regarded live musical entertainment booking agency based in The Midlands UK.
If you're a venue manager or event organiser give us a call, we have 100s of talented musical artistes at prices to suit all budgets.
We're always on the look out for talented and professional gigging bands and vocalists based around The Midlands to include on our books.
Visit our website often as we're regularly adding and refreshing our roster of tribute artistes, vocalists and bands.

We're registered with INVAPAY and EVENT UK for the safe and trackable transmission of fees; cash on the night is also accepted.
WIDE CHOICE
As a tribute artist agent, we have 100s of highly entertaining tribute bands and singers on our books with access to many more through our connections. They cover the classic hits of popular musical artists through the decades from the 30s to modern day.
AGENCY EXPERIENCE
With over 25 years' experience in organising entertainment, rest assured that you are in very capable hands. As a Live Musical Entertainment Agency we're highly-regarded in Birmingham Midlands for our professionalism and personal service.
ENTERTAINMENT STRATEGY
Each entertainment venue or event suits certain types of musical genre, tribute act, or singer; so Heart Events Midlands will plan with you and book live musical entertainment that's most likely to be popular with your specific audience.
EVENT MARKETING
We like to help our venues and tribute acts promote each and every event, so we create and provide eye-catching A3 and A4 posters FREE of charge. These are typically pinned up in the venue and posted on social media.
CLIENTS WE WORK WITH
Heart Events sources and books musical entertainment for pubs, clubs, hotels, casinos, restaurants, weddings, birthday parties and corporate functions throughout Birmingham, East and West Midlands and beyond. Please book early to avoid disappointment.
PLANNING AHEAD
We work with venue managers to plan and book carefully-selected and talented tribute bands and vocalists covering a wide range of popular musical genres to help fill each venue's entertainment nights for the year ahead; suiting budgets and audiences.
Thanks for a brilliant night guys. I've had fantastic feedback from everyone. Will definitely book Abbsolute again. Jeanette, Cotteridge Social Club, June 2018

We booked Abbsolute Abba Tribute band for our wedding in July 2018 at The Ramada Hotel and what a night it was! Even though the air conditioning wasn't working and it felt like 100 degrees in the venue, Abbsolute played and sang brilliantly and professionally and made my wedding night such a success. Thank you so much, I will be highly recommending you!! J. Wager, July 2018.

Abbsolute played at The Lounge in Boldmere on Saturday and the only poor part of the night was when they had to finish! Just an awesome band, professional and a pleasure to have. Can't wait for them to come back. A Thompson, Manager, The Lounge, Boldmere, Sept 2018.

Thank you Sammy, Abbsolute were absolutely brilliant last Saturday night. The tickets sold out 3 weeks ago and the club was packed. Can we book you again in December, Thanks. Club president, Walmley Club, June 2018.

Hi Sammy, Thanks for a great night yesterday, your Abba tribute is a credit to you and Jo, the feedback from the members was great. I will sort a date for next year if you're happy to come back. Thanks again. Jimmy, The Marston Green Club - Oct 2018.

Although the club was really quite due to the nice weather, Acsia were brilliant, by far the best band we have had in the club for years. Want to book again for a Saturday next year. Jimmy - Marston Green Club May 2018.

Hi Sam. Alan Knight was absolutely amazing; he played outside and everyone loved him including us. Lynn Gelder, General Manager, Chase Gate June 2018

Hi Sammy, I just wanted to say that Colin Mills was fantastic again yesterday - The residents loved him - I think he is my new favourite act! Nathan - Pannel Croft. 20/06/18

Karl Memphis was amazing, we would love to book him for a night next time. He is so lovely; bless him. Lynn Gelder, General Manager, Chase Gate June 2018

James T was amazing on Saturday he got all the regulars up dancing and having a great time, I would like to book him again in the new year please if that's possible. Christopher Henden, The Bradmore Arms. Oct 2018.

Just a quick update, Mike Surman last night was brilliant. We would love to have him back. The atmosphere was fantastic! Baldwin Arms June 2018.

Hi Sam, Please pass on ALL our thanks to 6 Appeal for being an excellent band especially the young lady on the saxophone. Unfortunately we were running a little late and delayed their start but everyone was full of compliments. The only challenge we had was with a low ceiling it was quite noisy for some of the guests and they retired to the lounge from where they tell me they still thoroughly enjoyed the excellent music. Once again thank you for organising it and to be band for doing a great job. Look after yourself. Kind regards, Roger. Oct 2017. Walsall Round Table.

Abbsolute at Chandos House, Harley Street, London West End Sept 2011. "Abbsolute were brilliant! The perfect way to kick off our wedding celebrations. Abbsolute were very accommodating with our special requests and communicated very well with us every step of the way. They were a great start to our evening celebrations and we would certainly recommend them as a first class Abba tribute act and they were so much fun! Chandos House, Harley Street.

Abba Tribute Abbsolute. "What a fabulous night was had by all, all comments we received were positive, we will be having 'Abbsolute' back again. They certainly know how to entertain a crowd! We have a wide variety of ages in our venue and everybody really enjoyed themselves. You are welcome back anytime! The Duke Of York, Telford

Nothing was too much trouble for Abbsolute! They made Becky's birthday a night she will remember for ever! Perfect performance, great show and great party music after the Abba show! Would recommend without a doubt.

"Thank you Abbsolute for your brilliant Abba show here in Rushden last Sunday. You covered all the great hits and our audience thoroughly enjoyed the performance. Thank you for being so reliable and professional throughout all the booking process. Fabulous were your voices, costumes, routines, light display and more.....in fact, every attention to detail was made. It was a relief for me that you arrived nice and early and worked so hard on a full set up of the stage. Your professionalism was displayed at all times whilst you were with us and you certainly gave 100%. You could have packed away your equipment and departed mid evening after your set. However, you preferred to wait one and half hours more, till the event was fully over, just to keep things looking professional around the stage area. Many, many thanks girls for doing that. Its pleasing that you are so committed, passionate and serious about your work. We are very much looking forward to you both returning to our hall in September for another superb Abba style performance. As you are so reliable, I am totally confident about your role in this next show". Kind regards, Seamus Vickers.

Sat 13 September - Abbsolute band at The Forum North Allerton. "Thank you guys for a great night - We had great feedback even after the first half and it's been one of, if not the best night we have had here so far". The Forum North Allerton.

We are writing to thank you personally for your generosity in playing for us and helping to raise money for the improvement in services for leukaemia sufferers locally. The final sum raised is certain to be in excess of £6,000. You are fantastic, and everyone who attended has been singing your praises. Your generosity is much appreciated and again we thank you very much. George & Marie.

On behalf of everyone at Harpers, I just wanted to say a BIG thank you for entertaining us all at the Freshers Ball ! They all love you guys here ! We will definitely have you back next year. Sue (Harper Adams University College).

Airbag Party Band - Sat 11 Oct, The Baggot Arms - Thanks very much to Airbag Band - their first booking with HEART EVENTS and they had outstanding feedback from The Baggot Arms Birmingham.

Becky Rok has a beautiful voice with a BIG vocal range. Her stage presence will keep you infused whilst singing some big floor filling covers from across the decades. Steve Knight @ The Oast House Kidderminster.

Just wanted to send a quick e-mail to say thanks. My partner and I went to The Keymaster yesterday to see Platinum Blondie Duo the Blondie Tribute show. We asked them for a card at the end of the night & they gave us your details. A massive thank you for such a brilliant act! They came out like an explosion of energy and it was really great to see how much they enjoyed themselves on stage. We were singing along with them all night. Sam & I saw Blondie years ago in the 70s and honestly they really were as close to the real Debbie that we have seen. Fantastic night, definitely hope that we can see them again. We will definitely be looking to come see more HEART EVENTS acts for sure. Thanks! Lisa and Sam X.

Bootleg Barlow - 6 Sept - Newton Park Hotel Burton On Trent. "Thank you so much Sammy for organising Bootleg Barlow to sing 'A Million Love songs' at my daughter's wedding last Saturday Night. With yours and Dean's help he made my father of the bride speech unforgettable. So many people commented on it... it was brilliant!". Wayne Hooley. Wedding client.

Cher was a top act! Stacy Green brought loads of people in. Will defo look at booking Cher tribute again sometime. Steph, Bramford Arms, Midlands, Sept 2017.

Claire was great last night, we had the football on and she didn't mind working around it which was fab as I didn't realise how busy we would be for it. She managed to keep the customers in once the final whistle blew and they were up dancing and singing along. Absolutely loved her! Will definitely want her again at some point. Very professional but also had a bit of banter which went down a treat. Jessica Boyle, The Oak, Sutton Coldfield. May 2018

Dayton Grey - "Just to let you know Dayton was amazing last night. The atmosphere was great and he kept everyone up dancing and having a good time! He must have done 6 encores!".

Dayton performed for our guests at our wedding and it was the most amazing experience. I was sat at the back of the room with my daughter sleeping in my arms just listening and thinking this is the most beautiful moment of my life, thank you. You made our evening.

Thank you all SO much for making my husband's 80th birthday and my grandson's 4th birthday party on the 06/05/17 so wonderful, you all did an excellent job and gave us an evening to remember forever. Everyone praised Freddie for his magic show, Karl Memphis for his brilliant Elvis show and Nikki and John for their friendliness and hard work controlling the buffet and bar. These memories will stay with us forever. Kindest regards, Gaynor Reynolds.

Tribute to Elvis - Karl Memphis at The Brunswick. "Yesterday's entertainment was absolutely amazing...Every body loved him, the best live act the pub has ever had... He has to come back !". The Brunswick.

Karl entertained the audience with his spectacular Elvis Tribute stage show. His voice is so convincingly like Elvis that many people thought the performance was 'play back'. A great night's entertainment for a very reasonable fee. The New Inns - Birmingham.

GlamStar Band - "Just wanted to let you know that Glamstar were fantastic last night, the customers really enjoyed it and they were very understanding about our neighbours, keeping the noise at a reasonable level all night. I'll let Sam know how well received they were and hopefully book them again for next year". Kind regards, Jess, The Farthing, Castle Bromwich.

Guy Surtees - Solo Vocalist at The Hare & Hounds Shenstone Sat 20 Sept. "We here at The Hare and Hounds had a brilliant night last night with the fantastic Guy Surtees! Even our very own Chris joined in for a bit of music!". The Hare & Hounds Shenstone.

I just wanted to say thanks, everybody loved you and you smashed our wedding song, you made the night, we hope we can see you again sometime when you have a gig in the area, thanks again. Steve n Shell, Aug 2017. 😊

Jo was very good and enjoyed by everyone. We had families stop for the evening who would normally have left after eating their food. Martin, The Navigation Inn. Nov 2017

Jo Lennard live @ Dudley Sports & Social Club - 24th Sept 2016. Jo came to our club and entertained us for the evening. We at Dudley Sports and Social Club and myself personally would like to thank Jo for an amazing night, she has a beautiful voice and her communication with the audience was fantastic. A beautiful young lady from Whitby in North Yorkshire has the personality and wit that kept her audience engaged all night. Congratulations Jo and we will want to see you again in 2017. Many thanks.

I would just like to say that Mr President were bloody fantastic and they made our night so fab. Got us involved and all our guest said how great they were. I would definitely recommend and book them again. Thank you. Kerry & David, June 2018.

Mr President band were brilliant! Definitely booking again. Deb, The Farthings, Castle Bromwich, Sept 2017.

Nick James was excellent not only vocally but a real gentlemen. If he performs like that when he is not very well what a night we will have next year when he comes back. As I said a really nice guy he took the time to go and thank everyone and say goodnight. Manager of The Marston Green Club.

Thurs 18 Sept- Stuart Fletcher as Olly Murs at The White Lion Sutton Coldfield."Thank you Sammy for organising our Olly Murs Birthday Surprize - He was great and it was a great success". The White Lion Sutton Coldfield.

Last night was great, Paper Kite were such a laugh and the crowd loved them, could you possibly send their availability for the year as I'd like to get them again! The Management - The Court Leet - Feb 2018.

Sam, Pippa Langhorne was brilliant, what a lovely personality and very versatile singer; first class. She's happy to come back next year if you can book her in 26th Jan, 6th March or one of the dates I gave you last week. Jimmy, Marston Green Club May 2018.

I just wanted to say thanks again – it was a brilliant night, and the best last night I could have wanted before I head off! If you ever need entertainment, a singer in the bar, or a whole night of great stuff, Sam's your woman! Cathryn, Extra Care Nursing Homes, Oct 2017.

Hi Sam, We just wanted to say a massive thank you for Sunday night. Everyone really enjoyed your set and thought it was great. Thanks for helping make the evening and getting everyone up on the dance floor. Best wishes. Sharon & Darren, Aug 2017.

Hi Sam, Signed Sealed Delivered were amazing tonight! What a voice! So pleased I chose them. The customers absolutely loved them and even got up dancing which I've never seen them do before! Thank you for sorting at pretty short notice, will get back to you about the 26th in the morning as its hectic here. Thanks again, Jess, The Oaks Sutton Coldfield, May 2018.

The best entertainment we have had, and he had the whole pub dancing, so an excellent performer - The Wheatsheaf, Cannock.

Just wanted to say that they were absolutely quality, please let them know again for me. Faultless performance I would have them back anytime and I'm sure Hannah would also. They really performed their hearts out on our stage the crowd loved them. I'd recommend them to anyone looking for a take that tribute, real quality gents. Kind Regards, David Gumbs, The Red Lion.

Just a note to say the Chamberlain Brothers were great, certainly ones to watch out for as they mature would recommend no problem, lovely personalities. Thank You. Will send date to put them in next year. Jimmy, Marston Green Club.

The Heatwaves were an excellent show last week - Jimmy Lear, The Marston Green Club. Nov 2017.

The Jailhouse Blues Brothers are an absolutely brilliant duo. They saved our night as a last minute booking. The performance, music, singing and interaction with the crowd was brilliant. They even turned up in the Blues Brothers police car. Thank you both from all at The Staffordshire Regimental Association Wolverhampton Branch. Nov 2017.

"We raised nearly £6,000 for the Princess Alice Hospice at our Charity Summer Ball, which exceeded our expectations. Everyone, and I mean everyone, told us the Beatles tribute band was fantastic, I have been spoilt because I knew what to expect. Please would you thank the boys for their excellent support of such a worthy cause". Alan Pepperell.

"Just a quick note to thank you on behalf of Clare and myself for the band's brilliant performance at our wedding. Everyone was extremely impressed with both the authenticity of your sound and your musicianship. It really brought our wedding day to a close in style! The dancefloor was full - there were some people getting up who had never been known to dance before in their lives. Cheers". David and Clare Hyde (Plymouth)

Vegas Show Night @ Pannel Croft, Birmingham. It was the best show that I have had in the whole of the 3 years that I have been working here! Singers and dancers were great, it was a great opening to the show having the dancers involved too. We have raised the bar as far as performances and productions are concerned. Nathan Duberry, Village Activity Facilitator for Pannel Croft.

ELVIS TRIBUTE Karl Memphis - "Just wanted to say THANK YOU what a night. Karl did me proud everyone had a great time Karl is so talented he is brill, Thanks again for making my 50th a Birthday to remember". Nicki xxxxxxx

Olly Murs Tribute by Shaun Moore - "I just wanted to thank you so much for helping me with arranging our act for our carer event. You did an outstanding job. Thank you again for absolutely everything. A wonderful time was had by all and Olly was Fab". Best wishes. Satpal, Midland Mencap.

A big thank you to The Amps band for a great show last night. Fantastic set! M Farley, The Bagot Arms, Aug 2018