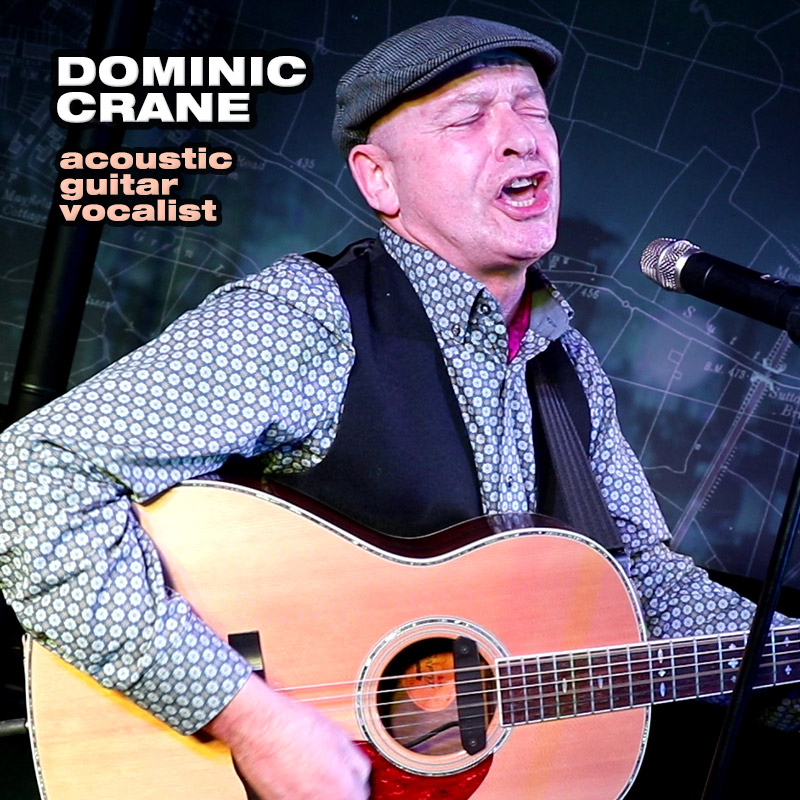 Dominic Crane
Dominic Crane has been strumming and singing his heart out to audiences of all ages since he was 13; putting his own rapturous spin on popular favourites around the pubs and clubs of Britain. Whether he's crooning the tear-jerking pathos of 'Fields Of Athenry' or belting out 'Delilah' with all the camp abandon of a 1930's Berlin Cabaret act, Dominic totally relishes the responsibility of connecting with and entertaining his audience, be it 20 regulars down the local or 20,000 New Year's Eve revellers in Centenary Square, Birmingham.
Dominic's repertoire includes many popular Irish favourites which never fail to work perfectly with pub and club audiences for their memorable and infectious sing-a-long choruses. Always looking to add new suitable songs to his repertoire, Dominic is happy to learn one of your favourite songs if requested with your booking.
"It's more than a job", insists Dominic "It's a privilege and an honour to be able to perform and hopefully touch the lives of people who are looking to have a bit of fun and a break from the routine of work and commitment".
Wow, what great songs! I was playing along at the side of the stage. It's a real treat to have Dominic opening for me. The audience really loved it too. SHARON CORR, The Corrs.
Repertoire
Dirty Old Town - The Pogues
Blanket On The Ground - Billy Jo Spears
The Last Time - Rolling Stones
Ring Of Fire - Johnny Cash
Crazy Little Thing Called Love - Queen.
Make You Feel My Love - Adele / Bob Dylan
Wishing On A Star - Rose Royce
Islands In The Stream - Dolly Parton, Kenny Rogers
Suspicious Minds - Elvis Presley
Faith - George Michael
Happy - Pharrell Williams
Don't Worry Be Happy - Bobby McFerrin
Red Red Wine - UB 40
Kingston Town - UB40
That's Life - Frank Sinatra
Dedicated Follower of Fashion - The Kinks
500 Miles - The Proclaimers.
Repertoire
Whiskey In The Jar - Trad / Thin Lizzy
Meet Me On The Corner - Lindisfarne
Lovely Day - Bill Withers
Fisherman's Blues - The Waterboys
Brown Eyed Girl - Van Morrison
Wild Rover - Trad
Medley - Proud Mary/Spirit In The Sky/Alright Now/Get Back
Galway Girl - Steve Earle
Whistle For The Choir - The Fratelli's
10.Waggon Wheel – Nathan Carter
Dance The Night Away - The Maverics
They Don't Know - Kirsty McColl
Country Roads - John Denver
Day Dream Believer - The Monkees
Sweet Caroline - Neil Diamond
Fields Of Athenry - Trad
Angels - Robbie Williams
I Useta Love Her - Saw Doctors
Repertoire
Hills Of Donegal - Goats Don't Shave
Hi Ho Silver Lining - Jeff Beck
Black Velvet Band - Trad
Delilah - Tom Jones
Stand By Me - Ben E King
Wonderful World - Sam Cooke
Wonderwall - Oasis
Molly Malone/Liverpool Lou - Trad
Saw Her Standing There - The Beatles
7 Drunken Nights – The Dubliners
Please Please Me – The Beatles.
Perfect - Fairground Attraction.
Maggie May - Rod Stewart.
That's Entertainment - The Jam
All My Loving - The Beatles
Walk Of Life - Dire Straits
Crocodile Rock - Elton John
Streams Of Whiskey - The Pogues
Dominic is also an original artist; recording and releasing his own material particularly throughout the 80s and 90s, with singles and albums released through Warners, Virgin and Island with his bands Rumblefish, The Boatyman and Low Art Thrill.
Over the years Dominic has opened for many acts including George Ezra, J.P. Cooper, Mike and The Mechanics, Nick Heyward, Sharon Corr, Boo Hewerdine, Ian McNabb, Pete Wylie and Roachford.
Glorious… Magnificent! JANICE LONG, BBC DJ.
'American Tan' – Wow! Such a beautiful song. It would be lovely to have more people hear his fantastic songs. Always room for good music in the world. NELL BRYDEN (Recording Artist & Broadcaster)
Dominic plays so melodically with guitar parts that are so cleverly arranged. STEVE CRADDOCK (Ocean Colour Scene & Paul Weller)
Just like The Move, Jeff Lynne and Black Sabbath, he is an integral part of the music machine that beats beneath the heart of Birmingham. LIVERPOOL SOUND AND VISION.