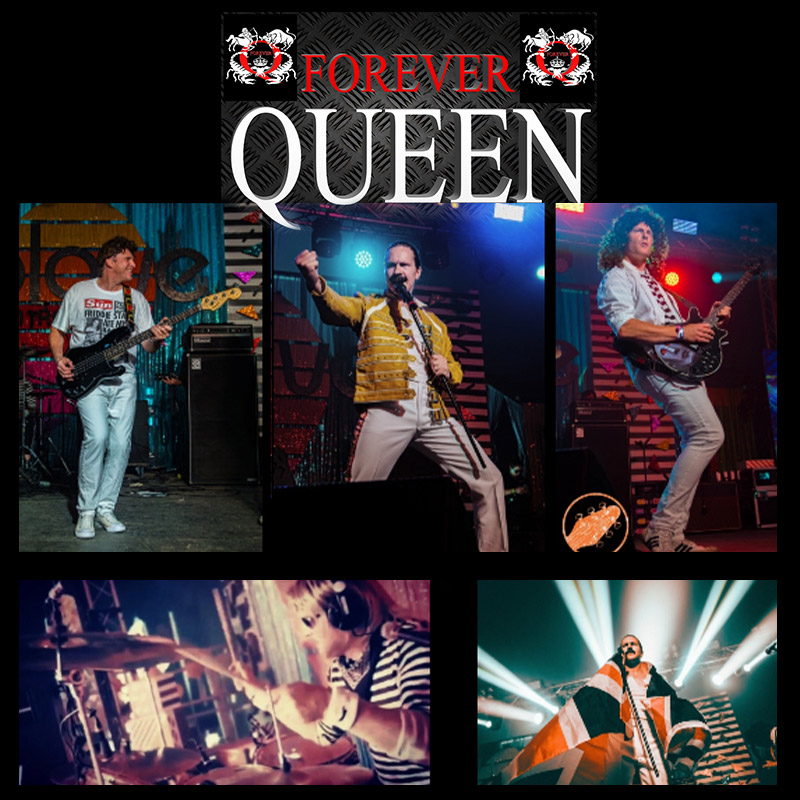 Queen tribute band - Forever Queen
Forever Queen are a 4-piece Queen tribute band based on the South Coast, but they tour all around the UK and abroad with their most notable performance in June 2019 at The Isle of Wight Festival.
Forever Queen aim to consistently put on a great show and strive to make sure the audience has a memorable time. With over 1,600 followers across their social media platforms, they do whatever they can to promote themselves and every venue they play at.
The band consists of Mark Mulholland on drums and backing vocals as 'Roger Taylor', Mark Wilmott on Bass as 'John Deacon', Howard Corbett on lead vocals as 'Freddie Mercury', and Craig Farley on guitar and backing vocals as 'Brian May'. Craig is also a 'Brian May Guitars' featured artist and has done some lookalike work for The Sunday Times Rich List.
Forever Queen pride themselves on authenticity through their music and costumes which span the life of Queen through the '70s and '80s. One of the many comments they often receive is about the variety of songs they play, putting in the hits but also those songs that every Queen fan will appreciate.
Costumes include, but are not limited to, The Works Tour, The Hot Space Tour, The Game Tour, The Magic Tour, Live Aid.
Repertoire
One Vision
Tie Your Mother Down
In The Lap Of The Gods
Seven Seas Of Rhye (short)
Tear It Up
A Kind Of Magic
Under Pressure
Another One Bites The Dust
Who Wants To Live Forever
Save Me
Somebody To Love
Repertoire
Breakthru
Killer Queen
Play The Game
Headlong
Fat Bottomed Girls
Flash Intro/The Hero
We Will Rock You (Fast)
Keep Yourself Alive
Now I'm Here
The Show Must Go On
These Are The Days Of Our Lives
Repertoire
I Want To Break Free
Bohemian Rhapsody
Hammer To Fall
I Want It All
Don't Stop Me Now
Crazy Little Thing Called Love
Radio Ga Ga
We Will Rock You
Friends Will Be Friends
We Are The Champions
God Save The Queen (instrumental)