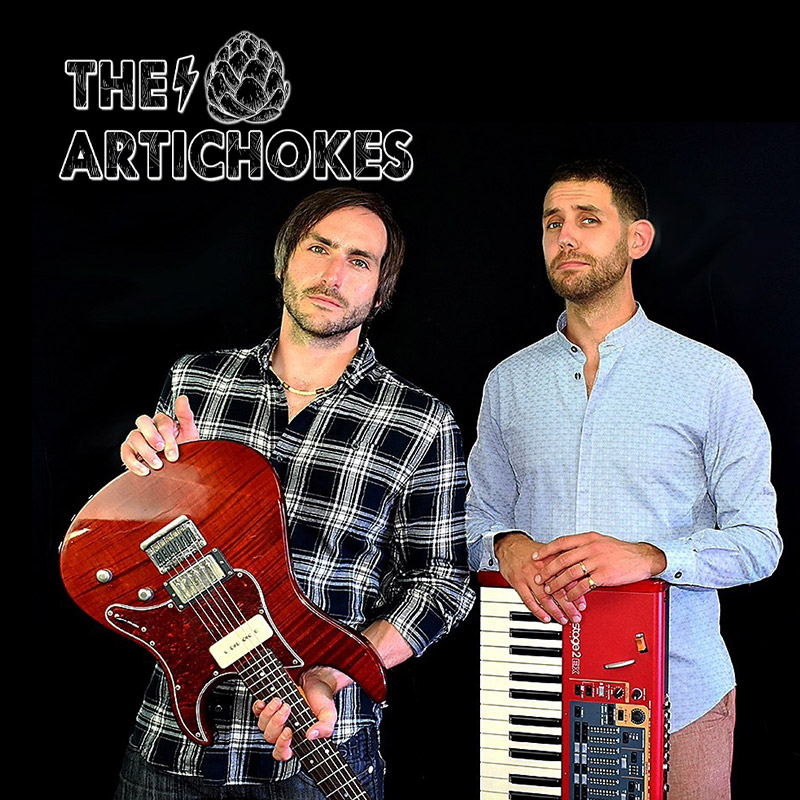 The Artichokes
Tomm and Hugh deliver a mighty rock experience, making more noise than you thought possible from just two people! Featuring Guitar, Drums, Bass, Keys and soaring vocal harmony, look no further than The Artichokes to provide you with unforgettable entertainment.
The Artichokes duo are a classic rock band hiding in the form of a duo. Between them Hugh and Tom cover every part. Hugh plays a self-made hybrid drum kit with his feet whilst covering bass and lead lines on split keyboards. Tomm plays shredding guitar riffs and licks, whilst both offer big rock vocals and harmonies.
In short the Artichokes are a rock band packed down to a duo. Having only started in 2019 they bring together their combined experience of years in the industry. They have already had a run of incredible gigs and are being brilliantly received and reviewed.
"I love rock and roll...and I love the Artichokes! Banging set full of sing along classics. I had a great evening, the duo are energetic, funny and so talented!" Georgie V.
"The artichokes played at the Hilltop Farm Beer and Cider festival this year and were fabulous! They played all the rock classics, pitch perfect and everyone loved it. The crowd were all dancing, they really got the party going, and we've had loads of people say how great they were. Thanks so much guys - same time next year?" Lottie E.
"Fantastic night at Muddy Oar on Saturday, what a great entertainment, thank you guys for brilliant music, everyone loved it!" Muddy Oar Bar.
"We had the artichokes play at our pub Saturday, what a fab night! With a real mixed audience, there was something for everyone and a great night had by all, can't wait to have them back. The house was rocking, the only downside was when they stopped Playing!" Rebecca T .
"The Guy's played my venue The Kingstanding Inn on Saturday 22nd June great act played something for everyone and we will defo be having them back" John M.
"Amazing band! Great 80's classics as well as the current top 40. So much fun and great entertainment." Daniel B .
Repertoire
It's My Life - Bon Jovi
Boys of summer - Don Henley
A Little Respect - Erasure
Eye of the tiger - Survivor
Summer of 69 - Bryan Adams
Crazy little thing called love - Queen
All right now - Free
Seven nation army - The White Stripes
Sweet Dreams - Eurythmics
Born to be Wild - Steppenwolf
Final countdown - Europe
Repertoire
Run to you - Bryan Adams
Proud Mary - Tina Turner
Rockin' all over the world - Status Quo
Power of love - Huey Lewis & the News
Teenage dirtbag - Wheatus
Times like these - Foo Fighters
Come together - The Beatles
You really got me - The Kinks
All Day and All Night - The Kinks
I'll be there for you - The Rembrandts
Highway to Hell - AC/DC
Repertoire
Pretty Woman - Roy Orbison
Johnny B. Goode - Chuck Berry
Dreaming of You - The Coral
Hold the Line - Toto
Since You've Been Gone - Rainbow
Rocks - Primal Scream
I'm a Believer - The Monkeys
Stacy's Mom - Fountain of Wayne
Danger Zone - Kenny Loggins
Sweet Child of Mine - Guns N'Roses
Dancing in the Dark - Bruce Springsteen
Xmas Repertoire
Merry Xmas Everybody - Slade
Fairy Tale of New York - The Pouges
Last Christmas - Wham
I wish it could be Christmas every day - Wizard