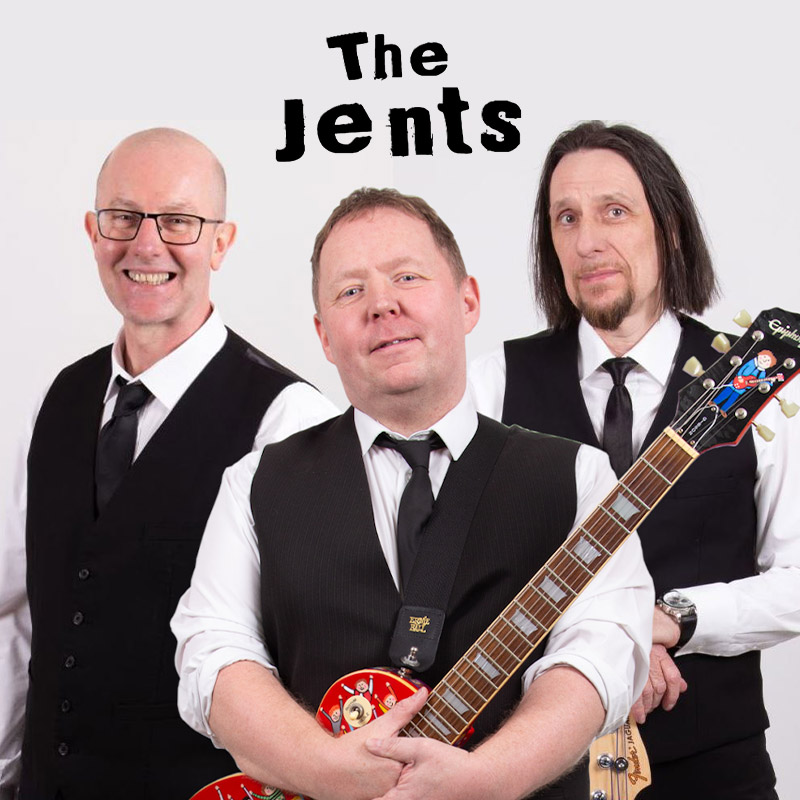 The Jents
The Jents are a 3-piece guitar-based covers band and cover music from the 60s to the 00s. The band members are Stuart Drury (Guitar & Vocals), Steve Davies (Bass and Vocals) and Allan Fisher (Drums and Vocals).
The Jents formed in the Summer of 2008 and quickly gained momentum around the Midlands live music venues, mainly due to the contacts they made during their collective 80+ years on the entertainment circuit!
The Jents are a fully self-contained band with a "state-of-the-art" sound system and full lighting rig. If you searched for 'The Gents', you've found the correct page!
SET LIST
Mr Blue Sky - ELO
Summer Of 69 - Bryan Adams
Angel Of Harlem - U2
It's Not Unusal - Tom Jones
Geno - Dexy's Midnight Runners
Lip Up Fatty - Bad Manners
My Sharona - The Knack
Poison Ivy - The Coasters/ The Lambrettas
Rock 'N Me - The Steve Miller Band
Chelsea Dagger - The Fratellis
Sex On Fire - Kings Of Leon
Pick A Part That's New - Stereophonics
I'm A Believer - Monkees/Wonderstuiff/Vic Reeves
Tie Your Mother Down - Queen
Come And Get It - Badfinger
Rocks - Primal Scream
Fantastic Day - Haircut 100
Walking By Myself - Gary Moore
A Hard Day's Night - The Beatles
I Feel Fine - The Beatles
SET LIST CONT...
Have A Nice Day - Stereophonics
20th Century Boy - T Rex
Far Far Away - Slade
I Can't Explain - The Who
Cigarettes & Alcohol - Oasis
Don't Bring Me Down - E.L.O.
Substitute - The Who
Kids Are Alright - The Who
No Reply - The Beatles
Roll With It - Oasis
You Really Got Me - The Kinks
Can't Buy Me Love - The Beatles
No Matter What - Badfinger
All Or Nothing - Small Faces
Rosalie - Bob Seger/Thin Lizzy
Mama We're All Crazee Now - Slade
2-4-6-8 Motorway - Tom Robinson
SET LIST CONT...
Crazy Horses - The Osmonds
Disco 2000 - Pulp
I Love To Boogie - T Rex
Brown Sugar - The Rolling Stones
Coz I Love You - Slade
Swords Of A Thousand Men - Tenpole Tudor
Delilah - Tom Jones
Valerie - The Zutons/Amy Winehouse
Does Your Mother Know - Abba
Roll Over Beethoven - Chuck Berry
I Saw Her Standing There - The Beatles
Teenage Kicks - The Undertones
500 Miles - The Proclaimers
Hey Jude - The Beatles
Jumpin' Jack Flash - The Rolling Stones
Why Does It Always Rain? - Travis
Sgt Pepper Reprise - The Beatles
Bad Boy - Larry Williams/The Beatles
Do Anythin' You Wanna Do - Eddie And The Hotrods