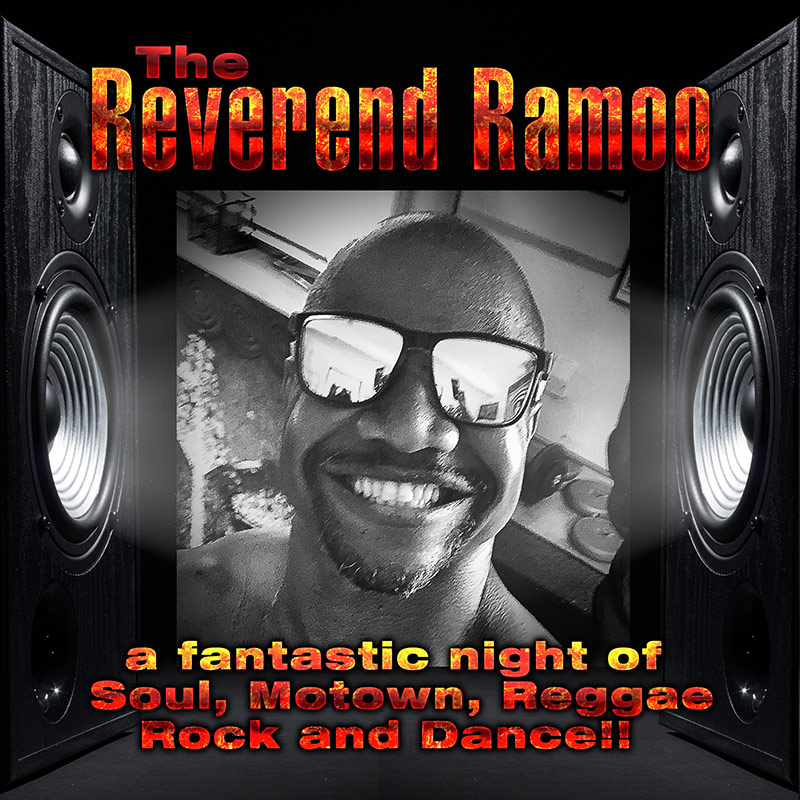 The Reverend Ramoo Show
The Reverend Ramoo been singing since the turn of the century, performing at parties, weddings, pubs, clubs and corporate events. His main styles are Reggae, Soul and Motown but he has wide versatility and singing styles, also performing ska, dance, pop and rock from The Commitments through to Stereophonics and strong ballads.
The Reverend is very party-orientated loving to get the audience singing and dancing!! You are guaranteed a great night with amazing vocals and music - you'll party hard, whatever the occasion.
There are three fantastic shows to chose from (each is 2 x 1 hour sets): Mixed Party Hits Show - A night of Soul, Motown, Ska, Reggae, Rock, Pop and Dance music to suit every occasion. Reggae and Ska Show - pure old school Reggae and classic Ska tracks. The Ultimate Soul and Motown Show - Soul and Motown with all the greatest hits from the biggest Soul stars. Available to book self-contained with professional PA and lights.
Absolutely Brilliant night !!!! We booked The Reverand Ramoo Show for our bistro. His interaction with the crowd is fantastic, it certainly got our guests on their feet, they loved him so much, in fact I've already booked him again. He's professional, arrived early to set up and was quick to reply to our messages. I would definitely recommend for any event.
The Reverend Ramoo's Extensive Repertoire
Soul, Motown, Ska, Reggae, Rock and Dance music
| | | |
| --- | --- | --- |
| Buffalo Soldier | Bob Marley | Reggae |
| Is this love | Bob Marley | Reggae |
| Jammin | Bob Marley | Reggae |
| No woman no cry | Bob Marley | Reggae |
| Redemption song | Bob Marley | Reggae |
| Three little birds | Bob Marley | Reggae |
| Waiting in vain | Bob Marley | Reggae |
| Karma Chameleon | Culture Club | Reggae |
| I don't wanna dance | Eddy Grant | Reggae |
| If loving you is wrong | Glen Washington | Reggae |
| Cool Down the pace | Gregory Isaacs | Reggae |
| Night Nurse | Gregory Isaacs | Reggae |
| Sweat (A la la la long) | Inner Circle | Reggae |
| Help me through the night | John Holt | Reggae |
| Cupid | Johnny Nash | Reggae |
| Tears on my pillow | Johnny Nash | Reggae |
| Everything I own | Ken Boothe | Reggae |
| Close to you | Maxi Priest | Reggae |
| Some guys have all the luck | Maxi Priest | Reggae |
| Mysterious Girl | Peter Andre | Reggae |
| Good thing going on | Sugar Minnot | Reggae |
| Shes Royal | Tarus Riley | Reggae |
| Now that we've found love | Third World | Reggae |
| Gimme Lickle one drop | Tirus Riley | Reggae |
| Can't help falling in love | UB40 | Reggae |
| He ain't heavy, he's my brother | UB40 | Reggae |
| Homely girl | UB40 | Reggae |
| King | UB40 | Reggae |
| Kingston town | UB40 | Reggae |
| Many Rivers to cross | UB40 | Reggae |
| One in ten | UB40 | Reggae |
| Red Red Wine | UB40 | Reggae |
| No Letting go | Wayne Wonder | Reggae |
| Lip Up Fatty | Bad Manners | Ska |
| Special Brew | Bad Manners | Ska |
| Night Boat to Cairo | Madness | Ska |
| One Step Beyond | Madness | Ska |
| Message to you Rudi | The Specials | Ska |
| SWEET SOUL MUSIC | ARTHUR CONLEY | Soul |
| Stand by me | Ben E King | Soul |
| Lean on me | Bill Withers | Soul |
| Lovely day | Bill Withers | Soul |
| 634-5789 | Blues Brothers | Soul |
| Everybody needs somebody | Blues Brothers | Soul |
| Gimme some lovin' | Blues Brothers | Soul |
| SOUL MAN | Blues Brothers | Soul |
| Hey baby | Bruce Chanel | Soul |
| Minnie the moocher | Cab Calloway | Soul |
| You never can tell | Chuck Berry | Soul |
| Knock on wood | Eddie Floyd | Soul |
| This old heart of mine | Isley Brothers | Soul |
| Higher and Higher | Jackie Wilson | Soul |
| I Feel Good | James Brown | Soul |
| Cry to me | Marc Broussard | Soul |
| These arms of mine | Marc Broussard | Soul |
| Love man | Otis Redding | Soul |
| My girl | Otis Redding | Soul |
| Sitting on the dock of the bay | Otis Redding | Soul |
| When a man loves a woman | Percy sledge | Soul |
| Tell me what i say | Ray Charles | Soul |
| What i say | Ray Charles | Soul |
| Lately | Stevie Wonder | Soul |
| Signed, Sealed, Delivered | Stevie Wonder | Soul |
| Superstition | Stevie Wonder | Soul |
| Sweet Home Chicago | The Blues Brothers | Soul |
| Dark End of the street | The Commitments | Soul |
| Hard to Handle | The Commitments | Soul |
| In the midnight hour | The Commitments | Soul |
| Land of a thousand dances | The Commitments | Soul |
| Mr Pitiful | The Commitments | Soul |
| MUSTANG SALLY | The Commitments | Soul |
| Show Me | The Commitments | Soul |
| Take me to the river | The Commitments | Soul |
| Treat Her Right | The Commitments | Soul |
| Try a little tenderness | The Commitments | Soul |
| Do you love me | The Contours | Soul |
| Save the last dance | The Drifters | Soul |
| Under the Boardwalk | The Drifters | Soul |
| Up on the roof | The Drifters | Soul |
| Sugarpie Honeybunch | The Four Tops | Soul |
| The Same old song | The Four Tops | Soul |
| It's the same old song | The Four Tops | Soul |
| Proud Mary | Tina Turner | Soul |
| Kissing in the back row | Drifters | Motown |
| Twisting the night away | Sam Cooke | Motown |
| Build me up Buttercup | The Foundations | Motown |
| Love train | The O'jays | Motown |
| Ain't too proud to beg | The Temptations | Motown |
| Get Ready | The Temptations | Motown |
| Out on the floor | Dobie Gray | Northern Soul |
| Hold back the night | The Tramps | Northern Soul |
| Valerie | Amy Winehouse | Rock/Pop |
| Summer of 69 | Bryan Adams | Rock/Pop |
| Babylon | David Gray | Rock/Pop |
| Suspicious minds | Elvis | Rock/Pop |
| Sex On Fire | Kings of Leon | Rock/Pop |
| Use Somebody | Kings of Leon | Rock/Pop |
| Celebration | Kool and the gang | Rock/Pop |
| All Night Long | Lionel Ritchie | Rock/Pop |
| Easy | Lionel Ritchie | Rock/Pop |
| Moves Like Jagger | Maroon 6 | Rock/Pop |
| Sweet Caroline | Neil Diamond | Rock/Pop |
| Don't look back in anger | Oasis | Rock/Pop |
| Wonderwall | Oasis | Rock/Pop |
| I'm Gonna be / 500 Miles | Proclaimers | Rock/Pop |
| Human | Rag n Bone man | Rock/Pop |
| Skin | Rag n Bone Man | Rock/Pop |
| Chasing Cars | Snow Patrol | Rock/Pop |
| Dakota | Stereophonics | Rock/Pop |
| Disco Inferno | The Tramps | Rock/Pop |
| Ordinary People | John Legend | Ballad |
| Something inside so strong | Labi Sifre | Ballad |
| Dance with my Father | Luther Vandross | Ballad |
| Impossible Dream | Luther Vandross | Ballad |
| House of the Rising Sun | The Animals | Ballad |
| Delilah | Tom Jones | Ballad/Traditional |
| I who have nothing | Tom Jones | Ballad/Traditional |
| It looks like I'll never fall in love again | Tom Jones | Ballad/Traditional |
| You can leave your hat on | Tom Jones | Ballad/Traditional |
| Brown Eyed Girl | Van Morrison | Ballad/Traditional |
| Moondance | Van Morrison | Ballad/Traditional |
| Hoochie Coochie Man | Eric Clapton | Blues |
| Long Train running | Doobie Brothers | Country Rock |
| Can't take my eyes off you | Andy Williams | Swing/Traditional |
| Can't help falling in love | Andy Williams | Swing/Traditional |
| Moon River | Andy Williams | Swing/Traditional |
| New York New York | Frank Sinatra | Swing/Traditional |