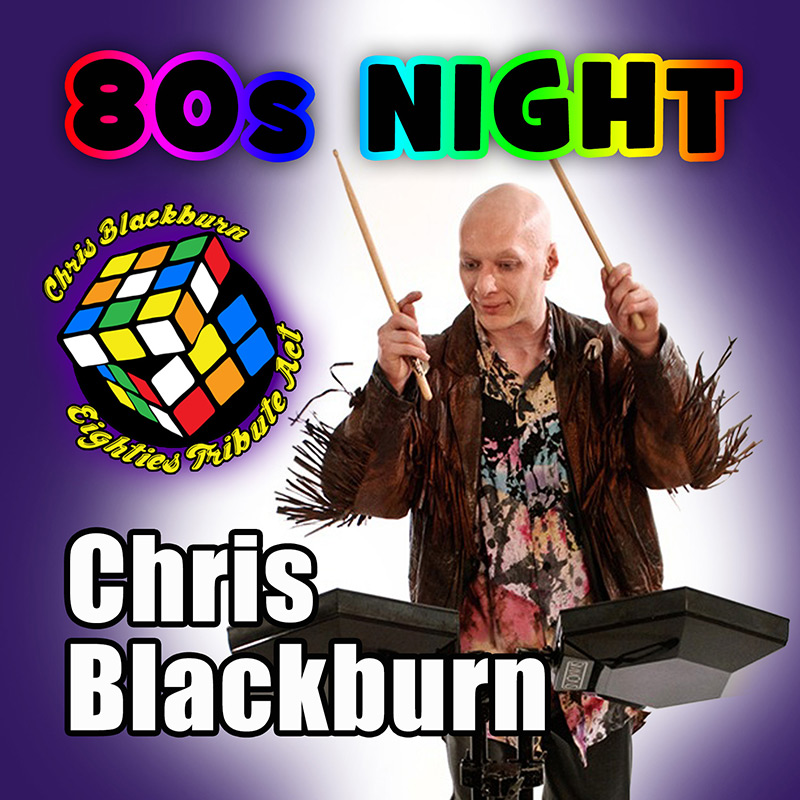 Chris Blackburn - 80s Night
Chris Blackburn's unique and exciting 80s tribute act has been described as high energy up tempo, extremely visual and colourful and his 80s night is bringing back many great memories, as well as creating new ones. Live 80s electric drums and synthesizer feature in Chris' act and he'll cover classics such as Van Halen's Jump, Phil Collins' In The Air Tonight, Gloria Estefan's The Rhythm Is Gonna Get YA, Adam and the Ants Ant Music, Cars by Gary Numan, Enola Gay by O.M.D, Shout by Tears for Fears and Prince's Purple Rain, and many more.
Chris creates his own backing tracks in his studio, leaving off certain instruments and performs them live in his own 80s showman style. Chris' 80s night will have you dancing and singing from start to finish. Expect a long and wild night.
Music in-between sets will also be provided to keep the 80s theme going. From his experiences as a touring musician in the 80s Chris has created a high energy, versatile solo tribute performance.
SET LIST
The Buggles – Video Killed the Radio Star
Paul Young – Come Back & Stay
Frankie Goes To Hollywood – Power of Love
Thompson Twins – Hold Me Now
Thompson Twins – Doctor Doctor
Billy Idol – Mony Mony
Phil Collins – In The Air Tonight
Howard Jones – New Song
Frankie Goes To Hollywood – Warriors Of The Wasteland
Deacon Blue – Real Gone Kid
Eurythmics – Sweet Dreams
Kirsty MacColl – New England T
rankie Goes To Hollywood – Welcome To Pleasure Dome
It Bites- Calling All the Heroes
Cheers Theme
Gloria Estefan – Rhythm Is Gonna Get You
U2 – New Years Day
Prince – Purple Rain
Adam and the Ants – Ant Music
The Police – Don't Stand So Close To Me
SET LIST CONT...
Chris Isaak – Wicked Game
Gary Numan – Are Friends Electric
Art Of Noise – Close To the Edit
Nick Kershaw – Wouldn't It Be Good
Cutting Crew – Died In Your Arms
Adam Ant – Goody Two Shoes
Bon Jovi – You Give Love a Bad Name
Duran Duran – Rio
Jive Bunny – Swing the Mood
Seal/ Adamski – Killer
Cameo – Word Up
The Human League – Don't You Want Me Baby
Genesis – Mama
Bon Jovi – Living On A Prayer
Peter Gabriel – Sledgehammer
Gary Numan – Cars
Billy Idol – Rebel Yell
Erasure – Sometimes
REM – One I Love
Roxette – The Look
SET LIST CONT...
OMD – Enola Gay
Tears For Fears – Shout
Craig Mclachlan – Mona
Sky – Toccata
Van Halen – Jump
Deacon Blue – Wages Day
Kate Bush – Running up that hill
Toyah – I Wanna Be Free
Frankie Goes To Hollywood – 2 Tribes
Harold Faltermeyer – Axle F
Mr Mister – Kyrie
Transvision Vamp – I Want Your Love
Bros – When Will I Be Famous
Dire Straits – Money For Nothing
Sly Fox – Lets Go All The Way
Duran Duran – Wild Boys
Frankie Goes To Hollywood – Relax
Cyndi Lauper – I Drove All Night
Then Jerico – Big Area
Cliff Richard – Carrie