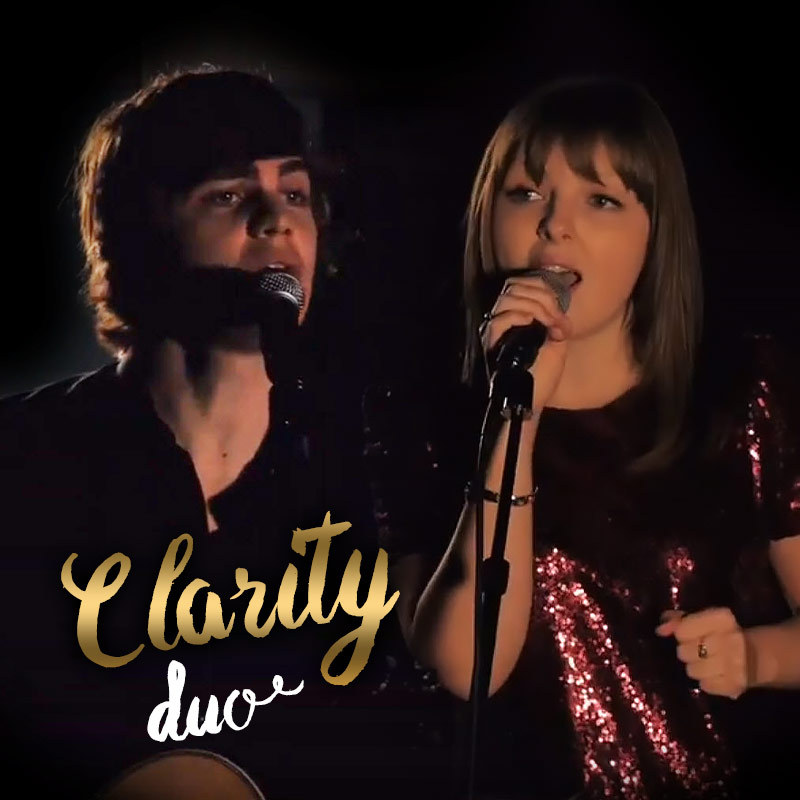 Clarity - Acoustic & Electric Duo
Clarity are an exciting and entertaining Acoustic and Electric Duo from The East Midlands. They cover a wide range of songs from the 50s through to present day and are sure to get you tapping those feet!
Sarah and Lewis first met at college in 2012 and since then have played together in various different bands. During this time they have performed many gigs including prestigious venues such as the Birmingham Arena and Jools Holland's very own Jam House. Following their college years, they both moved on to further hone their craft at university where they graduated with first-class degrees in Popular Music. Using the experience and knowledge they gained, they formed Clarity and have since been travelling the world through the one thing they both love most - music.
Clarity's Extensive Repertoire
Classic hits from the '50s to present day
| | | |
| --- | --- | --- |
| 70s | 10CC | Dreadlock Holiday |
| 90s | 4 Non Blondes | Whats Up |
| 70s | ABBA | Does Your Mother Know |
| 70s | ABBA | Gimme Gimme Gimme |
| 70s | ABBA | Mamma Mia |
| 70s | ABBA | Waterloo |
| 00s | Adele | Make You Feel My Love |
| 10s | Adele | Rolling In The Deep |
| 10s | Adele | Turning Tables |
| 90s | Aerosmith | I Don't Wanna Miss A Thing |
| 00s | Alicia Keys | If I Ain't Got You |
| 10s | American Authors | Best Day Of My Life |
| 00s | Amy Winehouse | Monkey Man |
| 00s | Amy Winehouse | Valerie |
| 60s | Aretha Franklin | I Say a Little Prayer |
| 60s | Aretha Franklin | Respect |
| 60s | Ben E King | Stand By Me |
| 50s | Bill Haley & His Comets | Rock Around The Clock |
| 70s | Bill Withers | Ain't No Sunshine |
| 70s | Bill Withers | Lean On Me |
| 70s | Bill Withers | Lovely Day |
| 80s | Bill Withers | Just The Two Of Us |
| 80s | Billy Joel | Uptown Girl |
| 70s | Billy Ocean | Love Really Hurts Without You |
| 90s | Billy Ray Cyrus | Achy Breaky Heart |
| 70s | Blondie | One Way Or Another |
| 80s | Blondie | Call Me |
| 80s | Blondie | The Tide Is High |
| 70s | Bob Marley | Three Little Birds |
| 60s | Bruce Channel | Hey Baby |
| 10s | Bruno Mars | Just The Way You Are |
| 10s | Bruno Mars | Locked Out Of Heaven |
| 10s | Bruno Mars | Treasure |
| 80s | Bryan Adams | Summer of 69 |
| 90s | Bryan Adams ft Mel C | When You're Gone |
| 70s | Candi Staton | Young Hearts Run Free |
| 10s | Cee Lo Green | Forget You |
| 80s | Chaka Khan | Ain't Nobody |
| 90s | Cher | Believe |
| 70s | Chic | Everybody Dance |
| 70s | Chic | Good Times |
| 70s | Chic | Le Freak |
| 80s | Chris De Burgh | Lady In Red |
| 10s | Chris Stapleton | Tennessee Whiskey |
| 60s | Chubby Checker | Let's Twist Again |
| 50s | Chuck Berry | Johnny B. Goode |
| 10s | Clean Bandit ft. Jess Glynne | Rather Be |
| 60s | Cliff Richard | Congratulations |
| 00s | Coldplay | The Scientist |
| 00s | Coldplay | Yellow |
| 70s | Commodores | Easy (Like Sunday Morning) |
| 50s | Connie Francis | Stupid Cupid |
| 00s | Corinne Bailey Rae | Put Your Records On |
| 60s | Cream / John Mayer | Crossroads |
| 60s | Creedence clearwater | Bad Moon Rising |
| 80s | Cyndi Lauper | Girls Just Wanna Have Fun |
| 10s | Daft Punk | Get Lucky |
| 70s | David Bowie | Heroes |
| 70s | David Bowie | Starman |
| 50s | Dean Martin | Sway |
| 80s | Diana Ross | I'm Coming Out |
| 50s | Dion And the Belmonts | A Teenager In Love |
| 80s | Dire Straits | Walk Of Life |
| 70s | Dolly Parton | Jolene |
| 80s | Dolly Parton/Kenny Rogers | Islands In The Stream |
| 70s | Donna Summer | Hot Stuff |
| 00s | Duffy | Mercy |
| 00s | Duffy | Warwick Avenue |
| 80s | Duran Duran | Hungry Like The Wolf |
| 80s | Duran Duran | Rio |
| 60s | Dusty Springfield | Piece of my Heart |
| 60s | Dusty Springfield | Son of a Preacher Man |
| 70s | Earth  Wind and Fire | Boogie Wonderland |
| 70s | Earth Wind and Fire | September |
| 10s | Ed Sheeran | Perfect |
| 10s | Ed Sheeran | The A Team |
| 10s | Ed Sheeran | Thinking Out Loud |
| 60s | Eddie Floyd | Knock On Wood |
| 70s | Elton John | Crocodile Rock |
| 80s | Elton John | I'm Still Standing |
| 70s | Elton John Kiki Dee | Don't Go Breaking My Heart |
| 50s | Elvis Presley | Blue Suede Shoes |
| 50s | Elvis Presley | Hound Dog |
| 50s | Elvis Presley | Jailhouse Rock |
| 60s | Elvis Presley | A Little Less Conversation |
| 60s | Elvis Presley | Can't Help Falling In Love |
| 60s | Elvis Presley | Suspicious Minds |
| 70s | Elvis Presley | Always On My Mind |
| 70s | Elvis Presley | Burning Love |
| 50s | Elvis Presley/Billy Joel | All Shook Up |
| 10s | Emile Sande | Next To Me |
| 70s | Fleetwood Mac | Dreams |
| 70s | Fleetwood Mac | Go Your Own Way |
| 70s | Fleetwood Mac | Landslide |
| 70s | Fleetwood Mac | Rhiannon |
| 70s | Fleetwood Mac | Songbird |
| 10s | Foster The People | Pumped Up Kicks |
| 60s | Four Tops | Reach Out  I'll Be There |
| 60s | Four Tops | I Can't Help Myself |
| 50s | Frank Sinatra | Fly Me To The Moon |
| 60s | Frankie Valli | Can't Take My Eyes Off Of You |
| 10s | George Ezra | Budapest |
| 10s | George Ezra | Shotgun |
| 70s | George Harrison | My Sweet Lord |
| 80s | George Michael | Faith |
| 10s | Girls Aloud | Love Machine |
| 70s | Gloria Gaynor | I Will Survive |
| 00s | Gnarles Barkley | Crazy |
| 80s | Hall & Oates | You Make My Dreams |
| 80s | Huey Lewis & The News | The Power Of Love |
| 80s | Human League | Don't You Want Me |
| 50s | Jackie Wilson | Reet Petite |
| 70s | Jackie Wilson | Higher & Higher |
| 70s | Jackson 5 | Blame It On The Boogie |
| 90s | James | Sit Down |
| 10s | James Arthur | Say You Won't Let Go |
| 10s | James Bay | Hold Back The River |
| 60s | James Brown | I Got You (I Feel Good) |
| 00s | Jason Mraz | I'm Yours |
| 60s | Jeff Beck | Hi Ho Silver Lining |
| 80s | Jeff Buckley/Alexandra Burke | Hallelujah |
| 50s | Jerry Lee Lewis | Great Balls of Fire |
| 80s | Joan Jett | I Love Rock And Roll |
| 70s | John Denver | Take Me Home Country Roads |
| 10s | John Legend | All Of Me |
| 70s | John Lennon | Imagine |
| 60s | Johnny Cash | Ring Of Fire |
| 60s | Johnny Cash & June Carter | It Ain't Me Babe |
| 70s | Johnny Nash | I Can See Clearly Now |
| 10s | Justin Timberlake | Can't Stop The Feeling |
| 80s | Katrina And The Waves | Walking On Sunshine |
| 00s | Kings Of Leon | Sex On Fire |
| 80s | Kool & The Gang | Celebration |
| 00s | KT Tunstall | Black Horse And A Cherry Tree |
| 00s | Lady Antebellum | Need You Now |
| 80s | Lionel Richie | All Night Long (All Night) |
| 60s | Little Eva | The Locomotion |
| 50s | Little Richard | Lucille |
| 50s | Little Richard | Tutti Fruitti |
| 50s | Lulu | Shout |
| 80s | Luther Vandross | Never Too Much |
| 70s | Lynyrd Skynyrd | Sweet Home Alabama |
| 80s | Madonna | Holiday |
| 10s | Maren Morris | My Church |
| 10s | Mark Ronson ft Bruno Mars | Uptown Funk |
| 00s | Maroon 5 | Sunday Morning |
| 00s | Maroon 5 | This Love |
| 60s | Martha Reeves & The Vandellas | Dancing In The Street |
| 60s | Marvin Gaye | Ain't No Mountain High Enough |
| 60s | Marvin Gaye | Heard It Through The Grapevine |
| 00s | McFly | All About You |
| 10s | Mcfly | Love Is On The Radio |
| 00s | Michael Buble | Everything |
| 70s | Michael Jackson | Rock With You |
| 80s | Michael Jackson | Billie Jean |
| 80s | Michael Jackson | Man in the Mirror |
| 80s | Michael Jackson | The Way You Make Me Feel |
| 90s | Michael Jackson | Black or White |
| 90s | Moloko | Sing It Back |
| 60s | Nancy Sinatra | These Boots Are Made For Walkin |
| 90s | Natalie Imbruglia | Torn |
| 60s | Neil Diamond | Sweet Caroline |
| 00s | Norah Jones | Don't Know Why |
| 90s | Oasis | Don't Look Back In Anger |
| 90s | Oasis | Wonderwall |
| 10s | Olly Murs | Dance With Me Tonight |
| 60s | Otis Redding | Sitting On The Dock |
| 00s | Outkast | Hey Ya |
| 50s | Peggy Lee | Fever |
| 90s | Peter Andre | Mysterious Girl |
| 10s | Pharrel Williams | Happy |
| 00s | Plain White T's | Hey There Delilah |
| 80s | Queen | Crazy Little Thing Called Love |
| 80s | Queen | I Want To Break Free |
| 50s | Ray Charles | I Got A Woman |
| 60s | Ray Charles & Blues Brothers | Shake a Tail Feather |
| 60s | Ray Charles / The Overtones | Hit The Road Jack |
| 90s | Ricky Martin | Livin' La Vida Loca |
| 10s | Rihanna | Stay |
| 50s | Ritchie Valens | La Bamba |
| 90s | Robbie Williams | Let Me Entertain You |
| 00s | Robbie Williams & Nicole Kidman | Something Stupid |
| 10s | Robin Thicke | Blurred Lines |
| 70s | Rod Stewart | Maggie May |
| 60s/00s | Rod Stewart/Stereophonics | Handbags And Gladrags |
| 00s | Ronan Keating | Life Is A Rollercoaster |
| 90s | Ronan Keating | When You Say Nothing At All |
| 70s | Rose Royce | Car Wash |
| 60s | Roy Orbison | Oh  Pretty Woman |
| 60s | Sam & Dave | Soul Man |
| 00s | Scouting For Girls | She's So Lovely |
| 90s | Shania Twain | Man  I Feel Like A Woman |
| 90s | Shania Twain | You're Still The One |
| 90s | Simply Red | Stars |
| 70s | Sister Sledge | We Are Family |
| 90s | Sixpence None The Richer | Kiss Me |
| 70s | Status Quo | Rockin' All Over The World |
| 70s | Stealers Wheel | Stuck In The Middle With You |
| 00s | Stereophonics | Have a Nice Day |
| 00s | Stereophonics | Maybe Tomorrow |
| 70s | Stevie Wonder | Signed Sealed Delivered |
| 60s | Stevie Wonder | For Once In My Life |
| 70s | Stevie Wonder | Higher Ground |
| 70s | Stevie Wonder | I Wish |
| 70s | Stevie Wonder | Isn't She Lovely |
| 70s | Stevie Wonder | Sir Duke |
| 70s | Stevie Wonder | Superstition |
| 90s | Sting | Fields Of Gold |
| 90s | Take That | A Million Love Songs |
| 80s | Tears for Fears | Everybody Wants To Rule The World |
| 60s | The Beach Boys | Surfin' U.S.A. |
| 60s | The Beatles | Ob La Di  Ob La Da |
| 60s | The Beatles | A Hard Day's Night |
| 60s | The Beatles | Back In The U.S.S.R |
| 60s | The Beatles | Can't Buy Me Love |
| 60s | The Beatles | Come Together |
| 60s | The Beatles | Day Tripper |
| 60s | The Beatles | Don't Let Me Down |
| 60s | The Beatles | Drive My Car |
| 60s | The Beatles | Help! |
| 60s | The Beatles | Hey Jude |
| 60s | The Beatles | I Saw Her Standing There |
| 60s | The Beatles | I Want To Hold Your Hand |
| 60s | The Beatles | Let It Be |
| 60s | The Beatles | Love Me Do |
| 60s | The Beatles | She Loves You |
| 60s | The Beatles | Ticket To Ride |
| 60s | The Beatles | Twist and Shout |
| 60s | The Beatles | While My Guitar Gently Weeps |
| 60s | The Beatles | With A Little Help |
| 60s | The Beatles | Yesterday |
| 60s | The Beatles & Billy Preston | Get Back |
| 70s | The Carpenters | Close To You |
| 50s | The Champs | Tequilla |
| 60s | The Contours | Do You Love Me |
| 60s | The Doors | Light My Fire |
| 50s | The Everly Brothers | Bye Bye Love |
| 60s | The Foundations | Build Me Up Buttercup |
| 70s | The Four Seasons | December 63 (Oh What a Night) |
| 00s | The Fratellis | Chelsea Dagger |
| 00s | The Killers | Human |
| 00s | The Killers | Mr Brightside |
| 60s | The Kinks | All Day and All of the Night |
| 60s | The Kinks | Days |
| 60s | The Kinks | Lola |
| 60s | The Kinks | Sunny Afternoon |
| 60s | The Kinks | You Really Got Me |
| 10s | The Lumineers | Ho Hey |
| 60s | The Mamas and The Papas | Dream A Little Dream of Me |
| 90s | The Mavericks | Dance The Night Away |
| 60s | The Monkees | Daydream Believer |
| 60s | The Monkees | Im A Believer |
| 70s | The O'Jays | Love Train |
| 80s | The Pointer Sisters | I'm So Excited |
| 80s | The Police | Every Breath You Take |
| 80s | The Proclaimers | 500 Miles |
| 70s | The Real Thing | You To Me Are Everything |
| 60s | The Rolling Stones | I Can't Get No (Satisfaction) |
| 60s | The Rolling Stones | Jumpin' Jack Flash |
| 60s | The Rolling Stones | Wild Horses |
| 60s | The Ronettes | Be My Baby |
| 60s | The Shirelles | Mama Said |
| 60s | The Shirelles | Will You Still Love Me Tomorrow |
| 60s | The Supremes | Baby Love |
| 60s | The Supremes | Stop! In The Name Of Love |
| 60s | The Supremes | You Can't Hurry Love |
| 60s | The Swingin Blue Jeans | Hippy Hippy Shake |
| 60s | The Temptations | Get Ready |
| 60s | The Temptations | My Girl |
| 10s | The Weeknd | Can't Feel My Face |
| 60s | Tina Turner | Proud Mary |
| 80s | Tina Turner | The Best |
| 60s | Tom Jones | It's Not Unusual |
| 70s | Tony Christie | Is This The Way To Amarillo |
| 90s | Toploader | Dancing in The Moonlight |
| 70s | Toto | Hold The Line |
| 00s | Train | Hey Soul Sister |
| 80s | U2 | With Or Without You |
| 80s | UB40 | Red Red Wine |
| 60s | Van Morrison | Brown Eyed Girl |
| 10s | WALK THE MOON | Shut Up And Dance |
| 80s | Wham! | Wake Me Up Before You Go-Go |
| 80s | Whitney Houston | I Wanna Dance With Somebody |
| 70s | Wild Cherry | Play That Funky Music |
| 60s | Wilson Pickett | In The Midnight Hour |
| 60s | Wilson Pickett | Mustang Sally |
| 60s | Wilson Pickett/Blues Brothers | Everybody Needs Somebody |
| 80s | Womack & Womack | Teardrops |