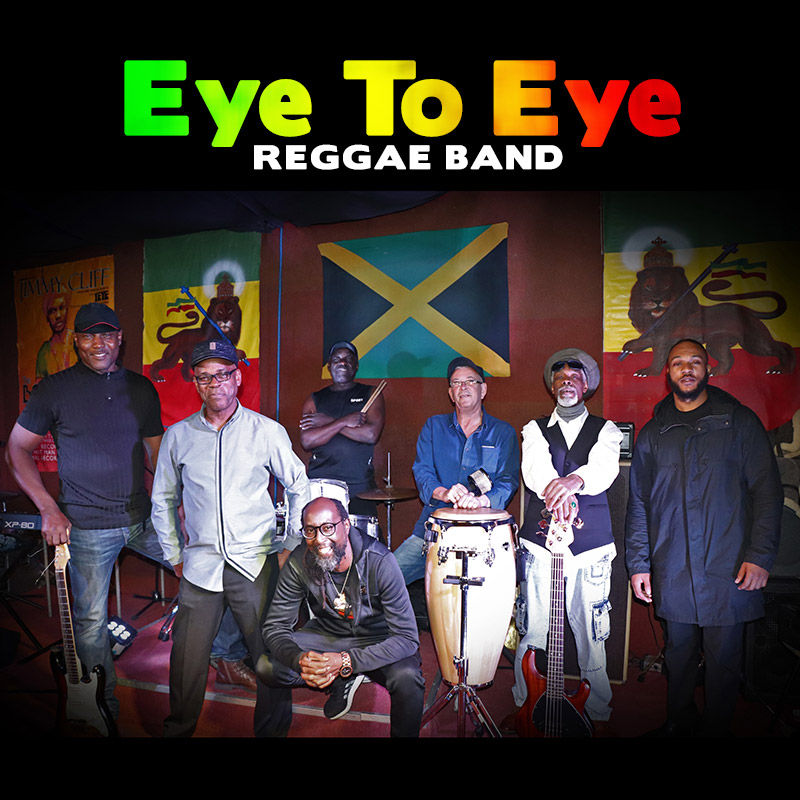 Eye To Eye
The Eye to Eye band are one of Birmingham's top live Reggae and Soul Bands. This amazing live 6 or 7 piece band perform classic tunes from the likes of Sir John Holt, Bob Marley, Ken Boothe, Gregory Issacs, Barry Biggs, The Temptations and many more.
Singer Sensi is also an orginal artist and is currently (2019) working on his second album. His previous bands include Black Survivors, Reggaematic, The Paragons, Waswad. Sensi has been a backing vocalist for John Holt, Linton Kwesi Johnson, Pato Banton, Capital Letters, The Natural Ites, Peter Spence, Bonito Star, The Abyssinians, Macka B, Beshara, and many more. His influences are Aswad, Bob Marley, Beshara, Third World, Slim Smith, Junior Marvin, Barry Biggs and Victor Romeo Evans.
Drummer Paul Taylor has been in bands and touring the UK since his late teens. His bands have supported artistes such as Third World, Musical Youth, Burning Spear, Vybz Cartel and many more. Paul is also a music producer.
Bass player Cleveland Clarke has been in bands since 1976, notably The Equators who he toured the World with and had a hit single 'Baby Come Back' in 1980, signed to Stiff Records.
Book with confidence knowing that you will get a professional Reggae band who will have your venue's dance floor jumping the whole night through.
SET LIST
My Girl - The Temptations.
Stand by me. Ben e king
Help me make it through the night. John Holt
Waiting in vain. Bob Marley
Three lil birds. Bob Marley
Mr Bojangles. John Holt
Kingston town. Ken Boothe
Everything I own. Ken Boothe
Never never. John Holt
Good thing going. Sugar Minnot
On the beach. John Holt
Wear you to the ball. John Holt
You'll never find. John Holt
Police an' thieves. Junior Marvin
Stick by me. John Holt
Harder they come. Jimmy Cliff
Let your yeah be yeah. The Beatles
Monkey man
Rivers of Babylon. Boney M
5446/Baby be true. Toots And Maytals
Redemption song. Bob Marley
We're in this love together. Al Jarreau
Love has found its way. Dennis Brown
Sexy Eyes. Dr Hook
Man next door. Dennis Brown
And many more.