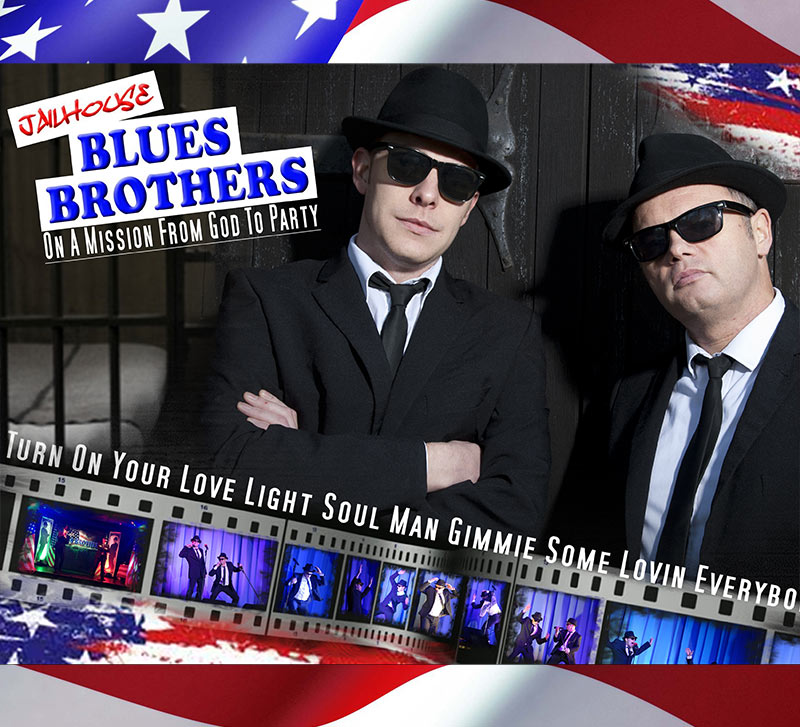 Jailhouse Blues Brothers
The Jailhouse Blues Brothers are a fully self-contained high-tech duo, putting on a high-octane performance full of fun, laughs, action and attitude and are quickly becoming one of the best and hardest working Blues Brothers Tributes in the UK selling out venues along the way!
The show consists of Iain Campbell alias "Joliet Jake Blues" with a strong and soulful voice and great range, mixed in with some CRAZY!! dancing, attitude and banter with his partner in crime "Elwood Blues" portrayed by Marc Elsby.
This is a show that will bring everyone to their feet with songs including Soulman, Everybody Needs Somebody, Gimme Some Lovin', Shake Your Tail Feather and many more great Blues, Swing, Soul, Rock n Roll and Motown hits.
This is no ordinary Blues Brothers duo as they put their own style and ideas into their show to make this Blues Brothers Tribute different from the rest.
Jailhouse Blues Brothers are also available as a double set with their other show - The Madhouse Brothers of Ska.
The Jailhouse Blues Brothers are an absolutely brilliant duo. They saved our night as a last minute booking. The performance, music, singing and interaction with the crowd was brilliant. They even turned up in the Blues Brothers police car. Thank you both from all at The Staffordshire Regimental Association Wolverhampton Branch. Nov 2017.
SET LIST
Soul Man - Sam & Dave
Flip Flop Fly - Our own Album Doo Opp version !
Gimmie Some Lovin' - Blues Brothers
Hey Bartender - Blues Brothers
My Girl - Temptations
Minnie The Moocher - Cab Calloway
Hard to Handle - Black Crows
Just a Gigalo - Dave Lee Roth/Louie Prima
Change Is Gonna Come
6345-789 - Blues Brothers 2000
Rawhide - Blues Brothers
Folsom Prison - Jonny Cash
Shake Your Tailfeather - Ray Charles
Keep on Running - Spencer Davis Group
Love Train - Temptations
Mustang Sally - Commitments
SET LIST CONT...
Midnight Hour - Commitments
Mr Pitiful - Commitments
Take Me To The River - Commitments
Twistin' the Night Away - Sam Cooke
Reet Petite - Jackie Wilson
Higher & Higher - Jackie Wilson
Hold on im Coming - Sam & Dave
Sweet Soul Music - Arthur Conley
Do you Love Me - Blues Brothers
I feel Good - James Brown
Get Up Offa That Thing - James Brown
Sex Machine - James Brown
Turn On Your Lovelight - Blues Brothers
Land of a 1000 Dances - Blues Brothers/Wilson Pickett
Wooly Bully - Sam The Sham
Superstition - Steve Wonder
Everybody Needs Somebody - Blues Brothers