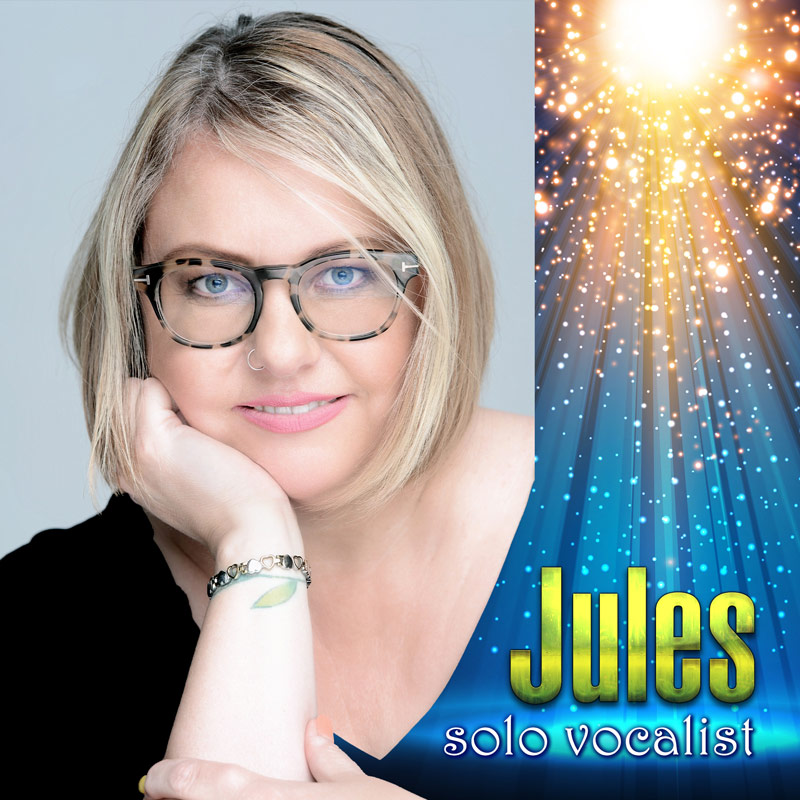 Jules Wood
Music is Jules's life, and she sings with soul and passion. From a young age, she sang in various choirs before going on to perform lead roles in musicals and church worship to great success. She excelled academically, achieving Grade 5 Piano, Grade 6 Music Theory and Grade 7 Clarinet.
In 2017, Jules joined a function band as a backing singer, performing soul, funk and disco numbers. Together with her drummer husband, they formed a band called Jadi, covering soul, funk, ska, reggae, blues and rock classics. Encouraged by her partner and several singer/musician friends, she embarked on a career as a solo vocalist.
The Beatles are Jules's favourite band, but she particularly loves Amy Winehouse's songs and style. Song choice is everything and Jules's sets range from the 50s up to the present day.
SET LIST
Get Ready
All my Loving
Back to Black
It's too Late
Runaway
Ticket to Ride (Beatles)
Tainted Love
Price Tag
You know I'm no good
Hey Little Rich Girl
Play that funky music
That Old Devil called Love
SET LIST
Mercy
Brown Eyed Boy
Rehab
She loves You
Let's Dance
Valerie
I saw Him Standing There
Long Train Running
Uptown Funk
Car Wash
Happy
I'm a Believer
I feel Good
SKA and Reggae repertoire
Hey Little Rich Girl - Amy Winehouse
Too Much Too Young - The Specials
A Message to you Rudy - The Specials
On My Radio
Baggy Trousers - Madness
Mirror in the Bathroom - The Beat
Monkey Man - Amy Winehouse
Hands off She's Mine
House Of Fun - Madness
Cupid - Amy Winehouse
Electric Avenue - Eddy Grant
The Tide Is High - Blondie
I Don't Wanna Dance - Eddy Grant
Baby, I Love Your Way - Big Mountain
Red Red Wine - UB40
It Must Be Love - Madness
Our Day Will Come - Amy Winehouse
One Love/People Get Ready - Bob Marley
Kingston Town - UB40
Nathan Jones
Tainted Love
Nowhere to Run - Martha Reeves and the Vandellas
Our House - Madness
Rehab - Amy Winehouse
Will You Still Love Me Tomorrow (In the Style of 'Amy Winehouse')
Back to Black - Amy Winehouse