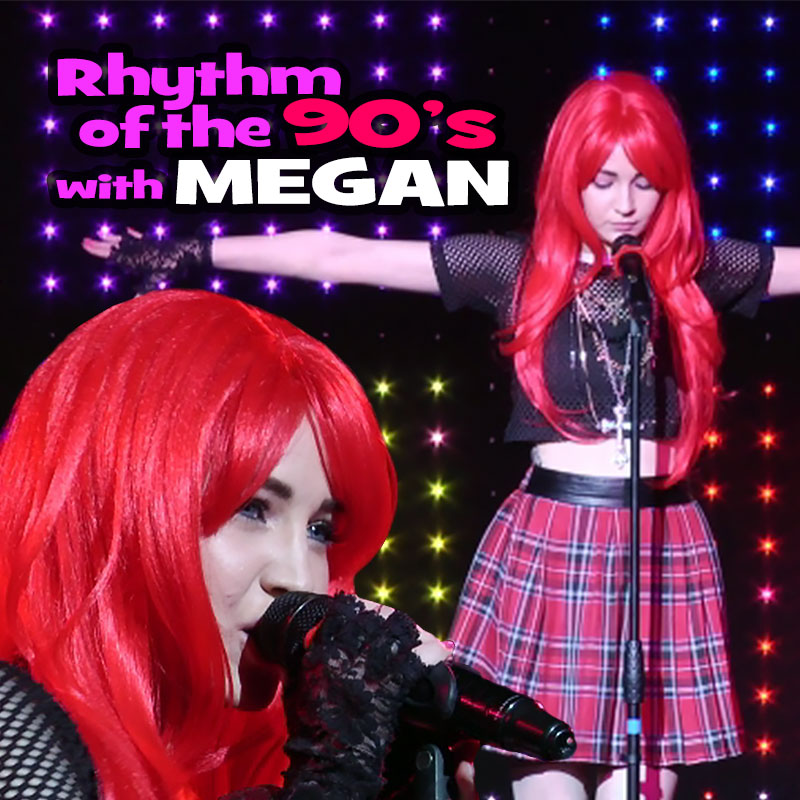 Rhythm Of The 90s with Megan
Rhythm of the 90s is a fun packed show full of nostalgia to help you 'Step back in time'! Megan's 90s show begins with ultimate girl power tunes to sing along to including hits from Britney, Christina and Mariah from across the pond, to our home-grown girl power icons including All Saints, Bewitched and of course the Spice Girls.
In the 90s the cheesier the better, so of course this show includes pop royalty songs by S Club 7, Steps and even Billie Piper. From there, the show turns the time back even more to the early 90s where nightclub dance classics will have everyone in the audience singing along and will reveal all the old skool ravers in the room! Floor fillers such as 'Show Me Love', 'I'm A Dreamer', 'U Sure Do' and 'Let Me Be Your Fantasy' feature in this show to get the room pumping!
Along with these party anthems, the show can also feature the more laid back, darker side to the 90s featuring songs such as 'Don't Speak' for the rock fans and plenty of one hit wonders such as 'Torn' and 'Lovefool' for the indie lovers. This show is of course about girl power, but we can't leave out the boys so it also features songs by Take That, Boyzone, etc.
Available as 2 x 60 minute set shows plus encore and 90s background music; along with a full light show to really get the feel of a club atmosphere! Would suit venues who want the more party atmosphere such as pubs, hotels, themed events and festivals.
Megan has another solo vocalist page, where she can create set lists from many decades.
SET LIST
Baby one more time
Sometimes
You drive me crazy
Born to make you happy
What a girl wants
Come on over
Genie in a bottle
Dream lover
Heartbreaker
Never ever
Don't walk away
Don't let go
No scrubs
Just a step from heaven
Torn
Don't speak
Lovefool
Kiss me
Would I lie to you
Baby I love your way
You might need somebody
Boyzone medley
Take that medley
SET LIST CONT...
C'est le vie
Wannabe
Stop
Spice up your life
Mama
Too much
2 become 1
Who do you think you are
S club party
Reach
Don't stop movin'
Bring it all back
Day and night
Because we want to
Do it to me
Whole again
Last thing on my mind
Heartbeat
Tragedy
Better best forgotten
5,6,7,8
Saturday night
Better the devil you know
SET LIST CONT...
Show me love
I'm a dreamer
Don't give me your life
U sure do
Let me be your fantasy
Believe
The shoop shoop song
Set you free
Rhythm of the night
Rhythm is a dancer
Another night
Everybody's free
I will always love you
All the man I need
Saving all my love for you
Get here
Fast love
Because you loved me
Don't look back in anger
Dedicated to the one I love
Don't turn around
...Plus many more