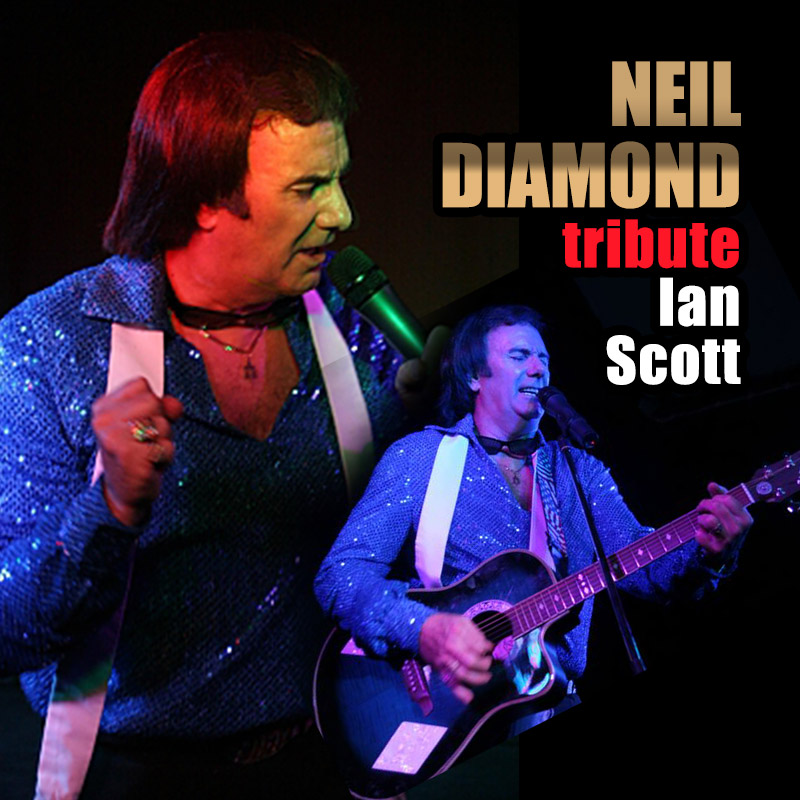 Neil Diamond tribute - Ian Scott
Ian Scott is rated as one of the top three Neil Diamond tribute acts in the UK and the likeness is uncanny. Ian also shows his musicianship playing some cracking guitar rhythm's on "CHERRY CHERRY", "BEAUTIFUL NOISE", "PLAY ME" and "SWEET CAROLINE".
He wears the costume and look from the "JAZZ SINGER" which was Neil Diamond at his peak. His audiences are totally captivated and involved in the performance, as the tempo goes up and down and the mood changes from romantic ballads to storming classics like "I'm A Believer" and "Cracklin' Rosie". Ian's magnificent voice re-creates the emotion, excitement, passion and "spiritual" feel of Diamond's songs.
Ian's Neil Diamond tribute show takes the audience there, involves them, hands-clapping, and he doesn't let go until a fantastic heart-thumping, foot-stomping, roof-raising finale!
Ian also thrills audiences all around the UK with his superb double bill tribute to Neil Diamond and Tom Jones. The transformation from Tom to Neil astounds people, with some of the audience convinced it is not the same performer for both acts.
Neil Diamond is one of the World's greatest and enduring singer/songwriters. Ian understands how well Neil has crafted his songs and how they "fit like a glove" when you sing them. He also understands the technique of singing, that you have to pour your heart and soul into every performance. Ian does that and more.
The best of all the tribute shows we've had at the Dilmun. Ian had everyone on their feet. The feedback from the club members has been tremendous. His performance as a Tom Jones and Neil Diamond tribute was truly amazing. Jill Silverthorne - Dilmun Club Bahrain (Saudi Arabia)
SET LIST
AMERICA
RED RED WINE
FOREVER IN BLUE JEANS
I'M A BELIEVER
BEAUTIFUL NOISE
SONG SUNG BLUE
CHERRY, CHERRY
GIRL YOU'LL BE A WOMAN SOON
LOVE ON THE ROCKS
HELLO AGAIN
BROTHER LOVE'S TRAVELLING SALVATION SHOW
I AM, I SAID
13 DESIREE
CRACKLIN' ROSIE
SWEET CAROLINE
HE AIN'T HEAVY
HEADED FOR THE FUTURE
IF YOU KNOW WHAT I MEAN
PLAY ME
HOLLY HOLY
29. KENTUCKY WOMAN
I'VE BEEN THIS WAY BEFORE
SEPTEMBER MORN
BOAT THAT I ROW
PRETTY AMAZING GRACE
GOLDEN SLUMBERS
CRUNCHY GRANOLA SUITE
SOOLAIMON