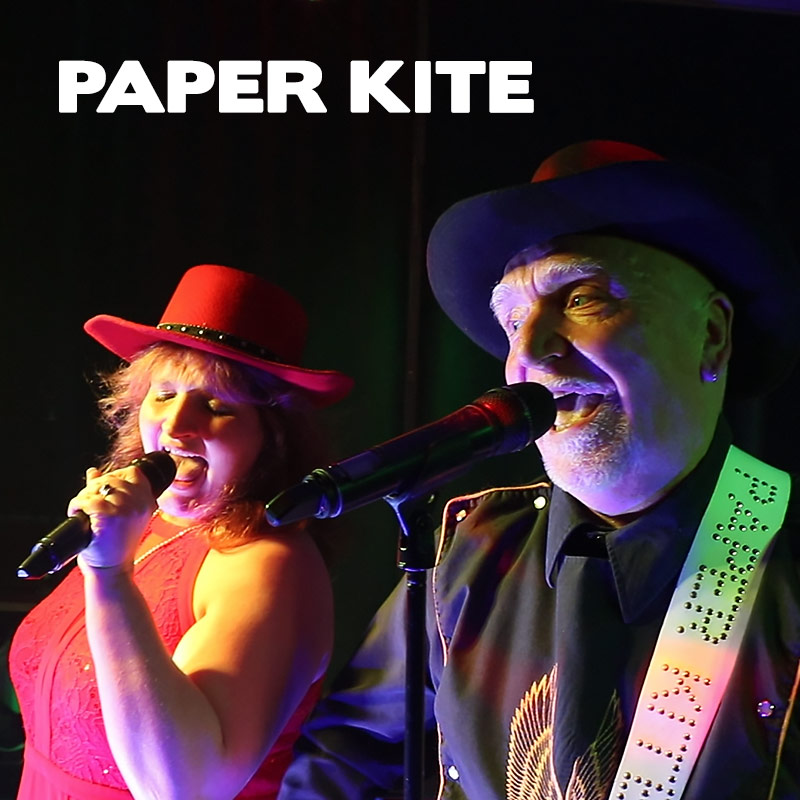 Paper Kite
Paper Kite are a highly entertaining, dynamic, deliciously different vocal harmony duo with great audience interaction.
Charles and Nikki's chemistry when performing draws the audience into their show and consistently captivates and enthrals. They are both lead vocalists in their own right and seamlessly move from lead to harmony vocals; adding their unique 'Paper Kite' magic to every song. They cover material from 50s to modern day and can tailor their show to suit their audience.
Charles who handles both lead, harmony and occasional guitar is a superb, experienced and lively showman. He has worked as lead vocalist with 60s and 70s bands such as Unit 4 Plus 2 (number 1 hit Concrete and Clay), The Mixtures (number 2 hit The Pushbike Song) and also backed Mersey Beat legend Billy J Kramer as a member of The Dakotas on the cabaret/holiday/theatre circuit.
Nikki also handles lead and harmony vocals and is a classically trained vocalist. She was a soloist with the renowned Cantamus Girls Choir. Her background is in Gospel music. She enjoys teaching singing but her real love is performing and entertaining with Charles. Her warm personality and stage presence engages any audience and her energy and 5 octave range is at times mesmerising.
Paper Kite have a superb RCF PA system with Allen and Heath mixer, top of the range Sennheiser radio microphones and a full light show.
Book Paper Kite with confidence, you are a guaranteed a wonderful night!
Thank you so much for the wonderful entertainment that you arranged… Paper Kite were Amazing!!! The staff are still talking about the wonderful evening and the music selection which everyone enjoyed, thanks again. Regards, Satpal. Midland Mencap.
Last night was great, they were such a laugh and the crowd loved them, could you possibly send their availability for the year as I'd like to get them again! The Management, The Court Leet - Feb 2018.
Jackson, Hurt, Ring of fire - Johnny Cash
Coat of Many Colours, Jolene, 9 to 5 - Dolly Parton
Islands in the Stream - Kenny Rogers & Dolly Parton
Seven Spanish Angels - Willy Nelson
Need You Now, Down Town - Lady Antebellum
Crazy, I fall to pieces, She's got you - Patsy Cline
Summer Wine, these boots are made for walking - Nancy Sinatra
My Elusive Dreams, D.I.V.O.R.C.E. - Tammy Wynette
Me - Taylor Swift
Shallow ( Lady GaGa )
The Gambler, Luicille, Coward of the county, Ruby don't take your love ( K Rogers)
Rockabilly rebel ( Matchbox)
Rhinestone Cowboy ( G Campbell)
C'est la vie (Emmylou Harris)
Dance the night away ( the Mavericks)
Cotton fields ( traditional)
The Dance, Ain't going down til the sun comes up ( G Brookes)
Silver Threads and Golden Needles (L Ronstadt)
Wagon wheel (D Rucker)
Shania Twain Medley
5,6,7,8 (Steps)
Cotton eye Joe (Rednex)
Country Roads (Hermes house band)
Chatahoochee. (A Jackson)
Love Hurts (G Parsons)
American Trilogy (Elvis Presley)
Enjoy yourself...J Holland
Mr Tambourine Man...The birds
Bend me shape me...Amen Corner
Purple Rain...Prince
Counting Stars....One republic
The Gambler...K Rogers
Hit the road Jack...Ray Charles
I just wanna make love to you...Etta James
Let it Be/ yesterday/ Hey Jude medley....Beatles
Sugar Baby love...The Rubettes
Chasing Cars....snow patrol
You're my world...C Black
These boots are made for walking ... N Sinatra
Let her go... Passenger
I heard it through the grape vine.. M Gaye
Chatahoochee....A Jackson
Up...Olly Murs & Demi Lovato
Only you....Yazoo
Save all your kisses for me....Brotherhood of man
Shallow....Lady Gaga
Rockabilly Rebel......Matchbox
Paradise, Shotgun.....G Ezra
Frankie Valli medley
Let me go...G Barlow
Grease Mega Mix
Hound dog.. Sha Na Na
Sit down...James
Galway girl....Sharon Shannon
Baby one more time...Britney Spears
A little respect....Erasure
Just cant get enough....Depeche Mode
Take on me...A-Ha
Kids in America...Kim Wilde
Relax...Frankie Goes To Holywood
The only way is up... Yazz
Tamla Motown Medley
Red light spells danger - Billy Ocean
Blockbuster, Wig Wam Bam - Sweet
The Best - Tina Turner
Tiger Feet - Mud
Town Called Malice - The Jam
Tell me ma - Shamrocks
The Wild Rover - Foster and Allen
Alright Now - Free
Alone - Heart
Under Pressure - Queen, Bowie
Summer of 69 - Bryan Adams
Let's Go Crazy - Prince
Sweet Child of Mine - Guns & Roses
Living on a prayer...Bon Jovi
Dakota - Stereophonics
Friday I'm in love...The Cure
Highway to Hell...AC/DC
Bat Out Of Hell, 2 out of 3 Ain't Bad, I would do anything for love - Meatloaf
I still haven't found what I'm looking for - U2.
Irish repertoire
Dirty Old Town
7 Drunken Nights
Fields of Athenry
Whisky in the jar
Wagon wheel
The leaving of Liverpool
The Galway girl
Tell me ma
Wild Rover
Danny boy