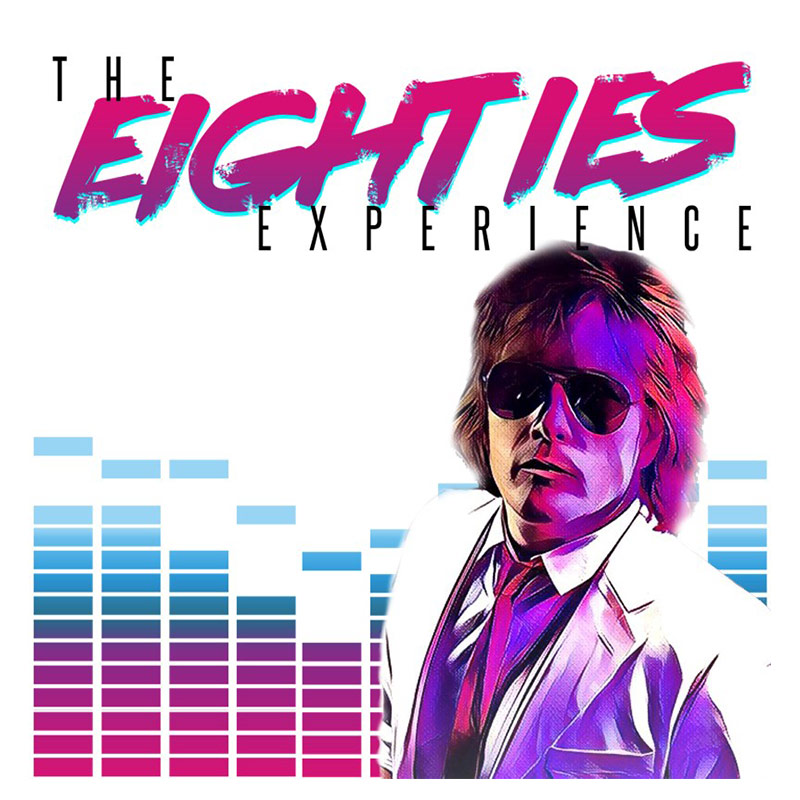 THE 80s EXPERIENCE by Adrian Marx
Adrian Marx brings you the very best of the 80s in one amazing show. All the hits you'd expect from an era of party pop. Guaranteed to pack your venue's dance floor.
With full light show and professional PA system there is no doubt The 80s Experience will take you back in time to your school disco days. It's party from start to finish with hit after hit from the biggest names of the 80s including Duran Duran, Wham, Spandau Ballet, Robert Palmer, Go West and many, many more.
So if you're looking for a fun-filled night of all your 80's favourites then look no further. This act is also available as a double header with his Glamstar 70s show.
Repertoire
Duran Duran - Hungry Like A Wolf
Duran Duran - Rio
Duran Duran - Wild Boys
Duran Duran - Girls On Film
Duran Duran - Reflex
The Jam - Town Called Malice
Go West - We Close Our Eyes
Phil Collins - Sussudio
Phil Collins - You Cant Hurry Love
David Bowie - Lets Dance
David Bowie - China Girl
The Police - Everything She Does is Magic
Aztec Camera - Somewhere In My Heart
Bananarama - Venus
Billy Ocean - When the Going Gets Tough
Billy Joel - Uptown girl
Bros - I Owe Your Nothing
Bon Jovi - Living On A Prayer
Bon Jovi - You Give Love A Bad Name
Repertoire
Bryan Adams - Summer Of 69
Dead Or Alive - You Spin Me
Elton John - I'm Still Standing
Frankie Goes To Hollywood - Relax
George Michael - Faith
Glen Fry - The Heat Is On
Huey Lewis - Power Of Love
Huey Lewis - Hip To be Square
Human League - Don't You Want Me
INXS - Need You Tonight
Journey - Don't Stop Believin'
Europe - Final Countdown
Katrina & The Waves - Walking On Sunshine
Spandau Ballet - Gold
Kool & the Gang - Celebration
Madness - Baggy Trousers
Madness - House Of Fun
Repertoire
Mister Mister - Broken Wings
Cutting Crew - I just Died In your Arms
Queen - One Vision
Queen - Radio Gaga
Roachford - Cuddly Toy
Roxy Music - Lets Stick Together
Simple Minds - Don't You Forget About Me
Soft Cell - Tainted Love
Starship - Nothings Gonna Stop Us
Starship - We Built This City
U2 - Still Haven't Found What I'm Looking For
U2 - Pride
U2 - Where The Streets Have No Name
Wham - I'm Your Man
Wham - Wake Me Up Before You Go Go
......plus many many more!!!!