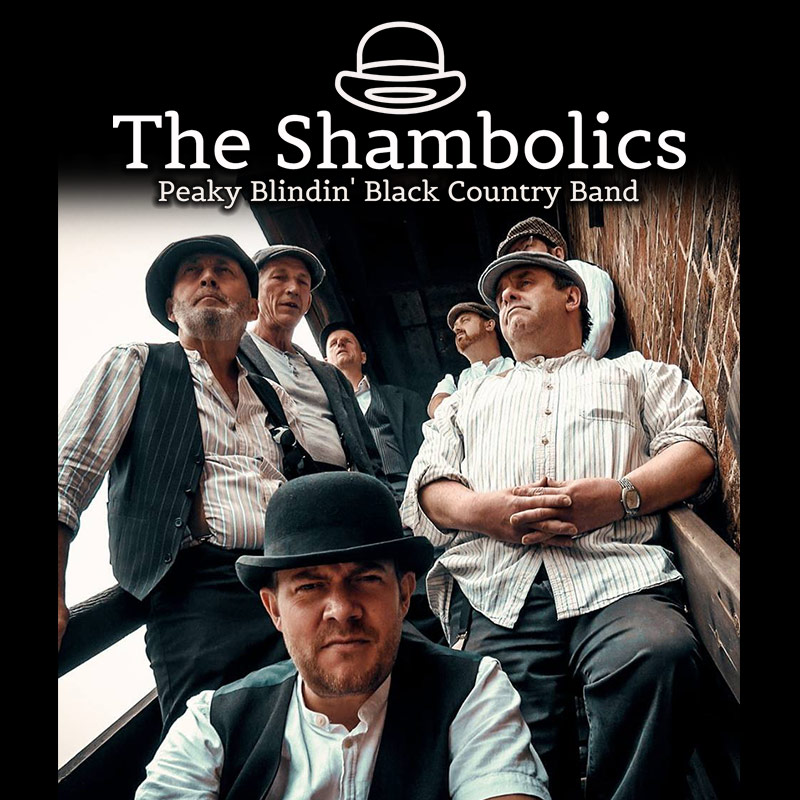 The Shambolics - Peaky Blindin' Black Country Band
The Shambolics are one of the Black Country's most popular bands. Dressed in turn of the century Black Country attire, they play a mixture of genres; country, rock n roll and rhythm and blues.
Well known all over the Black Country for their high octane, energetic live shows guaranteed to have people dancing all night long. Front man 'Chief' loves singing, dancing and shaking his tambourine. With gravelly vocals, a cheery nature, high-energy and great stage presence; he's a force to be reckoned with. They're a Peaky Blindin' Black Country Band!
The Shambolics gradually formed and expanded during numerous jam sessions at a pub in Lyde Green, just playing music for fun. Various talented musicians came to the jam night, joined in the fun and joined The Shambolics.
With 4 vocalists, an acoustic, rhythm and lead guitarist, a harmonica player, a bass player, a drummer and sound engineer as standard, they became the accomplished, professional function band they are today.
Saw this band last night at Brierley Hill Civic Hall, and they were brilliant, very entertaining and professional. Thank you for a great night. Paula H. June 2019.
High energy, fun-loving, great tunes, they love it, we love it. Nicola H. Nov 2018.
Set 1
Long Tall Sally
Long Train Running
High Heeled Sneakers
The Letter
Peaceful Easy Feeling
No Particular Place To Go
Smokin' in the Boys' Room
New Shoes
Whisky in the Jar
The Price of Love
Before You Accuse Me
Hard to Handle
Set 2
Pinball Wizard
The One I Love
Down the Dustpipe
Back in the USSR
Mustang Sally
I'm a Believer
I Gotta Woman
Sharp Dressed Man
Cocaine
20th Century Boy
Born to Be Wild
I Saw Her Standing There
Other songs in their repertoire:
Johnny Be Goode
Roadhouse Blues
They Call Me the Breeze
Honky Tonk Woman
Watchin' the Detectives
Johnny Too Bad
Black Moon Risin'
Folsom Prison Blues
Living Next Door to Alice (without swearing)