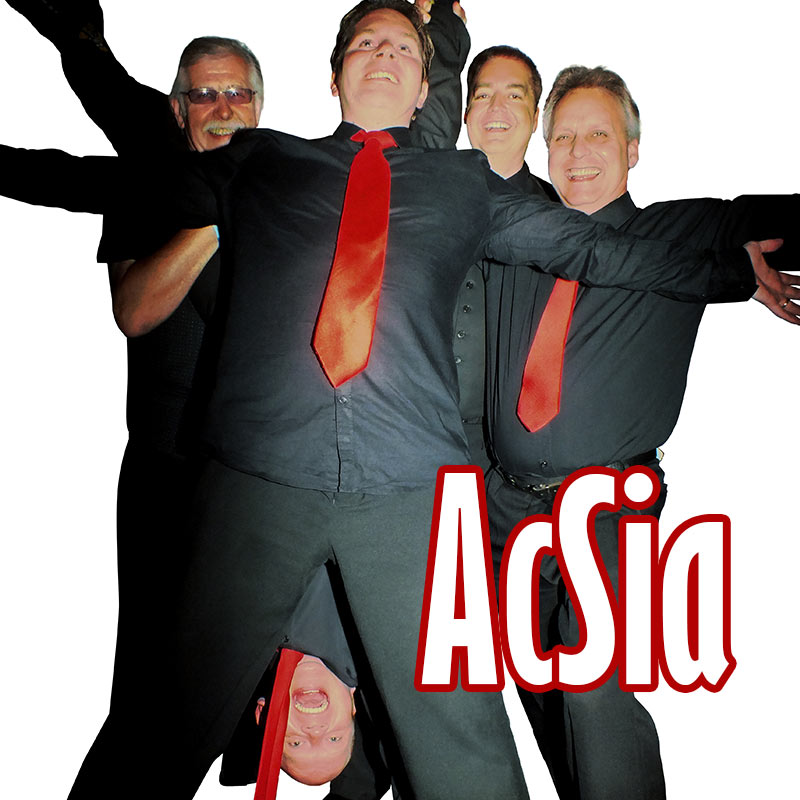 AcSia
AcSiA (pronounced ax-ee-ya) are a popular covers band who specialise in Weddings, Special events, Corporate Events, various functions and parties, along with doing the local club and pub scene in and around the East and West Midlands.
AcSiA are a 5 piece band comprising of 2 male lead vocalists, 1 of which doubles up on keyboard and guitar and the other on tambourine and guitar for a fuller-sounding band, there's also lead guitar, bass and drums.
AcSia performs 100% live! So rest assured, no backing tracks are harmed in the making of their music. You are paying for a live band and with AcSia that is exactly what you get.
Although the club was really quiet due to the nice weather, Acsia were brilliant, by far the best band we have had in the club for years. Want to book again for a Saturday next year. Jimmy - Marston Green Club May 2018.
REPERTOIRE
500 Miles - Comedy Version
A Little Respect - Erasure/ Wheatus
Addicted to Love - Robert Palmer
Ain't no sunshine - Bill Withers
All About You - McFly
All Day & All of the Knight - The Kinks
All of Me - John Legend
All right Now - Free
All Summer Long - Kid Rock
All your love - Gary Moore
Always - Bon Jovi
Amazed - Lonestar
America - Razorlight
American Idiot - Green Day
At the hop - Danny & The Juniors
Back in the USSR - The Beatles
Ballroom Blitz - Sweet
Born to be Wild - Steppenwolf
Boulevard of Broken Dreams - Green Day
Breakfast At Tiffany`s - Deep Blue Something
Brown Eyed Girl - Van Morrison
Bye Bye Love - Everly Brothers
Cathy's Clown - Everly Brothers
Chasing Cars - Snow Patrol
Celsea Dagger - Fratellis
Come on everybody - Eddie Cochran
Come Together - Beatles
Crazy little thing called love - Queen
Creep - Radiohead
Dakota - Stereophonics
Dance with me Tonight - Olly Murs
Disco 2000 - Pulp
Don't look back in anger - Oasis
Dont stop believing - Journey / cast of Glee
REPERTOIRE
Let Me Go - Gary Barlow
Light my fire - Will Young / Doors
Live and Let Die - Wings/Guns n Roses
Living on a Prayer - Bon Jovi
Love Machine - Arctic Monkeys
Make Me Smile - Steve Harley - Cockney Rebel
Mama told me not to come - Stereophonics/Tom Jones
Money for nothing - Dire Straits
Move it - Cliff & the Shadows
Mr Brightside - The killers
Nothing Else Matters - Metalica
Parklife - Blur
Patience - Take That
Peggy Sue - Buddy Holly
Pinball Wizard - The Who
(Oh) Pretty Woman - Roy Orbison
Rabbit - Chas n Dave
Rock Around the Clock - Bill Haley
Rockin' All over the World - The Quo
Roll With it - Oasis
Ruby - Kaiser Chiefs
Satisfaction - The Rolling Stones
Sex on fire - Kings of Leon
She Loves You - Beatles
Stuck In the Middle With You - Steelers Wheel
Sultans of Swing - Dire Straits
REPERTOIRE
Summer of 69 - Bryan Adams
Sunny Afternoon - The Kinks
Take That Medley
Take It Easy - The Eagles
Take Your Mama - Scissor Sisters
The Lazy Song - Bruno Mars
The Time Warp - Rocky Horror
Thinking Out Loud - Ed Sheeran
Time of your life - Green Day
Town Called Mallice - The Jam
Trouble maker - Olly Murs
Twist & Shout - Beatles
Up All Night - Take That
Use Somebody - Kings of Leon
Valerie - Amy Winehouse
Vertigo - U2
Walkin' (by myself) - Gary Moore
Walk of Life - Dire Straits
Whiskey in the Jar - Thin Lizzy
Whistle For The Choir - Fratellis
Wicked Game - HIM
Wipeout - Beach Boys
Wishing Well - Free
Word Up - Gun/ Cameo
You Really Got Me - The Kinks
REPERTOIRE
Do Ya Love Me - Blues Bros/Bobby Sherman
Easy - Lionel Richie / commodores
Fat bottomed girls - Queen
Fight for Your Right - Beastie Boys
Five Colours – McFly
Funky Music - Wild Cherry
Gimme Some Lovin' - Spencer Davis Group
Glad all Over - Dave Clark Five
Grace Kelly – Mika
Good Riddence (time of your life) - Green Day
Happy Hour - The Housemartins
Hard To Handle - Black Crows
Help - Beatles
Hero - Enrique (rocked up a bit!)
Hi Ho Silver Lining - Jeff Beck
Hollywood - Michael Buble
Human - The Killers
Hush - Kula Shaker
I Believe in a Thing Called Love - The Darkness
I Feel Fine - Beatles
I gotta feeling - Black Eyed Peas
I Predict A Riot - Kaiser Chiefs
Jailhouse Rock - Elvis
Johnny B Good - Chuck Berry
Jumping Jack Flash - Rolling Stones
La Bamba - Los Lobos
Lazy Song - Bruno Mars
Let me Entertain you - Robbie Williams