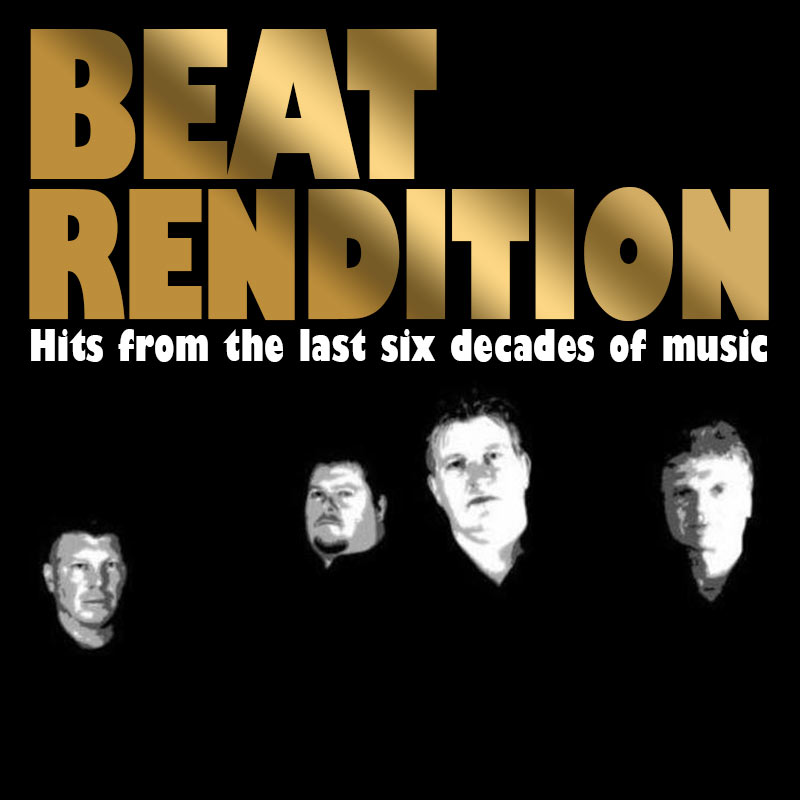 Beat Rendition - party band
Initially brought together by a combination of chance and a passion for 'real' music, Beat Rendition are talented and experienced musicians; and one of the best live bands on the circuit.
Beat Rendition's extensive set-list (mainly 70s and 80s) never fails to impress and is always delivered with commitment and professionalism. Beat Rendition are based in the West Midlands and have easy motorway access to most areas.
Their playlist are some of the best classic songs from over the decades and even from more recent times to guarantee to fill the dance floor.
BEAT RENDITION also perform as PLANET ROCK, a rock covers band featuring your favourite rock hits from the 70s to modern day.
SET LIST
20th Century Boy - T.Rex
All Right Now - Free/Bad Company
Are You Gonna Go My Way - Lenny Kravitz
Back In Black - AC/DC
Basket Case - Green Day
Black Magic Woman - Santana / Fleetwood Mac
Born To Be Wild - Steppenwolf
Brown Sugar - The Rolling Stones
Cochise - Audioslave
Country Girl - Primal Scream
Creep - Radiohead
Dakota - Stereophonics
Dani California - Red Hot Chilli Peppers
Fire - Jimi Hendrix
Freebird - Lyrnyd Skyrynd
Gimme Some Lovin' - Spencer Davis Group
Hard To Handle - Black Crowes
I Predict A Riot - Keiser Chiefs
SET LIST CONT...
Jailbreak - Thin Lizzy
Jumpin' Jack Flash - The Rolling Stones
Lil' Devil - The Cult
Livin' Lovin' Maid - Led Zeppelin
Livin' On A Prayer - Bon Jovi
Mony Mony - Billy Idol
Mustang Sally - Commitments/Various
My Generation - The Who
Nothing Else Matters - Metallica
Paranoid - Black Sabbath
Parisienne Walkways - Gary Moore
Purple Haze - Jimi Hendrix
Rebel Yell - Billy Idol
Rock & Roll - Led Zeppelin
She Sells Sanctuary - The Cult
Stairway To Heaven (Acoustic) - Led Zeppelin
Stone Free - Jimi Hendrix
Summertime Blues - The Who
SET LIST CONT...
Sunshine For Your Love - Cream
Sweet Home Alabama - Lyrynd Skyrynd
Teenage Kicks - The Undertones
Thing Called Love - The Darkness
Tie Your Mother Down - Queen
Under The Bridge (Acoustic) - Red Hot Chilli Peppers
Valerie - Zuttons/Amy Winehouse
Vertigo - U2
Walking By Myself - Gary Moore
We Will Rock You - Queen
Whiskey In The Jar - Thin Lizzy/Metallica
White Room - Cream
White Wedding - Billy Idol/Murder Dolls
Whole Lotta Love - Led Zeppelin
Whole Lotta Rosie - AC/DC
Wishing Well - Free/Bad Company
You Really Got Me - The Kinks
You Shook Me All Night Long - AC/DC