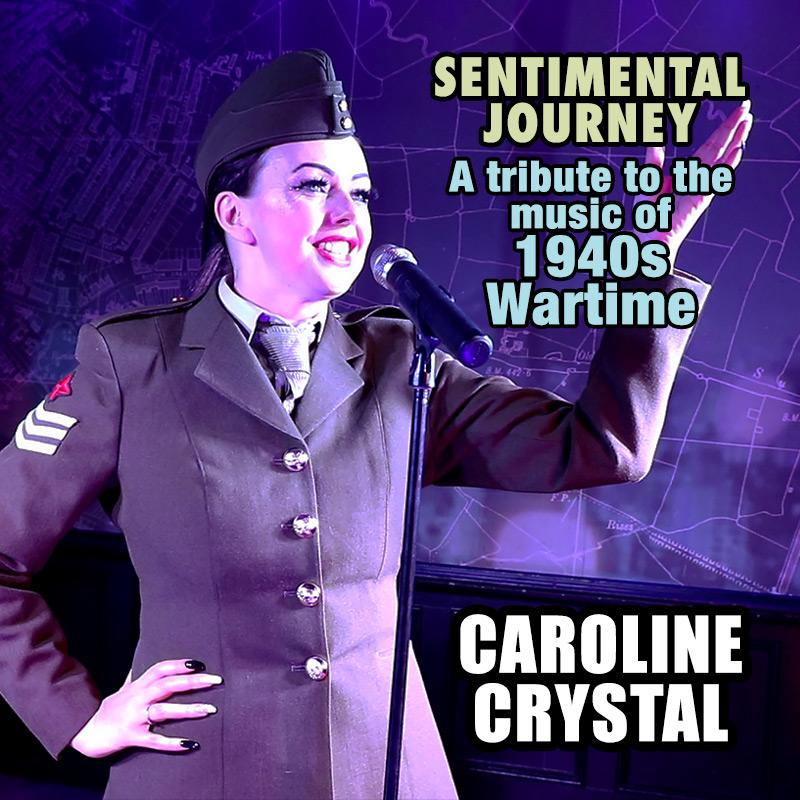 Caroline Crystal - A tribute to the music of 1940s Wartime
Versatile vocalist Caroline Crystal brings you her new show 'Sentimental Journey', a tribute to the music of 1940s wartime. Featuring the sing-a-long classics of Vera Lynn, The Andrew Sisters, Doris Day, and more.
With over 20 years experience Caroline is an all-round entertainer with a theatre background and many shows under her belt. She's also a DJ and a children's entertainer.
Caroline is also available to book as a mixed covers solo vocalist and a Soul and Motown vocalist (solo or duo)
Repertoire
SENTIMENTAL JOURNEY
WHITE CLIFFS OF DOVER
A NIGHTINGALE SANG IN BERKELEY SQUARE
WHEN THE LIGHTS GO ON AGAIN
AS TIME GOES BYE
FROM THE TIME YOU SAY GOODBYE
LILI MARLENE
BLESS THEM ALL
QUE SERA SERA
RUN RABBIT RUN
ROLL OUT THE BARREL
PACK UP YOUR TROUBLES
LONG WAY TO TIPPERARY
LAMBETH WALK
SHOW ME THE WAY TO GO HOME
WE'LL MEET AGAIN
Repertoire
STUFF LIKE THAT THERE
BOOGIE WOOGIE BUGLE BOY
DON'T SIT UNDER THE APPLE TREE
IN THE MOOD
CHATTANOOGA CHOO CHOO
SING SING SING
LULLABY OF BROADWAY
ANYTHING GOES
PS I LOVE YOU
OVER THE RAINBOW
THERE ALWAYS BE AN ENGLAND
LAND OF HOPE AND GLORY
WISH ME LUCK AS YOU WAVE ME GOODBYE