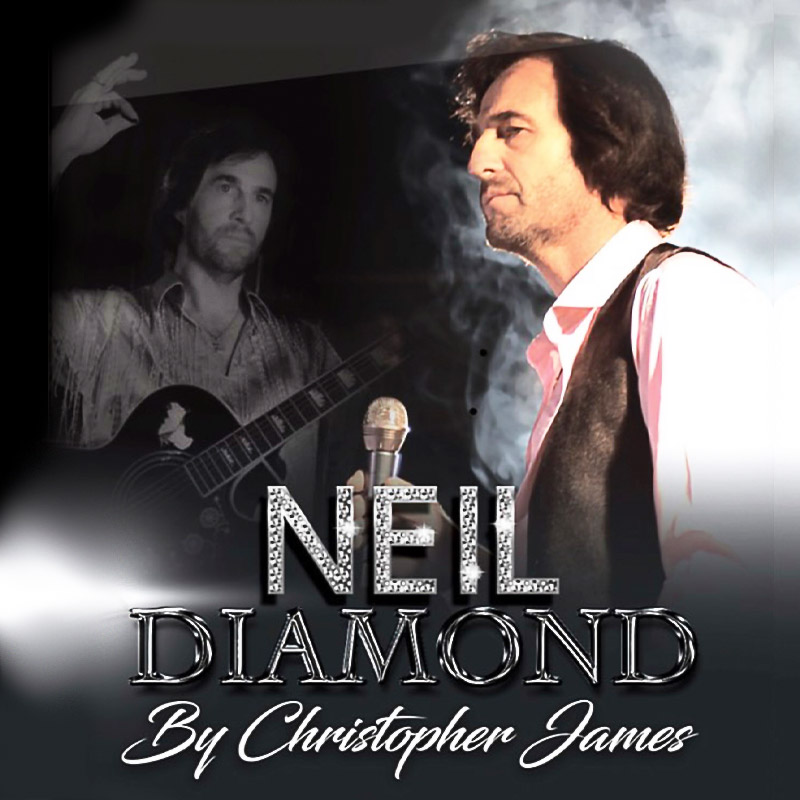 Christopher James Neil Diamond Tribute
Christopher James has been entertaining for over 30 years, both across the UK and abroad. As a child he learned guitar and keyboard and now not only performs as a Neil Diamond tribute, but also as a song writer. His experience working in hotels, and holiday parks makes him the ideal tribute to guarantee a fun-packed evening for your special event.
With over 200 Neil Diamond songs in his repertoire, Christopher not only offers a night of Neil Diamond classic hits, but can also perform the lesser known, unusual and most under-estimated songs from Neil's 60 year career. Combine this with his extensive knowledge about the man himself and Neil's journey through the last 6 decades, Christopher's shows are accompanied by Neil Diamond's iconic SQ180 and SJ200 guitars, along with replica costumes and a painstaking attention to every detail.
For fans of Country Music, Christopher is also available to book as a Kenny Rogers tribute with or without supporting Dolly Parton.
Christopher is also available to book as a solo vocalist performing mixed party classics.
Christopher can also perform his Neil Diamond tribute show with relevant videos playing on a large backdrop screen or TV to enable his audience to relate to all of the movies that Neil and his songs have appeared in. If this is still not enough, then the most important part of the show is the audience interaction, making every single person feel special and part of the show. Christopher can tailor his show to customer requirements, and put this together with high-quality sound system and lights, Christopher James performing his Diamond Delight Nights will leave you wanting more.
Set list
A Cherry Cherry Christmas
A little bit of me, a little bit of you
Acapulco
Amazed And Confused
America
Another Day that Time Forgot
Baby can I hold you tonight
Back in LA
Beautiful noise
Be
Blue Highway
Both Sides Now
Brooklyn Roads
Brother Loves Traveling Salvation
Can't Help Fallin in Love
Canta Libr'e
Captain Sunshine
Cherry Cherry
Cracklin Rosie
Crunchy Granola
Dancing in the Street
Desir'ee
Done to Soon
Don't turn Around
Do wah Diddy
Dry your Eyes
Elijahs Song
Feels Like Home
Forever In Blue Jeans
Girl you'll be a woman soon
Gitchy Goomy
Glory Road
Hallelujah
Happy birthday sweet sixteen
Hava Nagila
Headed for the future
He ain't heavy he's my brother
Heartlight
Set list
Hear them Bells
Hello Again
Hell yeah
Hey Louise
Holly Holy
Home before Dark
I am I said
I believe in happy Endings
I dreamed a Dream
If you know what I mean
If you go Away
I'm Alive
I'm a Believer
In Better Days
I think it's going to rain
I've been this way before
Jerusalem
Kentucky Woman
La Bamba
Lady Oh
Let it be me
Lonely looking sky
Longfellow serenade
Look out here comes tomorrow
Love on the rocks
Melody Road
Midnight train to Georgia
Morningside
Mr Bojangles
Nothing but a heartache
On the Robert E Lee
One good love
Ooo do I wanna be yours
Pretty Amazing Grace
Play me
Porcupine pie
Rainy day song
Set list
Red red wine
Red rubber ball
Reminisce for a while
River deep mountain high
Save me a Saturday night
Save the last dance for me
September Morn
Shilo
Sky bird
Solitary Man
Something blue
Songs of life
Song sung blue
Soolaimon
Stargazer
Stones
Sunflower
Summer Love
Sunday Sun
Sweet Caroline
Thank the lord for the night time
The boat that I row
The grass won't pay no mind
The last thing on my mind
The pot smokers song
The story of my life
Unchained melody
Up on the roof
Will you still love me tomorrow
Yesterday
Yesterday's song
You are my sunshine
You Baby
You don't bring me flowers
You got to me
Your so sweet
You are the best part of me