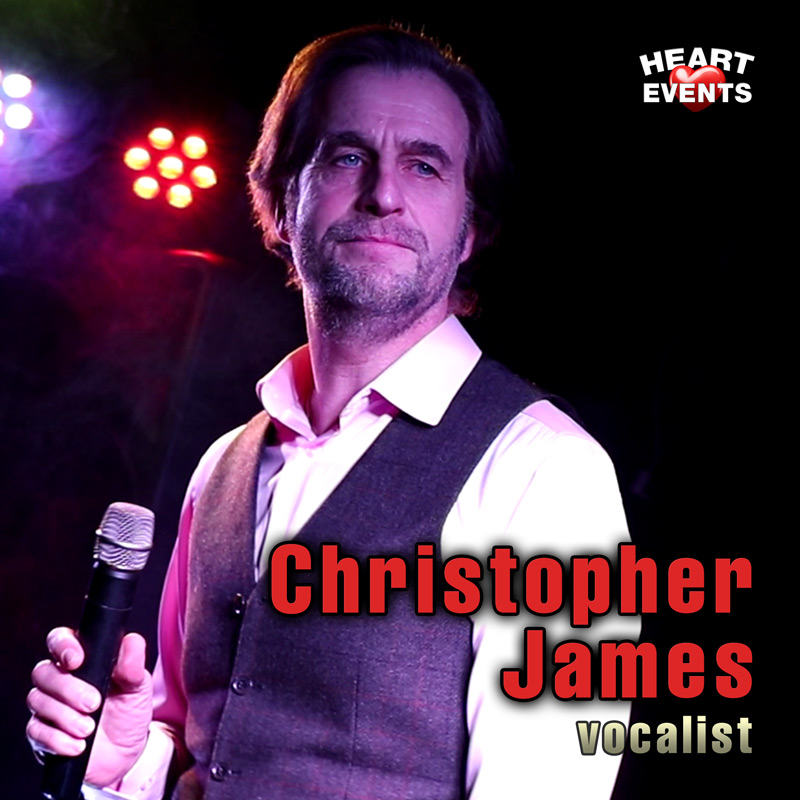 Christopher James - solo vocalist
Christopher James is a long-established vocalist, having worked for many years across the UK and abroad.
With a wide vocal range and a wide repertoire he'll perform classic hits across all the decades.
Also available to book as a Neil Diamond tribute.
For fans of Country, Christopher also performs a Kenny Rogers tribute. Suitable for care home entertainment too.
Party Hits set list
Alice
Angels
At the hop
Bad moon rising
Blue suede shoes
Burning love
Come on everybody
Country roads
Dancing on the ceiling
Daydream believer
Delilah
Does your mother know
Don't look back in anger
Do wah Diddy
Down on the beach
Driving home for Christmas
Feliz navidad
Fool if you think it's over
Green green grass
Halfway to paradise
Happy birthday
Heart beat
Haven't met you yet
Hound dog
I believe
I wish it could be Christmas
I'm a believer
I'm still standing
It only takes a minute girl
Jailhouse rock
Kingston town
Kissing on the back row
La bam a
Let it snow
Let me go
Let's twist again
Little old wine drinker
Love train
Maggie May
Merry Christmas everyone
More than a woman
Mr Bo Jangle
My guy
Oh boy
Penny arcade
Quando quando quando
Radio gaga
Return to sender
Rhinestone cowboy
Ring of fire
Road to hell
Rock around the clock
Rocking all over the world
Rudolph the red nose reindeer
Saturday night at the movies
Simply the best
Something stupid
Stuck in the middle
Summer of 69
Sweet Caroline
Take good care of my baby
Teddy bear
That's a more
The love I lost
The wonder of you
Things
Two out of three ain't bad
Wake up little Suzi
What a wonderful world
When you say nothing at all
White Christmas
Winter wonderland
Wonder wall
Working my way back
You're my best friend
Dance set list
Achy breaky heart
Always on my mind
All night long
American pie
Baby I love your way
Brown eyed girl
Build me up buttercup
Can't help falling in love with you
Can't take my eyes off you
Could it be magic
Country roads
Come on over to my place
Crazy little thing called love
Crocodile rock
Dance the night away
Dancing in the street
December 63
Don't take away the music
Folsom prison blues
Get ready
Have I told you lately
Heaven must be missing an angel
Hey baby
Hold back the night
Human
I can't help myself
I'll go where the music takes me
I'm gonna be (500 miles)
Is this love
Is this the way to Amerillo
It only takes a minute
Karma chameleon
Kingston town
Let me go
Let's hang on
Live it up
Love really hurts
Love train
My girl
My way
New York New York
Red light
Sandy save the last dance
Shine
Shit gun
Sister and brother
Sit down
Sometimes when we touch
Spirit in the sky
Stand by me
Sugar baby love
Suspicious minds
The love I lost
This old heart
Three little birds
Wagon wheel
Wake me up before you go
Walk of life
When she was my girl
When the going gets tough
When you walk in the room
YMCA
You to me are everything
You're more than a number
You're my first, last my everything
Kenny Rogers set list
Buy me a rose
Coward of the county
Daytime friends
I just can't help believing
Islands in the stream
Lady
Long arm of the law
Love lifted me
Love is strange
Lucille
Me and Bobby McGee
Reuben James
Ruby
She believes in me
The gambler
Three times the lady
Through the years
Unchained melody
We've Got Tonight
Wind beneath my wings
You and I
You decorated my life
Care home set list
Daisy bell
Don't dilly dally
Don't laugh at me
Elusive butterfly
For the good times
Hello Dolly
It's a long way to Tipperary
Let it be me
Pack up your troubles
Rain drops keep falling on my head
Run rabbit
Show me the way to go home
Summer holiday
The answer to everything
The last waltz
We'll meet again
What will be will be
When your smiling
You are my sunshine
He'll have to go
I love you because
On la de ob la da
King of the road