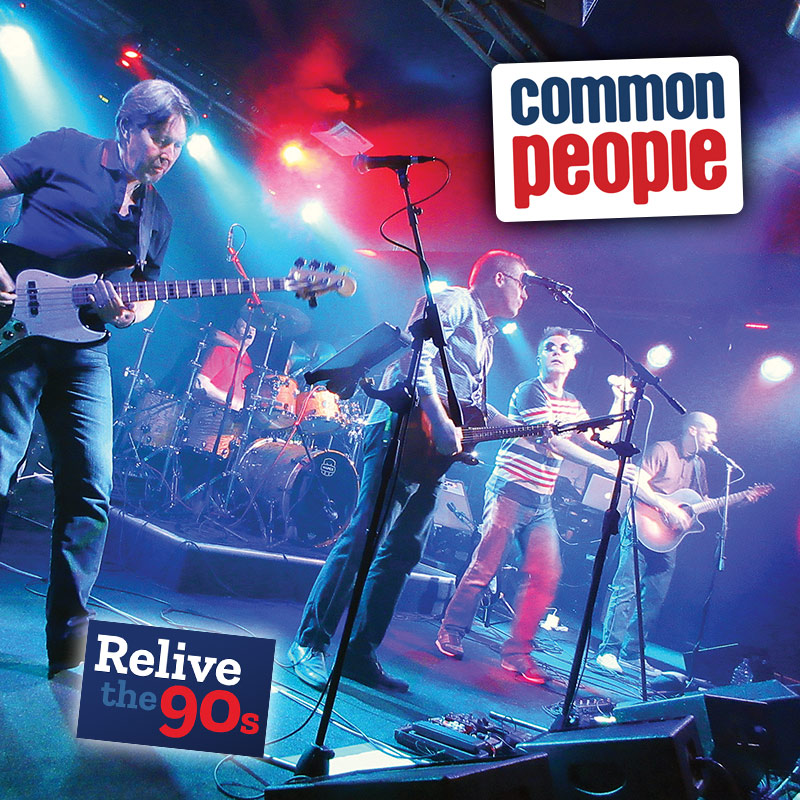 Common People - 90s Britpop tribute band
Do you remember when Cool Britannia ruled the airwaves? Think British guitar music from that era was the best in the world? Then get ready to #ReliveThe90s.
6 piece band, the Common People play all the finest Britpop and Indie anthems totally live. Your evening will feature hit after hit by the likes of Oasis, Blur, Pulp, Primal Scream, James, Levellers, The Stone Roses, Cast, The Charlatans, Ash, The La's and many more.
Performed with all the swagger, panache and attitude you'd expect, the Common People are experienced at engaging festival crowds, lending a 90s vibe to themed weddings and parties, and generally giving audiences a night to remember. So... why not put on your parka, grab yourself a pint of Champagne Supernova - and get ready to sing along with the Common People!
SET LIST
Hey Dude (Kula Shaker)
Country House (Blur)
Roll With It (Oasis)
Rocks (Primal Scream)
A Girl Like You (Edwyn Collins)
Fine Time (Cast)
Live Forever (Oasis)
Girls And Boys (Blur)
Disco 2000 (Pulp)
Wonderwall (Oasis)
She's A Star (James)
Lucky Man (The Verve)
Hush (Kula Shaker)
Parklife (Blur)
The Riverboat Song (Ocean Colour Scene)
She Bangs The Drums (The Stone Roses)
The Only One I Know (The Charlatans)
There She Goes (The La's)
Sit Down (James)
What A Beautiful Day (Levellers)
Tubthumping (Chumbawumba)
She's Electric (Oasis)
Dizzy (The Wonder Stuff)
Song 2 (Blur)
Common People (Pulp
Encore tracks: Angels (Robbie Williams), Champagne Supernova (Oasis)