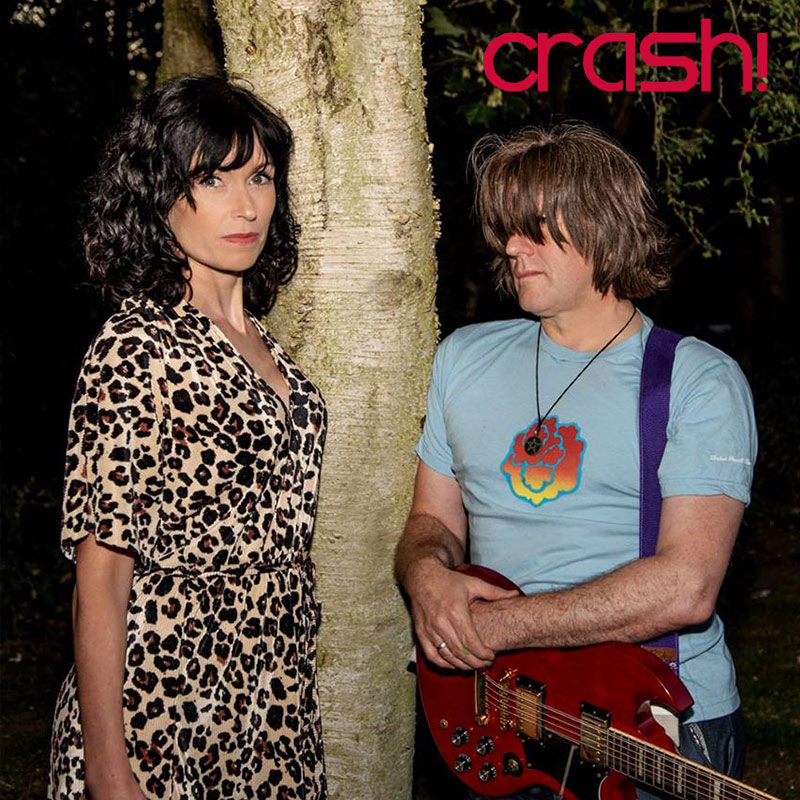 CRASH! - vocal guitar duo
CRASH! is an exciting guitar vocal duo exploded on to the scene to great acclaim with singer Soo Hall and guitarist Mark Mortimer winning plaudits and praise in The Midlands and further afield.
Crash! are a clash of style and verve, delivering unforgettable musical performances catering for all ages and tastes with a wide range of songs in an ever-expanding repertoire, numbering several hundred injecting warmth and fun into their live experience.
As well as their usual across-the-board cornucopia of musical nuggets, they also offer three bespoke themed shows for those with indie rock/pop tastes, for soulies with a dance floor detonating blend of northern soul and more standard Motown and soul hits together with ska and reggae, and they can also comfortably cover a whole evening of 1980s dance music.
Having played corporate and wedding events through to pubs, social clubs, hotels and festivals, Crash! work hard at tailoring each performance to the people in the audience.
Soo and Mark first met when they were members of the much-respected and loved band DC Fontana, considered one of the most important groups on the mod scene. CRASH! can also expand up into a four-piece or larger sized band known as the Escape Pod.
They also write their own songs and perform in their original band, The Know Escape. Recording their debut album in London and the U.S.A in 2018.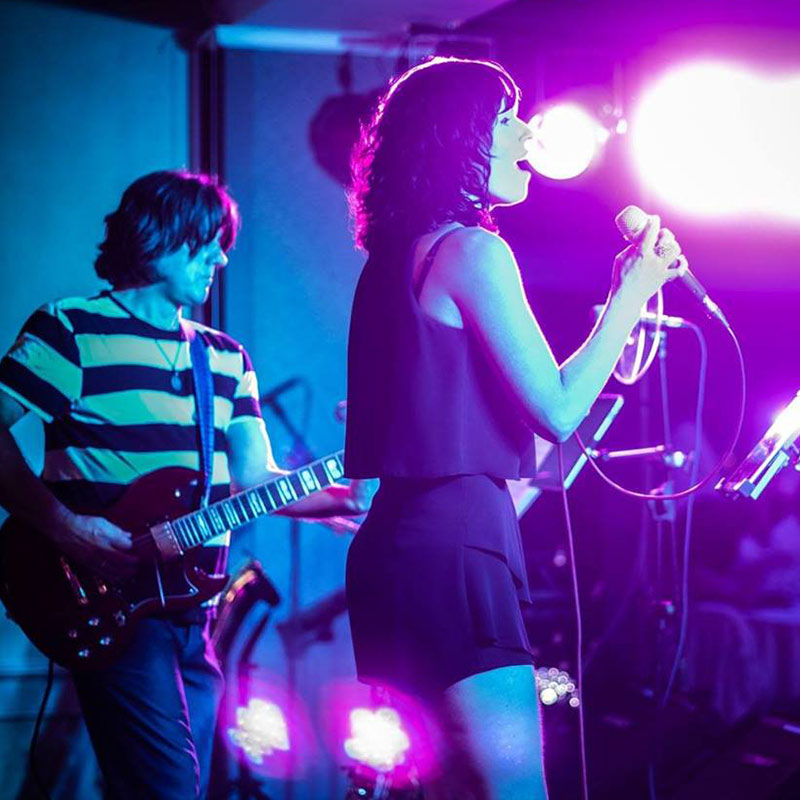 80s set list
BAD MANNERS – Lip Up Fatty
BAD MANNERS – Special Brew
THE BANGLES – Manic Monday
BELINDA CARLISLE – Heaven Is A Place On Earth
BILL MEDLEY & JENNIFER WARNES – (I've Had) The Time Of My Life
BLONDIE – One Way Or Another
BLONDIE – The Tide Is High
BOB MARLEY & THE WAILERS – Three Little Birds
BOW WOW WOW – I Want Candy
THE CLASH – I Fought The Law
THE CLASH – Should I Stay Or Should I Go?
CYNDI LAUPER – Girls Just Wanna Have Fun
DEPECHE MODE – Just Can't Get Enough
DEXY'S MIDNIGHT RUNNERS - Geno
DOLLY PARTON – 9 To 5
DURAN DURAN – Hungry Like The Wolf
FAIRGROUND ATTRACTION - Perfect
THE JAM – Town Called Malice
JULIAN COPE – World Shut Your Mouth
KATRINA & THE WAVES – Walking On Sunshine
KOOL & THE GANG - Celebration
MADONNA – Express Yourself
MADONNA – Like A Prayer
MADONNA – Like A Virgin
MICHAEL JACKSON - Thriller
ORANGE JUICE – Rip It Up
ORCHESTRAL MANOEUVRES IN THE DARK - Souvenir
THE POINTER SISTERS – I'm So Excited
THE PRIMITIVES – Crash
THE PROCLAIMERS – (I Could Walk) 5000 Miles
QUEEN – Crazy Little Thing Called Love
SOFT CELL – Tainted Love
THE SPECIALS – Ghost Town
THE STONE ROSES – I Am The Resurrection
THE STONE ROSES – Waterfall
THE STYLE COUNCIL – Long Hot Summer
THE STYLE COUNCIL – You're The Best Thing
THE TEARDROP EXPLODES – Reward
TENPOLE TUDOR – Swords Of A Thousand Men
TIFFANY – I Think We're Alone Now
WHAM! – Freedom
WHAM! – Wake Me Up Before You Go-Go
YAZOO – Only You
2000 and current set list
ADELE – Rolling In The Deep
AMY WINEHOUSE / SAM COOKE - Cupid
AMY WINEHOUSE – Rehab
AMY WINEHOUSE / THE ZUTONS – Valerie
ARCADE FIRE – Wake up
THE ARCTIC MONKEYS – I Bet You Look Good On The Dancefloor
BLUR – Song 2
BRUNO MARS – Uptown Funk
CLEAN BANDIT – Rockabye
COLDPLAY – Clocks
COLDPLAY - Yellow
DANNII MINOGUE – I Begin To Wonder
DUFFY / THE THIRD DEGREE – Mercy
EMILY SANDÉ – Next To Me
FLORENCE & THE MACINE – You Got The Love
FRANZ FERDINAND – Take Me Out
THE FRATELLIS – Chelsea Dagger
GABRIELLE – When A Woman
JESSIE J – Price Tag
THE KAISER CHIEFS – I Predict A Riot
KASABIAN – You're In Love With A Psycho
KT TUNSTALL – Black Horse & The Cherry Tree
THE KILLERS – Mr. Brightside
KINGS OF LEON – Sex On Fire
KUNGS FEATURING COOKIN' ON 3 BURNERS – This Girl
KYLIE MINOGUE – Can't Get You Out Of My Head
MEGHAN TRAINOR – All About That Bass
PHARRELL WILLIAMS / SPEEDOMETER – Happy
PRIMAL SCREAM - Rocks
SNOW PATROL – Chasing Cars
THE STEREOPHONICS – Dakota
TAYLOR Swift – Look What You Made Me Do
TAYLOR SWIFT – Shake It Off
THE WHITE STRIPES – Seven Nation Army
60s set list
AL WILSON – The Snake
THE ARCHIES – Sugar, Sugar
ARETHA FRANKLIN – Chain Of Fools
ARETHA FRANKLIN – Respect
ARTHUR CONLEY – Sweet Soul Music
THE BANDWAGON – Breaking Down The Walls Of Heartache
BARBARA ACKLIN – Love Makes A Woman
THE BEATLES – A Hard Day's Night
THE BEATLES – Come Together
THE BEATLES – Eight Days A Week
THE BEATLES – In My Life
THE BEATLES – I Saw Her Standing There
THE BEATLES – Let It Be
THE BEATLES / THE ISLEY BROTHERS – Twist & Shout
BEN E. KING – Stand By Me
BETTY EVERETT – The Shoop Shoop Song (It's In His Kiss)
BILLY BUTLER – The Right Track
BOBBY TAYLOR & THE VANCOUVERS / GLADYS KNIGHT & THE PIPS / MARVIN GAYE – I Heard It Through The Grapevine
BRUCE CHANNEL / DJ ÖTZI – Hey! Baby
BUFFALO SPRINGFIELD – For What It's Worth
THE BYRDS – Mr. Tambourine Man
CHUCK WOOD – Seven Days Too Long
THE CONTOURS – Do You Love Me?
CREAM / MONGO SANTAMARIA – Sunshine Of Your Love
CREEDANCE CLEARWATER REVIVAL – Bad Moon Rising
CREEDANCE CLEARWATER REVIVAL / IKE & TINA TURNER – Proud Mary
THE CRYSTALS – Da Doo Ron Ron
DEEP PURPLE / KULA SHAKER - Hush
DOBIE GRAY – Out On The Floor
DOBIE GRAY – The In Crowd
DON FARDON – I'm Alive
DON FARDON – The Letter
DUSTY SPRINGFIELD – I Only Want To Be With You
DUSTY SPRINGFIELD – Son Of A Preacher Man
DUSTY SPRINGFIELD – Spooky
EDWIN STARR – 25 Miles
EDWIN STARR – Stop Her On Sight (SO.S.)
THE FLIRTATIONS – Nothing But A Heartache
FONTELLA BASS – Rescue Me
THE FOUNDATIONS – Build Me Up Buttercup
THE FOUR TOPS – Baby I Need Your Loving
THE FOUR TOPS – I Can't Help Myself
FRANKIE VALLI & THE FOUR SEASONS – Beggin'
FRANK WILSON – Do I Love You (Indeed I Do)?
GLORIA JONES – Tainted Love
HARRY J. ALL STARS – The Liquidator
JACKIE WILSON – (Your Love Is Liftin' Me) Higher & Higher
JACKIE WILSON / ERMA FRANKLIN – (I Get) The Sweetest Feeling
JAMES BROWN & THE FAMOUS FLAMES – I Got You (I Feel Good)
THE JEFF BECK GROUP – Hi Ho Silver Lining
THE JEFFERSON AIRPLANE – White Rabbit
JUST BROTHERS – Sliced Tomatoes
LITTLE EVA – The Locomotion
THE LOVE AFFAIR – Everlasting Love
LULU & THE LUVVERS – Shout!
MANFRED MANN – The Mighty Queen
MARLENA SHAW – Let's Wade In The Water
MARTHA & THE VANDELLAS – Dancing In The Street
MARTHA & THE VANDELLAS – Jimmy Mack
MARTHA & THE VANDELLAS (Love Is Like A) Heat Wave
MARTHA & THE VANDELLAS – Nowhere To Run
MARY WELLS – My Guy
MILLIE SMALL – My Boy Lollipop
THE MOHAWKS – The Champ
THE MONKEES – I'm A Believer
NANCY SINATRA – These Boots Are Made For Walking
NEIL DIAMOND – Sweet Caroline
THE ORIGINALS – Suspicion
OTIS REDDING – Hard To Handle
PATSY CLINE – Crazy
PROCOL HARUM – A Whiter Shade Of Pale
RITA & THE TIARAS – Gone With The Wind Is My Love
THE ROLLING STONES – Jumpin' Jack Flash
THE RONETTES – Be My Baby
ROY ORBISON – Penny Arcade
SAM THE SHAM & THE PHARAOHS – Woolly Bully
SANDIE SHAW – Long Live Love
THE SHIRELLES – Will You Still Love Me Tomorrow?
SHIRLEY ELLIS – Soul Time
SHOCKING BLUE / BANANARAMA – Venus
SLY & THE FAMILY STONE – Dance To The Music
SLY & THE FAMILY STONE – Everyday People
THE SMALL FACES – All Or Nothing
SONNY & CHER / BUDDY RICH BIG BAND – The Beat Goes On
THE SPENCER DAVIS GROUP – Gimme Some Lovin'
THE SPENCER DAVIS GROUP – I'm A Man
STEPPENWOLF – Born To Be Wild
THE SUPREMES – Baby Love
THE SUPREMES – You Can't Hurry Love
THE SURFARIS – Wipe Out!
THE TEMPTATIONS – Ain't Too Proud To Beg
THE TEMPTATIONS – Get Ready
THE TEMPTATIONS – Psychedelick Shack
TOOTS & THE MAYTALS – 54-46 Was My Number
TOOTS & THE MAYTALS – Monkey Man
VANILLA FUDGE / THE SUPREMES – You Keep Me Hangin' On
VAN MORRISON – Brown-Eyed Girl
THE VELVELETTES – Needle In A Haystack
THE VENTURES – Theme From Hawaii 5'0
WILSON PICKETT – In The Midnight Hour
WILSON PICKETT – Land Of 1000 Dances
WILSON PICKETT – Mustang Sally
Soul and Motown set list
AL GREEN – Let's Stay Together
AL WILSON – The Snake
ARETHA FRANKLIN – Chain of Fools
ARETHA FRANKLIN – Respect
ARTHUR CONLEY – Sweet Soul Music
THE BANDWAGON – Breaking Down The Walls Of Heartache
BARBARA ACKLIN – Love Makes A Woman
BEN E. KING – Stand By Me
BILL WITHERS – Ain't No Sunshine
BILLY BUTLER – The Right Track
BILLY OCEAN – Love Really Hurts Without You
BILLY OCEAN – Red Light Spells Danger
BOBBY PARKER – Barefootin'
BOBBY TAYLOR & THE VANCOUVERS / GLADYS KNIGHT & THE PIPS / MARVIN GAYE – I Heard It Through The Grapevine
CANDI STATON – Young Hearts Run Free
THE CAPITOLS – Cool Jerk
CAROLE KING – I Feel The Earth Move
THE CHAIRMEN OF THE BOARD – Give Me Just A Little More Time
CHUCK WOOD – Seven Days Too Long
THE CONTOURS – Do You Love Me?
CURTIS MAYFIELD – Move On Up
DEXY'S MIDNIGHT RUNNERS - Geno
DOBIE GRAY – Out On The Floor
DOBIE GRAY – The In Crowd
DON FARDON – I'm Alive
DUSTY SPRINGFIELD – Son Of A Preacher Man
EDDIE FLOYD – Knock On Wood
EDWIN STARR – 25 MILES
EDWIN STARR – Stop Her On Sight (S.O.S.)
THE ELGINS – Heaven Must Have Sent You
THE FASCINATIONS – Girls Are Out To Get You
THE FLIRTATIONS – Nothing But A Heartache
FONTELLA BASS – Rescue Me
THE FOUNDATIONS – Build Me Up Buttercup
THE FOUR TOPS – Baby, I Need Your Loving
THE FOUR TOPS – I Can't Help Myself
THE FOUR TOPS – Loco In Acapulco
FRANKIE VALLI & THE FOUR SEASONS – Beggin'
FRANK WILSON – Do I Love You (Indeed I Do)?
GIL SCOTT HERON – The Bottle
GLORIA JONES – Tainted Love
GLORIA SCOTT (A Case Of) Too Much Lovemaking
JACKIE WILSON – (Your Love Is Liftin' Me) Higher & Higher
JACKIE WILSON / ERMA FRANKLIN – (I Get) The Sweetest Feeling
THE JAM – Town Called Malice
JAMES & BOBBY PURIFY – Shake A Tail Feather
JAMES BROWN & THE FAMOUS FLAMES – I Got You (I Feel Good)
JAMES BROWN & THE FAMOUS FLAMES – (Get Up) Sex Machine
JUDY CLAY & WILLIAM BELL – Private Number
JUST BROTHERS – Sliced Tomatoes
THE KINGSMEN – Louie Louie
MAJOR LANCE – You Don't Want Me No More
MARLENA SHAW – Let's Wade In The Water
MARTHA & THE VANDELLAS – Dancing In The Street
MARTHA & THE VANDELLAS – Jimmy Mack
MARTHA & THE VANDELLAS – (Love Is Like A) Heat Wave
MARTHA & THE VANDELLAS – Nowhere To Run
MARVIN GAYE – What's Goin' On?
MARY WELLS – My Guy
McFADDEN & WHITEHEAD – Ain't No Stopping Us Now
THE MOWHAWKS – The Champ
THE ORIGINALS - Suspicion
OTIS REDDING – Hard To Handle
PATTI LABELLE – Lady Marmalade
PHARRELL WILLIAMS – Happy
THE POINTER SISTERS – I'm So Excited
RITA & THE TIARAS – Gone With The Wind Is My Love
ROBERT KNIGHT / THE LOVE AFFAIR– Everlasting Love
THE RONETTES – Be My Baby
SHIRLEY ELLIS – Soul Time
SISTER SLEDGE – Thinking Of You
SLY & THE FAMILY STONE – Dance To The Music
SLY & THE FAMILY STONE – Everyday People
SMOKEY ROBINSON & THE MIRACLES – The Tears Of A CLown
THE SPENCER DAVIS GROUP / BLUES BROTHERS – Gimme Some Lovin'
THE SPENCER DAVIS GROUP – I'm A Man
STEVIE WONDER – Signed, Sealed, Delivered
STEVIE WONDER – Superstition
STEVIE WONDER – Uptight (Everything's Alright!)
THE SUPREMES – Baby Love
THE SUPREMES – You Can't Hurry Love
THE TAMS – Be Young, Be Foolish, Be Happy
THE TEMPTATIONS – Ain't Too Proud To Beg
THE TEMPTATIONS – Get Ready
THE TEMPTATIONS – Psychedelic Shack
THE THIRD DEGREE / DUFFY - Mercy
THE TRAMMPS – Hold Back The Night
THE VELVELETTES – Needle In A Haystack
THE VENTURES – Hawaii 5'0 Theme
WILD CHERRY – Play That Funky Music
WILSON PICKETT – In The Midnight Hour
WILSON PICKETT – Land Of 1000 Dances
WILSON PICKETT – Mustang Sally
70s set list
ABBA – Dancing Queen
AL GREEN – Let's Stay Together
BILL WITHERS – Ain't No Sunshine
BILLY OCEAN – Love Really Hurts Without You
BILLY OCEAN – Red Light Spells Danger
BLONDIE – Heart Of Glass
BLONDIE – One Way Or Another
BOB MARLEY & THE WAILERS – Jamming
BOB MARLEY & THE WAILERS – Three Little Birds
CANDI STATON – Young Hearts Run Free
CAROLE KING – I Feel The Earth Move
CARLY SIMON – You're So Vain
CHER – The Shoop Shoop Song (It's In His Kiss)
GLORIA SCOTT – (A Case Of) Too Much Lovemaking
JAMES BROWN – (Get Up) Sex Machine
JUDY CLAY & WILLIAM BELL – Private Number
MARVIN GAYE – What's Goin' On?
McFADDEN & WHITEHEAD – Ain't No Stopping Us Now
MADNESS – One Step Beyond
THE PRETENDERS – Brass In Pocket
THE REZILLOS – Top Of The Pops
THE SELECTER – On My Radio
SISTER SLEDGE – Thinking Of You
THE SPECIALS – Gangsters
THE SPECIALS – Rudy, A Message To You
STEALER'S WHEEL – Stuck In The Middle
STEVIE WONDER - Superstition
THE TOURISTS – I Only Want To Be With You
THE TRAMMPS – Hold Back The Night
THE WHO – 5:15
THE WHO – Behind Blue Eyes
THE WHO – Won't Get Fooled Again
WILD CHERRY – Play That Funky Music
WINGS – Silly Little Love Songs
90s set list
THE B52s – Love Shack
THE B52s - Roam
BJÖRK – Venus As A Boy
BLONDIE – Maria
THE CRANBERRIES – Linger
THE CRANBERRIES – Zombie
CROWDED HOUSE – Weather With You
THE CURE – Friday, I'm In Love
DEL AMITRI – Always The Last To Know
DODGY – Good Enough
ELASTICA – Connection
THE FARM – All Together Now
GARBAGE – Stupid Girl
JAMES – Sit Down
KULA SHAKER - Hush
THE LAS – There She Goes
THE MAVERICKS – Dance The Night Away
NATALIE IMBRUGLIA - Torn
NEIL YOUNG – Harvest Moon
THE NEW RADICALS – You Get What You Give
NIRVANA – Smells Like Teen Spirit
OASIS – Don't Look Back In Anger
OASIS – Wonderwall
RADIOHEAD - Creep
REPUBLICA – Ready To Go
SIXPENCE NONE THE RICHER – Kiss Me
SUPERGRASS – Pumping On Your Stereo
Ska and Reggae set list
BAD MANNERS – Lip Up Fatty
BAD MANNERS – Special Brew
BOB MARLEY & THE WAILERS - Jamming
BOB MARLEY & THE WAILERS – One Love
BOB MARLEY & THE WAILERS – Three Little Birds
HARRY J. ALL STARS – The Liquidator
MADNESS – One Step Beyond
MILLIE SMALL – My Boy Lollipop
THE PIRANHAS – Tom Hark
SAM THE SHAM & THE PHARAOHS – Woolly Bully
THE SELECTER – On My Radio
THE SPECIALS – Rudy, A Message To You
THE SPECIALS – Gangsters
THE SPECIALS – Ghost Town
TOOTS & THE MAYTALS – Monkey Man
TOOTS & THE MAYTALS – 54-46 Was My Number
40s and 50s set list
CHUCK BERRY – Johnny B. Goode
ELVIS PRESLEY – All Shook Up
ELVIS PRESLEY – Hound Dog
THE EVERLY BROTHERS – All I Have To Do Is Dream
JULIE LONDON – Cry Me A River
NATIONAL ANTHEM – God Save The Queen
PEGGY LEE - Fever
RITCHIE VALENS / LOS LOBOS – La Bamba
VERA LYNN – There'll Always Be An England
VERA LYNN – We'll Meet Again
VERA LYNN – White Cliffs Of Dover
Indie Rock and Pop set list
THE ARCTIC MONKEYS – I Bet You Look Good On The Dance Floor
BABYBIRD – You're Gorgeous
BECK - Loser
BJÖRK – Venus As A Boy
BLONDIE – Heart Of Glass
BLONDIE – Maria
BLONDIE – One Way Or Another
BLUR – Song 2
BOW WOW WOW – I Want Candy
THE CLASH – I Fought The Law
THE CLASH – Should I Stay Or Should I Go?
COLDPLAY – Clocks
COLDPLAY - Yellow
THE CRANBERRIES – Linger
THE CRANBERRIES – Zombie
CROWDED HOUSE – Weather With You
THE CURE – Friday, I'm In Love
DEL AMITRI – Always The last To Know
DEXY'S MIDNIGHT RUNNERS - Geno
DODGY – Good Enough
ELASTICA - Connection
THE FARM – All Together Now
FLEET FOXES – White Winter Hymnal
FRANZ FERDINAND – Take Me Out
THE FRATELLIS – Chelsea Dagger
GARBAGE – Stupid Girl
THE JAM – Town Called Malice
JAMES – Sit Down
THE KAISER CHIEFS – I Predict A Riot
KASABIAN – You're In Love With A Psycho
THE KILLERS – Mr. Brightside
KINGS OF LEON – Sex On Fire
KULA SHAKER - Hush
THE LAS – There She Goes
MASSIVE ATTACK – Protection
MAZZY STAR – Fade Into You
NATALIE IMBRUGLIA - Torn
THE NEW RADICALS – You Get What You Give
NIRVANA – Smells Like Teen Spirit
OASIS – Don't Look Back In Anger
OASIS – Wonderwall
ORANGE JUICE – Rip It Up
THE PRETENDERS – Brass In Pocket
PRIMAL SCREAM – Rocks
PULP – Common People
R.E.M. – Losing My Religion
R.E.M. – Shiny Happy People
RADIOHEAD – Creep
THE REMEMBRANDTS – I'll Be There For You
REPUBLICA – Ready To Go
THE REZILLOS – Top Of The Pops
SIXPENCE NONE THE RICHER – Kiss Me
THE SMITHS – Panic
SNOW PATROL – Chasing Cars
SOFT CELL – Tainted Love
SUPERGRASS – Pumping On Your Stereo
THE STEREOPHONICS – Dakota
THE STONE ROSES – I Am The Resurrection
THE STONE ROSES – Waterfall
THE TEARDROP EXPLODES – Reward
TENPOLE TUDOR – Swords Of A Thousand Men
TOPLOADER – Dancing In The Moonlight
THE WHITE STRIPES – Seven Nation Arm
XMAS songs set list
BAND AID – Do They Know It's Christmas?
BRENDA LEE – Rockin' Around The Christmas Tree
THE CRYSTALS – Santa Claus Is Coming To Town
FLEET FOXES – White Winter Hymnal
MARIAH CAREY – All I Want For Christmas
THE PLASTIC ONO BAND – Happy Xmas (War Is Over)
THE PRETENDERS – 2000 Miles
THE RONETTES – Frosty The Snowman
SHAKIN' STEVENS – Merry Christmas Everyone
SLADE – Merry Christmas Everybody
TRADITIONAL – Auld Lang Syne
TRADITIONAL – Jingle Bells
TRADITIONAL – Silent Night
WHAM! – Last Christmas
WIZZARD – I Wish It Could Be Christmas Every Day