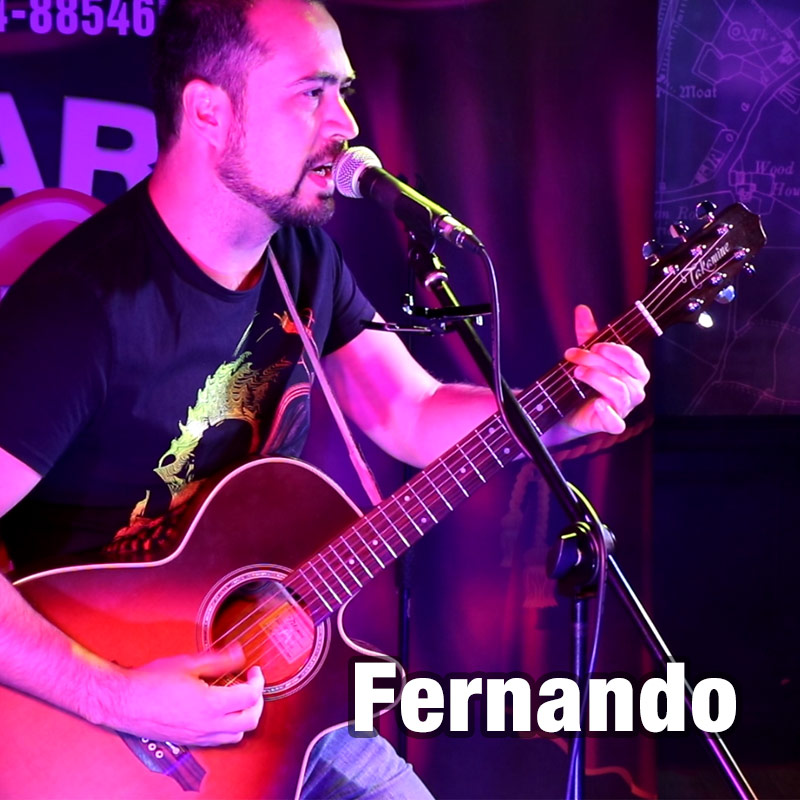 Fernando
Born in Mexico City and raised in Tokyo Japan, Fernando has been playing music and performing in public around the globe from a very young age. Heavily influenced by the blues, rock and funk of bands such as Led Zeppelin, The Doors, Red Hot Chili Peppers and Dave Matthews, Fernando's main focus is on delivering a performance that is technically rich both vocally and instrumentally.
Fernando started playing the acoustic guitar at the age of 12 while growing up in Tokyo Japan under the tutelage of well-known Yamaha Institute of Music instructor Kazuhiko Abe. While honing his acoustic guitar skills, Fernando performed in various vocal and musical groups ranging from classical style to contemporary rock music and dance. This is where Fernando got his first opportunity to perform internationally; Paris, London, Sydney, Beijing and New York.
SET LIST
Now and Again (original)
New World Blues (original)
Bartender (Dave Matthews)
Don't Drink The Water (Dave Matthews)
Way Down We Go (Kaleo)
All The Pretty Girls (Kaleo)
Reality (Lost Frequencies)
Moving to Texas USA after graduating high school, Fernando continued his musical development by performing in local college bands which covered various genres; rock, reggae and much more.
After the university years, Fernando returned to Japan and continued performing both as a solo acoustic act and as lead vocalist for a local Red Hot Chili Peppers tribute band. It wasn't until Fernando accepted an overseas engineering assignment in Portugal that things started to look up musically. Lisbon and Porto brought great opportunities and newfound success to this semi-professional musician. After 6 years in Portugal, new professional challenges took Fernando to Russia where he continued performing in local clubs, weddings and festivals as a solo acoustic act. His participation in the Volga River Beach BQ Festival in Russia is among his most memorable performances.
Fernando moved to the UK in late 2018 and has since been performing locally as a solo acoustic act mainly in the Coventry, Leamington Spa and Kenilworth area. Anyone interested in a deep, soulful and rich-feel-good acoustic performance will surely enjoy Fernando's performance.
SET LIST
S.O.S (Avicii & Aloe Blacc)
Girls Like You (Maroon 5)
Giant (Calvin Harris / Rag n Bone Man)
A-Team (Ed Sheeran)
Shallow (Bradley Cooper / Lady Gaga)
Catch & Release (Matt Simons)
Lost On You (LP)
Wake Me Up (Avicii & Aloe Blacc)
Sing (Ed Sheeran)
Shotgun (George Ezra)
Human (Rag n Bone Man)
2002 (Anne Marie)
Riptide (Vance Joy)
Somebody I Used To Know (Gotye)
I Will Leave A Light On (Tom Walker)
Shape Of You (Ed Sheeran)
Photograph (Ed Sheeran)
SET LIST
Personal Jesus (Depeche Mode)
Down Under (Men At Work)
Wonderwall (Oasis)
Save Tonight (Eagle Eye Cherry)
Knockin On Heaven's Door (Bob Dylan)
Fast Car (Tracy Chapman)
Revolution (Tracy Chapman)
Ain't No Sunshine (Bill Withers)
Californication (Red Hot Chili Peppers)
Like A Stone (Audio Slave)
Price Tag (Jessie J)
Drive (Incubus)
Wild World (Cat Stevens)
Sexual Healing (Marvin Gay)
No Woman No Cry (Bob Marley)