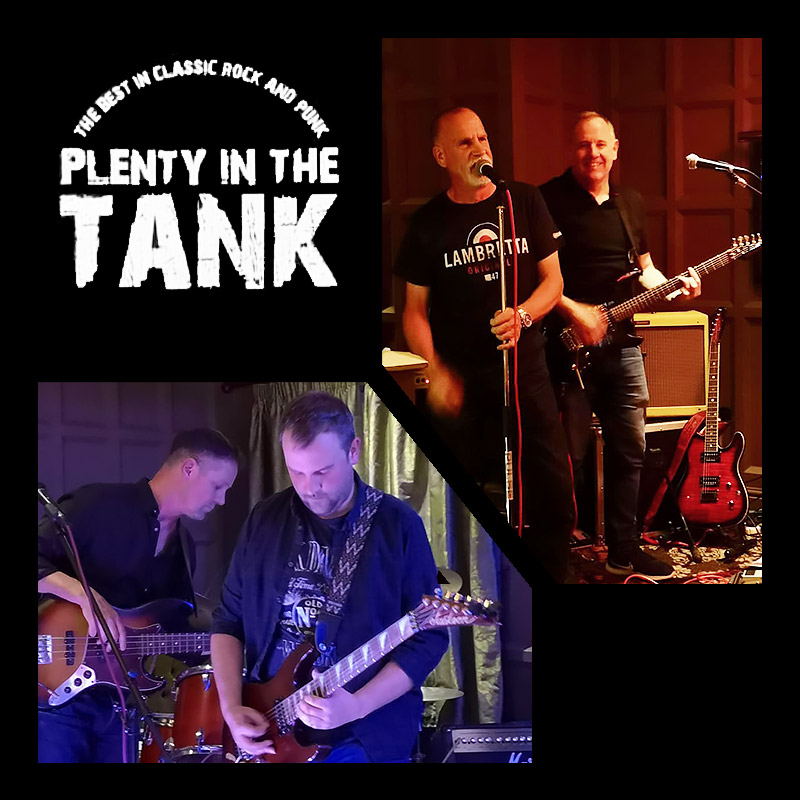 Plenty In The Tank - party band
Plenty In The Tank are a powerful 5 piece band that cover classic rock, new wave and punk hits. They are good fun and always have the venue bouncing. Their set-list connects with all ages and every pub they play they're rebooked. All killers no fillers! Available to book self-contained with full PA, lights, drums and guitars.
Celebrating three decades of British music that shook the World, Plenty in the Tank bring to life trailblazing 60s tunes from the likes of The Beatles, Rolling Stones, Cream and The Who. Their high energy set also includes 70s Rock classics from iconic artists such as; Thin Lizzy, Led Zeppelin, Status Quo and Pink Floyd, as well as Punk bangers from The Clash, Sex Pistols, Buzzcocks and Stranglers. With over 40 songs in their repertoire, it's only right the band include floor filling favourites from Bowie, T-Rex, Slade and ELO and late 70s early 80s hits by Elvis Costello, Ian Dury and The Jam.
This powerful 5 piece from the West Midlands, have a wealth of experience playing live. They take great pride delivering each song in a manner befitting the original artists, but also like to have a lot of fun doing so. This approach guarantee's you'll be shouting for 'one more song' late into the night.
REPERTOIRE
Wishing Well - Free
Sharp Dressed Man - ZZ Top
Teenage Kicks - Undertones
Should I Stay or Should I Go - The Clash
I Fought the Law - The Clash
Peaches - The Stranglers
Town Called Malice - The Jam
Pretty Vacant - Sex Pistols
My Generation - The Who
All Right Now - Free
Paranoid - Black Sabbath
Smoke on the Water - Deep Purple
Highway to Hell - AC/DC
Going Underground - The Jam
Ever Fallen in Love... - Buzzcocks
Pump it Up - Elvis Costello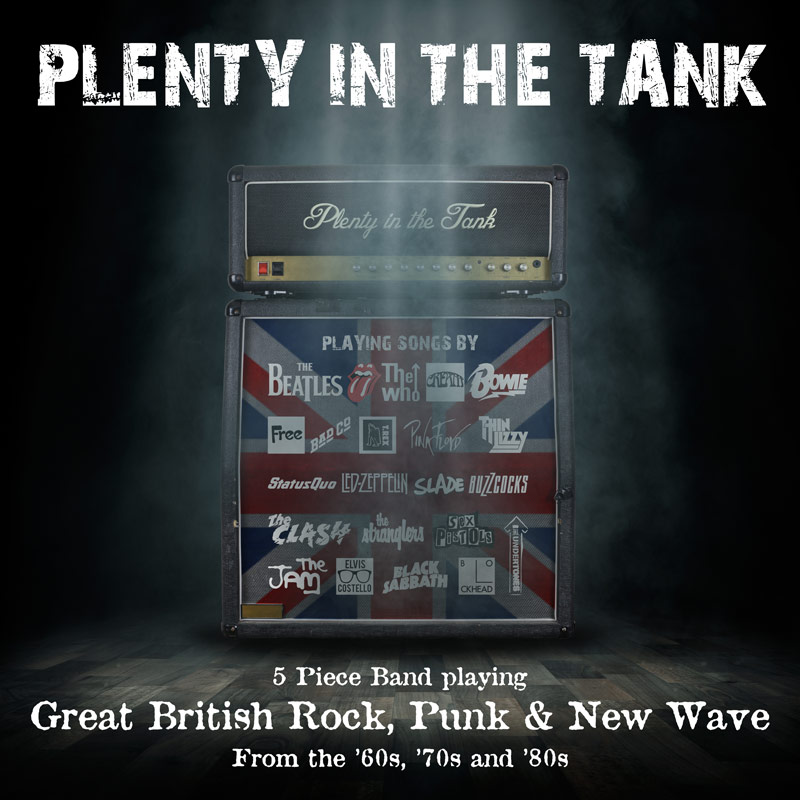 REPERTOIRE
Sunshine of your Love - Cream
12 bar blues intro
Heartbreak Hotel - Elvis
You Can't Do That - Beatles
I Saw Here Standing There - Beatles
Satisfaction - Rolling Stones
Honky Tonk Woman - Rolling Stones
Substitute - The Who
Pinball Wizard - The Who
Get It On - T Rex
Wish You Were Here - Pink Floyd
Another Brick in the Wall - Pink Floyd
Sweet Home Alabama - Lynyrd Skynyrd
Crossroads - Cream / Clapton Cream
White Room - Cream
Can't Get Enough of your Love - Bad Company
Feel Like Making Love - Bad Company