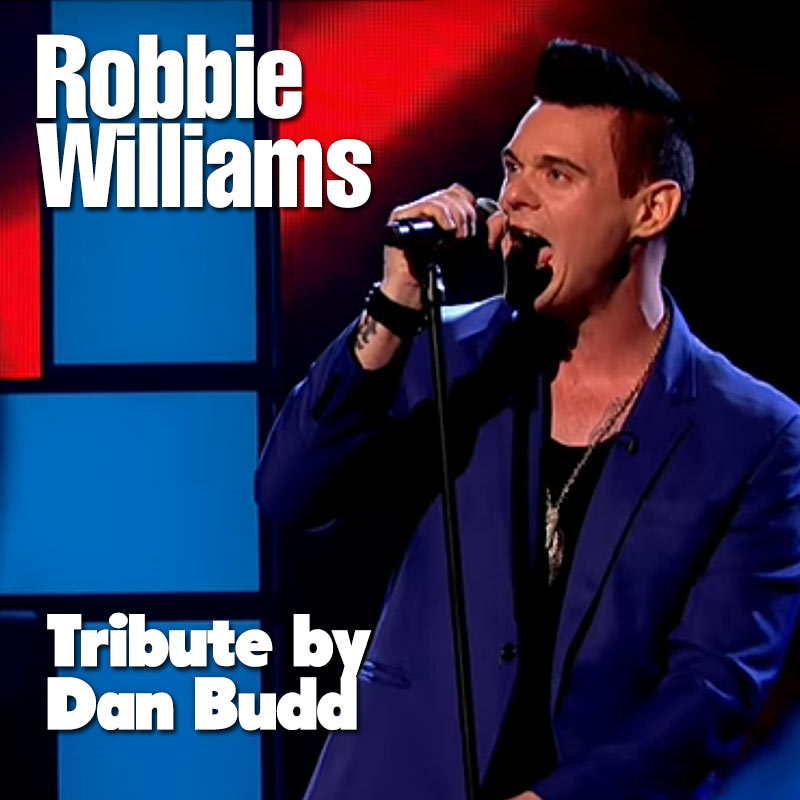 Robbie Williams Tribute by Dan Budd
Dan Budd is, without doubt, one of the most entertaining, charismatic and energetic Robbie Williams tribute acts currently performing on the UK entertainment circuit.
Dan Budd's Robbie Williams tribute show will completely entertain you with all the hits of Robbie, Take That and the swing classics too!
Dan Budd exploded onto the local scene in a way that was reminiscent of the man himself!
His energy and commitment levels are boundless and his resemblance to Robbie is striking to say the least. Dan Budd looks, sounds and fully embraces the persona of Robbie Williams.
This Robbie Williams tribute is available to book throughout Birmingham, The East and West Midlands and beyond.
As seen on BBC One's Let It Shine. "You are an amazing impersonator. It's unbelievable how much you sound and look like Rob" - Gary Barlow
SET LIST
Let Me Entertain You
Angels
Rock DJ
Supreme
Go Gentle
Tripping
Sin Sin Sin
Advertising Space
Come Undone
Something Beautiful
Bodies
Road to Mandalay
She's the One
Strong
Millennium
Sexed Up
Candy
Losers
CONT...
Different
Feel
Better Man
Eternity
Me and my Monkey
You Know Me
Morning Sun
It's Only Us
No Regrets
Ego A Go Go
Monsoon
Lazy Days
Old Before I Die
Hot Fudge
A Place to Crash
It's Only Us
Karma Killer
CONT...
Rudebox
Back for Good (Knebworth)
Swing:
Swing Supreme
Puttin' on the Ritz
Mr. Bojangles
Beyond the Sea
Ain't that a Kick in the Head
Have you met Miss Jones
Mack the Knife
Do Nothing 'til you Hear from Me
My Way
I will Talk and Hollywood will Listen
Straighten up and Fly Right
The Lady is a Tramp
Let's Face the Music
One for my Baby