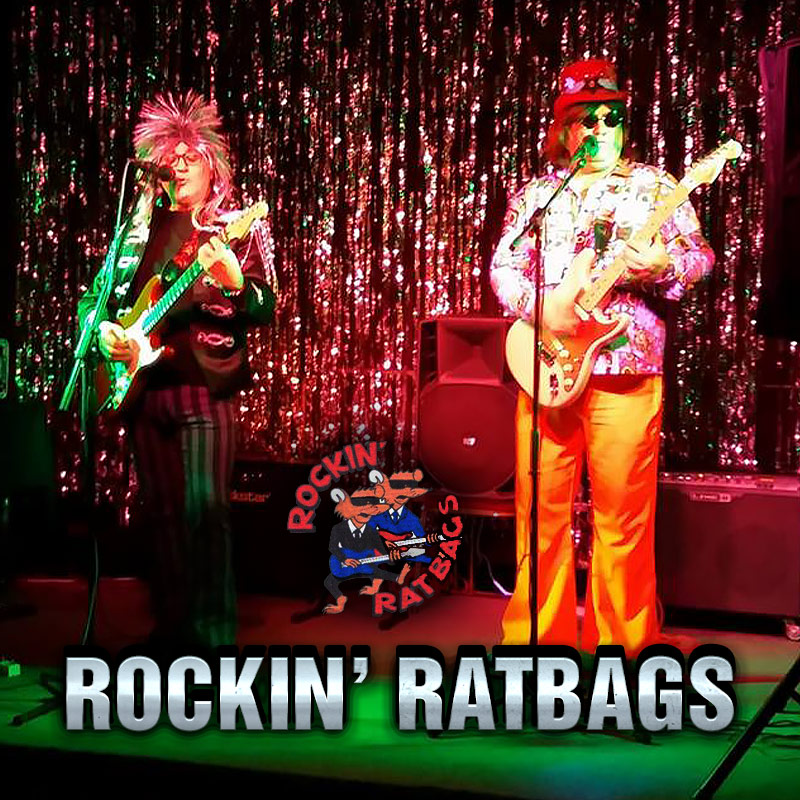 Rockin' Ratbags - 50s, 60s, 70s and 80s duo
Rockin' Ratbags; Colin and Steve are both very experienced musicians and have backed the likes of The Searchers and Jimmy James and the Vagabonds, as well as being involved with Abba and Status Quo tributes. They came together in Feb 2013 with the Rockin' Ratbags and interest in the duo continues to grow.
The Rockin' Ratbags really enjoy their music and this is evident in each performance. The guys put on an all round show providing great music and relative dress style-suits for the 50s and 60s, and glitz n' glam for the 70s, plus joker Colin always has some surprises even duo partner Steve doesn't always know what he will do next. Keep Rockin.
The Rockin' Ratbags were brilliant on Saturday! We have decided to do theme nights & went with the rock & roll theme. The customers loved it! Really looking forward to the 80s night! The Hamstead - Great Barr Birmingham Sat 29 July 2017.
SET LIST
Whole Lotta Woman
See You Later Alligator
Summertime Blues
Rave On
Peggy Sue Got Married
Johnny B Goode
Whole Lotta Shakin'
Mess Of Blues
Think It Over
Tutti Fruiti
Do You Wanna Dance
Apache
Walk Don't Run
The Snake
Love Potion No 9
Please Don't Tease
Flip Flop Fly
The Letter
Come On Over To My Place
Im A Believer
Speedy Gonzales
Fireball Xl5
When You Walk In The Room
Poison Ivy
Ferry Cross The Mersey
From Me To You
I Think Were Alone Now
Lucky Lips.
Cum On Feel The Noise
Does Your Mother Know
Tonight
Three Steps To Heaven
Oliver's Army
Teenage Kicks
Shang A Lang
Bye Bye Baby
Hey Rock And Roll
Feel Like Makin Love
Hot Love
Coo Ca Choo
I Fought The Law
Only Wanna Be With You
Bad Case Of Lovin You
Tell Him
Wonderful Tonight,
Some Girls Will
Squeezebox,
Sorrow