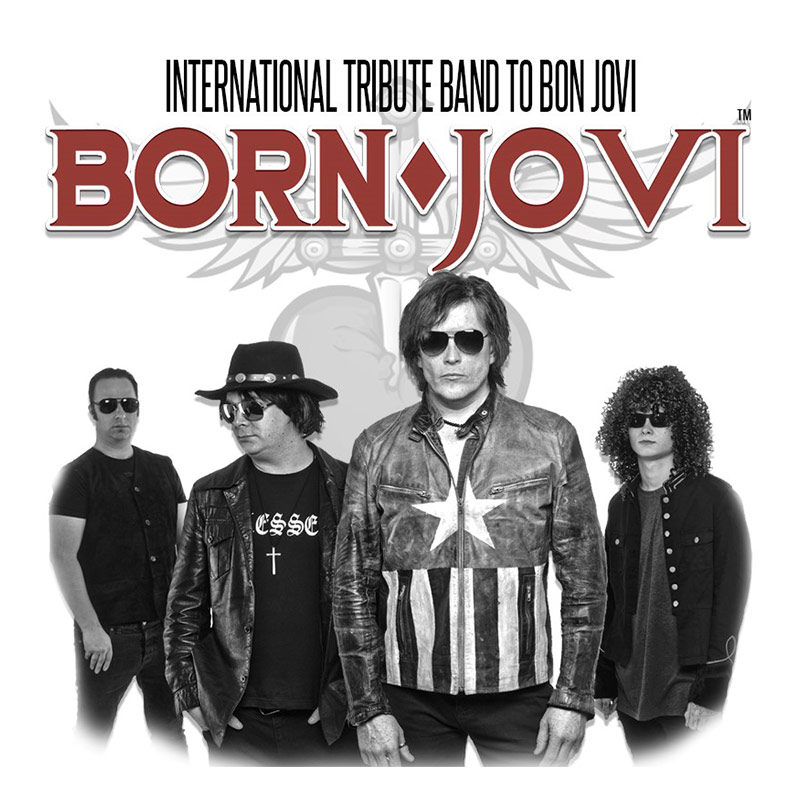 Bon Jovi Tribute Band - Born Jovi
Adrian Marx brings you one of the most faithful tributes to the legendary New York rockers Bon Jovi whose 25+ year career has brought us hit after hit of melodic rock anthems including 'It's My Life' , 'Runaway' and the anthemic rock classic 'Living on a Prayer', to name but a few.
Adrian has been performing his solo Bon Jovi tribute since 2002, and has played all over the UK, Ireland, Europe and the Middle East and the US to rave reviews. In 2008, Adrian was invited to perform his solo tribute in New York and New Jersey (Bon Jovi's hometown) alongside Bruce Springsteen, Johnny Rzenik (Goo Goo Dolls) & Jessie Malin.
This Bon Jovi tribute is available as either a SOLO, DUO or BAND show; all available with full PA, lights, backdrops and costume changes.
This Bon Jovi Tribute act is available to book throughout The Midlands and beyond.
"Having seen the real Bon Jovi more than few times, I must admit that they do sound just like the real thing" - Bournemouth Echo.
"Wow what an unbelievable likeness, truly amazing" - London O2 Arena Management.
In 2010, during Bon Jovi's 'Circle Tour' Adrian was invited by Bon Jovi's management to appear as Jon Bon Jovi's double to sign autographs and pose for photos with fans in and around the arena.
In his time as a Jon Bon Jovi impersonator, Adrian has also fronted two of the biggest UK Bon Jovi Tribute bands on the circuit. The first being Bon Giovi and now Born Jovi both nationally & internationally acclaimed Tributes to the New Jersey Rock Legends.
Clients included: Bon Jovi's management (PR event), London 02 Arena, Harley Davidson, Jack Daniels, NFU Mutual, Promise Dreams, Butlins, Pontins, British Armed Forces, Chicago's Rock Cafe, Stonegate Pubs, Sizzler Pubs, Greene King pubs, Sausage and Cider Festival, Legends of Rock festival, Stone Pony festival New Jersey USA, Chicago's, Walkabout Inn.
"Adrian Marx is blessed with a voice that will get him far". Rob Evans, Classic Rock Magazine.
"I booked you once and seen you a lot of times live and can honestly say you're one of the most brilliant Bon Jovi artists I know not just on the Bon Jovi scene though the second half sessions are completely amazing." - Daz Smith, Private Party Walsall.
"Adrian Marx has been performing Bon Jovi tracks for a decade and continues to get better and better. Adrian has perfected his vocals so that when he starts to perform you will be blown away by his likeness to Jon Bon Jovi. The versatility of Adrian's vocals enables him to perform a wide variety of songs across the genre of rock music and indeed across other music genres. This ability always delights the audience.The combination of Adrian's professionalism, hard work and his ability to interact with the audience always makes for a fantastic live show and one that attracts a crowd." - Alison Phillips, NFU Mutual.
SET LIST
All About Loving You
Always
Bad Medicine
Because We Can
Bed Of Roses
Blaze Of Glory
Blood On Blood
Born to Be My Baby
Bounce
Dry County
Everyday
Hallelujah
Have A Nice Day
Hey God
I'll Be There For You
In & Out Of Love
In These Arms
It's Hard Letting You Go
It's My Life
Just Older
Keep the Faith
Lay Your Hands On Me
Let It Rock
Livin' On A Prayer
CONT...
Lost Highway
Never Say Goodbye
No Apologies
One Wild Night
Raise Your Hands
Rockin' In the Freeworld
Runaway
Someday I'll Be Saturday Night
Something For The Pain
Superman Tonight
Thankyou For Loving Me
These Days
This Ain't a Love Song
Wanted Dead Or Alive
We Got It Going On
We Weren't Born To Follow
Welcome to Wherever You Are
What Do You Got?
When We Were Beautiful
When We Were Beautiful
Who Says You Cant Go Home
Whole Lotta Leaving
You Give Love A Bad Name
You Wanna Make A Memory
"Me and My husband decided we wanted something different at our wedding on August 28th 2011, we have always liked rock music and I had always said to him if we ever get married our first dance song has to be to Bon Jovi's "Always". When we were trying to think of what sort of entertainment to have on the night time of our wedding I thought to myself it would be great to have a live band to sing our first dance song.....even better it would be amazing if we could have a JON BON JOVI tribute band! So I searched the internet for my band. I must of been through 3 or 4 tribute bands before I got to Adrian's Bon Jovi tribute website, so I listened to some demo's and instantly I knew he were the one! I couldn't believe how exact his vocals were to the real thing! He was everything I expected and more on the night and all my guests were coming up to me and asking where I had found him because he was brilliant! One of my guests even rang up a few days later to get their phone number off me for a party he was holding a few months away. In all I would defiantly recommend them to anyone wanting the next best thing to 'Bon Jovi' himself... Thanks for making our wedding rock!!" - Ainsleigh & Andrew Searle - Lumley Castle Wedding in County Durham.