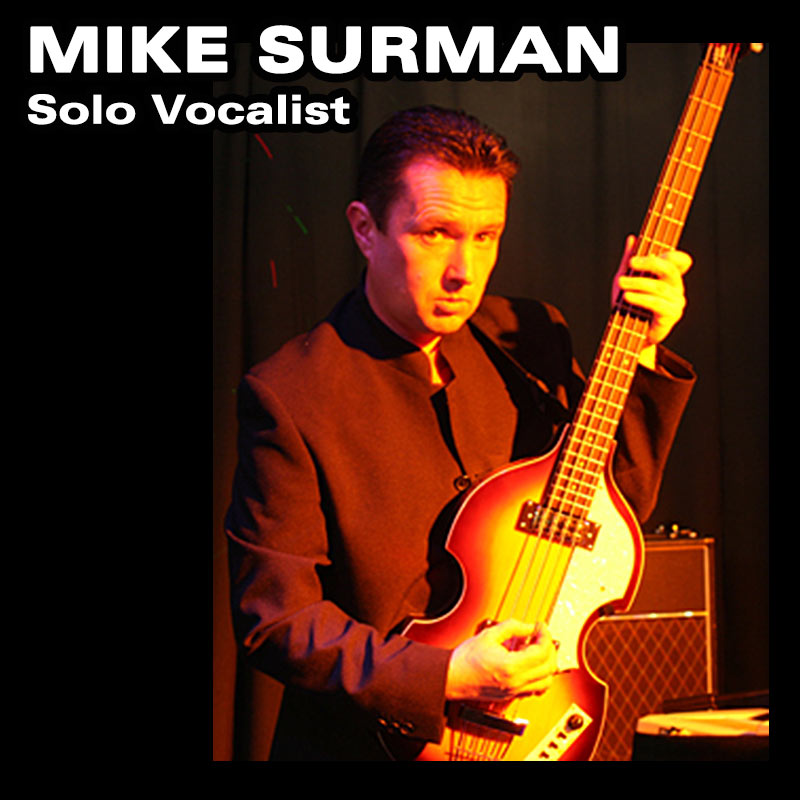 Mike Surman - Solo Vocalist
Mike Surman started as a live musician in the band JPF singing most of the songs and playing a bit of guitar. From there he joined Peercargo as a keyboard player/singer and then a small stint in Acoustic Highway performing covers from Crosby Stills and Nash to James as well as original songs.
Performing solo was pretty much an accident and after winning a talent contest Mike was asked to support the legendary Roy Wood on his 30th anniversary tour in 2001. After that monumental weekend the gigs and requests were endless.
Since that performance Mike has supported and shared the stage with 10cc, Paul Carrack from Mike & the Mechanics, Tony Hadley from Spandau Ballet, eighties legend Belinda Carlisle, Go West featuring both original members Peter Cox and Richard Drummie, Motown giants Martha Reeves and the Vandellas, Ronnie Spector from the Ronettes whose hits include Be My Baby & Baby I Love You, David Essex, Howard Jones, The Fab T Birds, China Crisis, The Real Thing, The Foundations, The Searchers, Bev Bevan, John Otway, The Christians, Roy Wood a further two times and for ten years The Counterfeit Stones, the world's finest Rolling Stones tribute.
Just a quick update, Mike Surman last night was brilliant. We would love to have him back. The atmosphere was fantastic! Baldwin Arms June 2018.
Available and ready to perform either acoustic (vocals and guitar) or with backing tracks, (plus live vocals and guitar) for a more upbeat and lively night.
ALSO AVAILABLE AS:
SET LIST
Typical set will include lots of
Beatles,
Rolling Stones,
The Kinks,
The Jam,
ELO,
Soul,
Northern Soul,
Motown
Pop Rock